Click on below links to download CBSE Class 12 Physics Useful Resources, Get important concepts, sure shot questions, guess papers, exam notes and other Useful Resources for CBSE Class 12 Physics. Students must download in pdf and study the material to get better marks in exams. The study material for CBSE Class 12 Physics has been prepared as per the latest syllabus issued by CBSE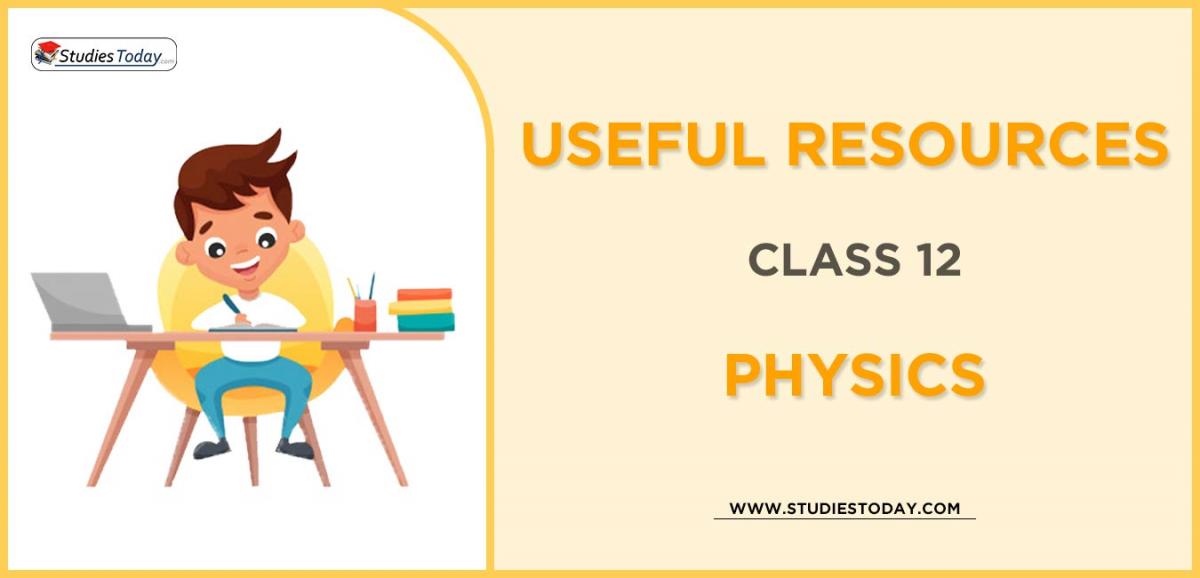 The above Advanced Study Material for CBSE Class 12 Physics have been designed as per latest CBSE Class 12 Physics guidelines and 2021 syllabus. The study material has been framed in a manner which will help to revise the entire syllabus as this has many useful material like important formulaes, mind maps, sure shot question, quick revision notes, cheat sheets and many more concepts developed to help students. This CBSE Class 12 Physics study material also includes advanced study material which is useful for appearing in competitive examinations.
Benefits of Advanced study material for CBSE Class 12 Physics
a) CBSE Class 12 Physics Advanced Study Material will help you to prepare for competition exams like NEET, JEE, NTSE and many more by helping you to revise tough topics so that you can get more marks and higher grades in tests and examinations.
b) Advanced Study Material for CBSE Class 12 Physics will help develop strong understanding of each topic and also develop thinking skills, including problem solving and analytical skills to solve various technical situations.
c) By doing downloading the free PDF files available for students and teacher and doing atleast one chapter daily will foster better understanding of topics of CBSE Class 12 Physics, dont forget to develop a regular schedule of studies
d) Students will be able to review all activities and topics properly and learn to solve questions faster in examinations.
Advanced Study Material of CBSE Class 12 Physics are developed by experienced professors and teachers at StudiesToday.com. We offer the most exclusive and biggest database of Advanced Study Material for all students. All study material is printable and have been carefully compiled for all students, you can download PDF by clicking any link above. Get latest CBSE Class 12 Physics topic and chapter wise question and answer booklets, important notes for exams and use them for daily practice. Look at the syllabus for CBSE Class 12 Physics and download the test papers for the topics which you have studied today. Doing this will support in identifying all errors in understanding of each topic.
Also click below boxes to download CBSE Class 12 Physics solved latest CBSE sample papers, last year (previous year/ 10 year) question papers, printable worksheets in pdf, latest free NCERT Books and NCERT solutions for CBSE Class 12 Physics based on CBSE NCERT KVS syllabus and books. The study material for CBSE Class 12 Physics has been made by experienced teachers of leading schools in India is available for free download in pdf only on StudiesToday.com
You can download free practice Advanced study material in printable PDF format for CBSE Class 12 Physics from StudiesToday.com
The CBSE Class 12 Physics Useful Resources have been designed based on latest syllabus issued by CBSE
Yes - These free Advanced study material in PDF for grade Physics can be downloaded and printed
You can download Advanced study material for all chapters topics given in CBSE Class 12 Physics Useful Resources textbook
Yes - All CBSE Class 12 Physics concepts- sure shot questions- revision notes- formulas- mind maps are free for all students
Just click on the View or Download button below and get free Advanced study material
Yes - Apart from Physics you can download free Advanced study material for all subjects
Read the latest news and announcements from NCERT and CBSE below. Important updates relating to your studies which will help you to keep yourself updated with latest happenings in school level education. Keep yourself updated with all latest news and also read articles from teachers which will help you to improve your studies, increase motivation level and promote faster learning