Get FREE CBSE printable worksheets for all Class 1 to Class 12 for all subjects for all important topics. CBSE worksheets for class 1 to 12 have been designed to help students understand various topics properly. Practice these worksheets to get better marks in school exams. Also download NCERT worksheets as per latest syllabus and blueprints issued. Click on the class below and subject to download pdf printable worksheets for practice and get better marks in class tests and exams. All worksheets made teachers of best schools in India
Printable Worksheet for Class 1 to Class 12 is available on StudiesToday. All worksheets in PDF have been made as per CBSE NCERT and KVS syllabus by experienced teachers who have many years of experience in teaching children. Students should free download worksheets for all classes and subjects and daily practice them to get a better understanding of your subjects. We have the largest database free printable worksheets and assignments for Class 1, 2, 3, 4, 5, 6, 7, 8, 9, 10, 11 and Class 12. We have been encouraging our students to download these test sheets, practice them daily, and show the answers to their teachers and parents. All worksheets which have been prepared by various schools and have been used by school students have been found to be really useful. Please download these free printable worksheets now and practice them to get better marks in your school tests and exams
Printable Worksheets for Class 12
Printable Worksheets for Class 11
Printable Worksheets for Class 10
Printable Worksheets for Class 9
Printable Worksheets for Class 8
Printable Worksheets for Class 7
Printable Worksheets for Class 6
Printable Worksheets for Class 5
Printable Worksheets for Class 4
Printable Worksheets for Class 3
Printable Worksheets for Class 2
Printable Worksheets for Class 1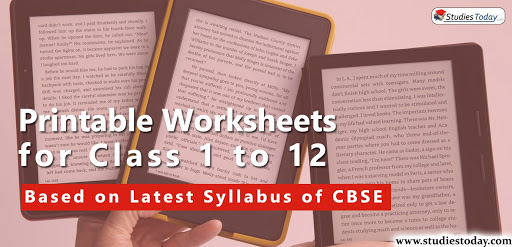 You can also download free worksheets for Pre-school kids
English Worksheets for LKG free PDF Download
Maths Worksheets for LKG free PDF Download
Benefits of doing Worksheets
Many students these days shy away from doing questions in worksheets as they feel paperless education will bring them knowledge and ability to solve everything for their upcoming class tests or final examination. If you are also one such candidate having that thought process, then need you to change. No matter whether you are a brilliant or week student, if you do not practice the CBSE worksheets, then the marks on your examination will surely become less. If you are a student who can score more than 80% in an exam, then on using the worksheets as per CBSE syllabus your marks will go above 90% with proper practice. 
Most of the school teachers know the importance of using worksheets that is why they encourage their students to print and practice the worksheets frequently before taking final exams. Here we bring you some of the important benefits to your notice which a worksheet user will gain.
Improves your problem-solving skills:
Specifically talking about mathematics, it is not an easy subject to complete on time in the examination. A student who never uses worksheets to practice will never complete the entire question on time because at least in one area, he/she will get stuck while solving the problems. By doing the regular practice with the worksheets, student will get the speed to solve the problems one by one. If you are a student who is studying in senior classes, then these worksheets are gifts for you to crack the exam with proper practice. You can also inform about the importance of NCERT worksheets to the weak-students in your class to help them get good marks in the final exams.
Helps you improve your hand-writing:
If you have a bad handwriting, then you can improve your handwriting with the worksheets. CBSE worksheets will not improve your knowledge because it is a practice paper which you can use to improve your standards. Using the worksheets for around one month will surely help you improve your handwriting in the best way. If you are a talented student but teachers cannot find what was written on your exam paper, then you will lose your mark. Using the worksheets, you can solve your difficulties in writing in a neat way and can crack your exam with good marks.
Diagrams and shades:
One of the biggest problems every student face during their exams is while they draw their diagram they either draw it in the wrong way or they miss to add critical details. Students who think they can draw during the exams without practicing with the worksheets will surely face the above problem. Every student needs to practice with the worksheets for all classes at least two to three times for each important diagram before they appear for the exam. If you practice well, you will not use the eraser frequently like others which will give more time to concentrate on other questions.
Know your ability with worksheets:
With the help of your friends, you can estimate your talent. Ask your friends to take the worksheets in their hand, and you too take it to start doing the exercises in it. Start the timer and set the time to 1 hour or as per the questions in worksheets. Start to work on the worksheets and once the timer stops, check the work done by your gang. On cross verifying the worksheet answers, you can easily find who is weak and which student is strong in the class. This activity will help you to know your strength and weakness which will help you in the future to focus more on the weak subjects.
Other advantages:
Worksheets are not only used to score marks, but also you can buy from the stationery stores to focus on your hobbies too. If you are a parent, you can give the worksheets for your kids to work on the various areas by downloading worksheets for drawing, cross-word exercises, matching words and much more to boost their talent. Doing proper practices from the primary school time will increase the brain efficiency to a higher extent. Making your kid work with the help of worksheets on the free time will help your kid in the best way in various subjects too.
Conclusion:
Worksheets are always the best source for the students to do practice, identify mistakes, areas of improvement and finally get good marks in examinations. Students should download worksheets in pdf for all the subjects and practice, on a regular basis to score good marks in class tests, school examinations and even in board exams.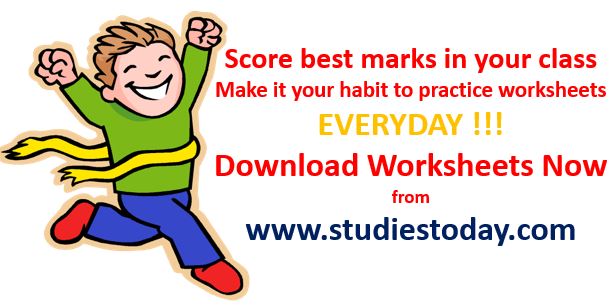 Click on other links to download study material as per latest syllabus issued by CBSE. Give free online tests, last 10 year solved question papers and CBSE sample papers. Download pdf files for all study material
Read the latest news and announcements from NCERT and CBSE below. Important updates relating to your studies which will help you to keep yourself updated with latest happenings in school level education. Keep yourself updated with all latest news and also read articles from teachers which will help you to improve your studies, increase motivation level and promote faster learning