NTSE stand by National Talent Search Examinations, NTSE is conducted by the National Council of Educational Research and Training (NCERT) for identifying talented student who want to pursue higher education in Science and social streams.
The test is performed at two stages, i.e. first the examination of talent at the state level and then the examination of talent at the national level. The students who qualify for the State Level Talent Search Examination are eligible to appear for NCERT's NTSE Stage II exam.
Other way to understand what is NTSE
Exam name – NTSE (National Talent Search Examinations)
Levels of NTSE exam - NTSE exam is divided in 2 stages, the 1st stage is State level conducted by states/UTs, and 2nd stage is national level conducted by NCERT
Class level – NTSE is the 10th class level examination.
Exam duration – 2 hour at each level for each paper (MAT and SAT), i.e. 240 minutes in all. MAT stands for mental aptitude test and SAT stands for Scholastic aptitude test.
NTSE scholarship detail
Scholarship amount for class 11 and 12 – 1200rs per month.
Scholarship amount for UG and PG – 2000rs per month.
Scholarship for PHD – as per UGS norms
StudiesToday brings the largest collection of Free NTSE Online Mock test Series, the online tests for NTSE has been designed carefully keeping into consideration the upcoming NTSE exams. These online test series will help students to get thorough understanding of all subjects (Physics, Chemistry, Biology, Mathematics etc) and all important and scoring topics covered in the NTSE exam. Do these preparation tests for NTSE Exam which has collection of best quality MCQs questions covering all important portions of NTSE syllabus. You can do the tests as many time you want and check your answers. Don't forget to download passing certificate after completion of the tests. Refer to links below to start practicing the NTSE online tests:
NTSE SAT Mathematics Online Mock Test
NTSE SAT Physics Online Mock Test
NTSE SAT Chemistry Online Mock Test
NTSE SAT Biology Online Mock Test
NTSE SAT History Online Mock Test
NTSE SAT Civics Online Mock Test
NTSE SAT Economics Online Mock Test
NTSE SAT Geography Online Mock Test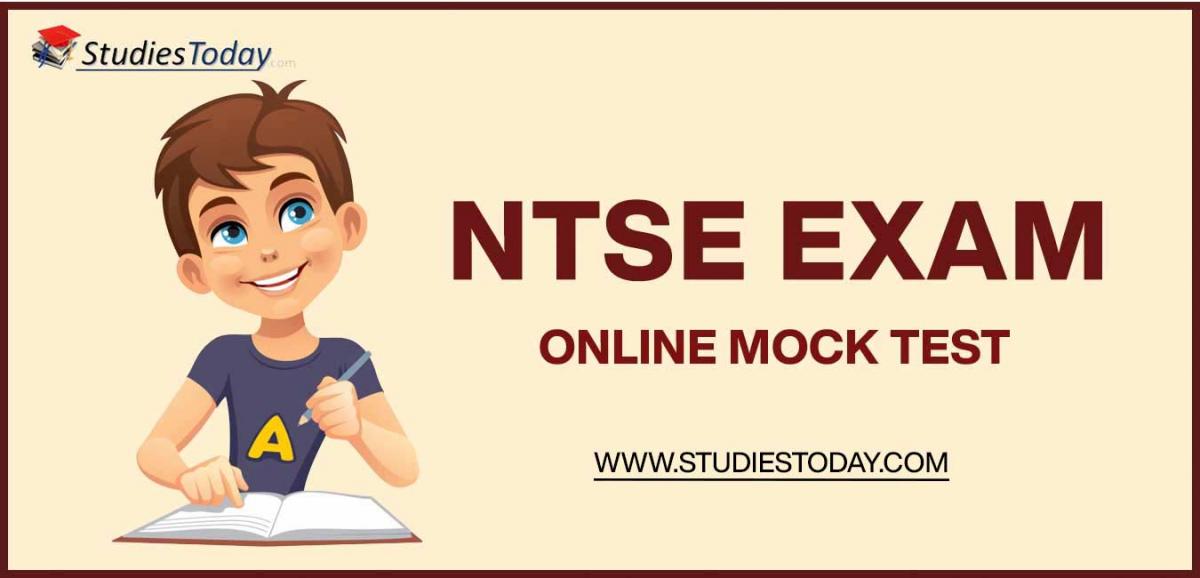 Stages of NTSE examination
NTSE is divided into Stage 1 and Stage 2. In both the stages, subjects, and syllabus are the same. But there is a little bit difference between stage 1 and stage 2 and it depends on the pattern and organizing factors.
So it is essential to have a clear understanding of both the tiers. Thereby the students who clear both the stages are offered scholarships and are called NTSE Scholars.
Stage I
Stage 1 is a state-level exam conducted by respective state boards in the month of November every year.
NTSE Stage 1 is a process through which students are selected state wise.
In the first tier or Stage 1, there is no time gap between MAT and SAT paper. Providing students the liberty to devote less to one subject and devote more time to other subjects.
Stage II
The second tier is a national level exam and is conducted by NCERT in the month of May in the succeeding year.
NTSE Stage 2 is a selection process wherein best students out of the best are selected across the nation. So, the level of competition is high, hence one must be adequately prepared for it.
In Stage 2, the questions are analytically based and are of higher difficulty level.
How to prepare for NTSE
Students who are preparing for NTSE exam should be aware of how to prepare for NTSE exam and what to prepare for NTSE exam to obtain good marks. The NTSE exam will be conducted in two stages, stage 1 (state-level) and Stage 2 (national-lever) to award scholarships to deserving students.
Here, are some useful and simple NTSE preparation tips to make students ready for the final day. NTSE exam preparation tips include how and what to prepare for the NTSE exam, these NTSE exam preparation tips and tricks are useful for stage I and stage II exams.
It is a must for all the aspirants to know what their strong and weak aspects are. A proper and accurate preparation strategy can be formed only after that. So, know which areas are the weakest section and provide concentrate more on them while preparing for the exam.
The only method to track your performance is to attempt sample papers or mock tests. Solve as many sample papers or mock tests to keep checking your progress. It also helps you in speeding up the calculations. Solve online as well as offline sample papers.
As the NTSE syllabus is based on the NCERT class 9 and 10th syllabus, you can prepare for the NTSE exam along with regular classes.
Students will have to understand the basic concepts well and know how to implement them to different issues rather than simply mugging the truth. The coveted scholarship will only be gained by the practical use of knowledge. Learning the test habits and syllabus of both levels is important because learners can make a proper plan of study
When candidates prepare notes to learn formulas, definitions, and equations, NTSE preparation can be very beneficial. Logically, making these equations written will help us understand them quickly. It's also a convenient way to carry notes wherever you want, rather than dragging the heavy books. You don't have to read the entire chapter at the time of the review, just go through these notes carefully
Revision is an important part of any method of planning. Students can easily forget important facts without revision. It is also advised that the previously studied syllabus be revised before moving to a new section. This will help you to stay current with the important topics and to stop the last-minute problems
As applicants have to study for stage 1 of the NTSE along with the syllabus of the 10th board and subsequently for stage 2, they will not have much time to research on a subject that is not known. Applicants should ask a friend or someone who is sufficiently qualified to explain and go on.
Book suggestion for NTSE examination
Before beginning NTSE planning is the very first question that arises in the mind of the aspirant. "which is the best book for preparing for NTSE?" Seen students attracted different books to have more study material and knowledge of different topics during any competitive examination preparation. candidates must also know the best NTSE books. Since the NCERT will be conducting the examination a detailed update of the textbooks should be beneficial. However, when reading these texts, one must be careful, as not all topics could be relevant from the NTSE point of view.
Subjects such as math, physics, and chemistry require a lot of preparation for which each and every question is given at the back of each chapter must be solved. The number of questions in the books of the state board and NCERT is not sufficient to prepare So once you've answered all the problems of the state board and NCERT. You have to search for sheets for work. These sheets give you enough material to practice.
Why NTSE online test practice is important for students?
Students should analyze their strong and weak areas after solving the NTSE problem papers and then focus on them. At the same time, they also need to study and answer the question paper without compromising on accuracy. NTSE Online test is also helpful for candidates to practice with the types of questions presented in the test. Go through the key points to keep in mind when answering NTSE question papers.
The online mock test of NTSE is aimed to give the pattern of the test questions being asked. This will help candidates to know what topics to highlight. NTSE papers from previous years are also planned to allow candidates to work on their speed, performance, and time management skills that are extremely important when they appear in the exam. NTSE Online test is also valuable for candidates to practice with the types of questions asked in the test, use the NTSE answer sheet to measure and compare the probable score with NTSE cutoff marks in order to know the selection chances.
NTSE examination details
National Talent Search Examination is a scholarship Exam which is held for class 10th level students. It is one of India's esteemed scholarship exams started by the National Educational Research and Training Council (NCERT). The main purpose of the exam is to find out the deserving students who belong to the poor family and to provide him with a scholarship for their studies. Students were chosen by stage I and stage II. Here on this site, we have NTSE all subject online test that will help the student a lot in preparation for their upcoming NTSE exam.
Here on this site, we have NTSE all subject online test that will help the student a lot in preparation for their upcoming NTSE exam. It will help in many ways to solve the NTSE question papers of the previous year. It will help students get a smart idea of the pattern of the examination and the type of question asked in the NTSE examinations. Check them and make the best use of them once the whole NTSE syllabus has been done. Solve them as you would take the real test diligently upon answering every NTSE problem sheet; make sure you evaluate your results to figure out the weak areas–deficiencies in educational knowledge and skills in research. Work on them and enhance your score.
NTSE conducted in two phases. Stage I is conducted by States and for the NTSE Stage II examination conducted by NCERT at the National level, shortlisted candidates appear. For both points, NTSE question papers from past year assessments are accessible here.
If you are preparing for NTSE then you need to know the exam pattern of NTSE examination and for this, you should practice the online mock test of NTSE.
Some important tips that beneficial for NTSE examination
Solving test papers and analyzing their (students) own mistakes play an important role in preparation.
Practicing these papers help them to build a calculated exam temperament.
It also helps to analyze one's weak and strong areas.
And in addition, it will also teach them how to manage time and maintain speed and accuracy.
Subscribe to an All India Level Test Series.
It will let candidates to check their performance with respect to others and helps to build a strategy to overcome weaknesses.
Loopholes can be found and fixed through post mock test analysis.
Solving the previous year's question papers will help to get a good idea of the type of questions that would be expected.
Preparing a subject-wise concept list help with the chapter/concept to focus on.
The preparation of a concise revision plan of the whole syllabus is a must.
A systematic revision calendar for the entire syllabus according to the remaining number of days is needed.
Make a calendar such a manner that revision gets over at least 1 week before the exam.
Be sure that every subject is thoroughly covered and no concept is left unprepared.
Identify important chapters and topics.
List out the important chapters or topics on which more weight-age is given in the exam.
Prepare quick and precise revision notes.
Solving a few representative questions after a quick revision will result in a better understanding of the concept.
Distribute available time to all the chapters of each subject.
NTSE exam day instruction
Students appearing for the exam should follow some dos and don'ts for the exam day
Reach the examination center 45 minutes before the scheduled time.
Candidates reaching after 15 minutes of the given time are not allowed to enter the exam hall.
Students need to bring their admit card, photo identity proof, and ball pen to the center.
No gadgets are allowed including watches, calculators, etc.
Focus on time management and maintain your speed accordingly.
Try to attempt all the questions as there is no negative marking.
Advantage of being an NTSE Scholar
NTSE is a talented scientifically developed evaluation system for class X graduates. Based on the principles taught in class, it tests the strengths and weaknesses of the student. In this scholarship review, approximately 300,000 applicants (a largely self-selective group of students) participate each year and 1,000 scholarships are awarded, of which 775 are not reserved. An NTSE scholar has several things to look forward to in high school and beyond from an exciting and wonderful preparation journey besides a significant standout in your curriculum vitae, some of the advantages of being an NTSE scholar are:
NTSE scholars are awarded by the Central Government to pursue studies in sciences and social sciences up to the doctoral level. The scholarship is awarded up to the postgraduate level in the case of a professional course such as engineering or medicine. Students from Class XI earn 1000 scholarships, each of 500 INRs a month.
Being an NTSE scholar produces supreme confidence in the future to crack such competitive exams. Nearly every one of your classmates at IIT is a topper or scholar of NTSE. Studying to become a scholar in NTSE is about simply knowing the definitions. Such training would certainly be useful if you take competitive exams such as AIPMT, JEE, CLAT, etc.
If you aspire to opt-out of the country for advanced studies, then as an NTSE scholar, you have an edge over others. To choose whether to apply for MS / MBA, it also acts as a differentiator. Those who apply for US scholarships receive additional points to qualify for NTSE. NTSE is familiar to universities abroad and gives preference to candidates who have qualified for the examination.
Some of India's colleges have seats reserved for NTSE scholars only This prestigious test is your gateway in the future to an excellent university you may surpass college admission tests to gain direct entry to your preferred class.
Whether applying for jobs or interviews, "NTSE scholar" on the resume is an added advantage. In government jobs as well, an NTSE scholar is given preference. It is helpful to appear for IFS, IAS, IRS, IPS, etc. interviews.
At the high school level, NTSE scholars can enjoy discounts on course materials and books so they can purchase some very important and expensive books. If a student is eligible to apply for entry to another school, NTSE scholars will always be chosen.
Top 10 Tips to Become an NTSE Scholar
Understanding your strengths and weaknesses is necessary. E.g. if you're strong in mathematics and science, but language average and social science weak, then you can turn your weaknesses into strengths for a good overall score.
Follow class IX and X NCERT books for preparation for NTSE. According to the NCERT class XI biology textbook for some concepts of biology (only sections applicable to the education of IX and X class. Learning the social studies NCERT book for NTSE in detail is essential.
A lot of sample papers and mock tests must be solved at least three days a week. There are several mock NTSE mock tests on this site. Within the stipulated time you will try to solve these papers so that you can increase your speed and learn the parts which take more time.
Make sure you access minutely what you could do and what it was hard for you to do. Was it the lack of understanding of the subject? Or have you missed the scores due to silly mistakes? Whatever it is, just very critically analyze the performance.
A decent amount of self-study is important for clearing any test. Becoming an NTSE scholar is one of the most basic and important of all the tips. At least 3-4 hours of self-learning should be dedicated to solving this competitive examination.
Solve as many mental ability questions as possible and you won't be surprised on the day of the test. Take the help of seniors and teachers from your class. You will also have greater confidence in your speed, subject knowledge, and accuracy with practice.
Read reference books carefully to train for NTSE. The handbook of R.S. Aggarwal is extremely helpful in planning for the MAT exams. For mocks, you can refer to books and also do various online tests available on studiestoday.com