NTSE Scholastic Assessment Test Chemistry
For NTSE SAT preparations you must now the topics of chemistry which carry high marks in NTSE examinations. Chemistry subject covers many topics such as carbons and its compounds, periodicity, metal and non-metals structure of atoms, acid bases and salt etc. For an NTSE aspirant, the importance of time plays a specific role. To manage your time you should know the smart study techniques. And for this you must practice this Chemistry online mock test.
In given below link you can give the online mock test of Chemistry subject in NTSE. Just click this clink practice the Chemistry subject online mock test.
Scroll down and click on the online test below to get free access to complete series of Online Mock Tests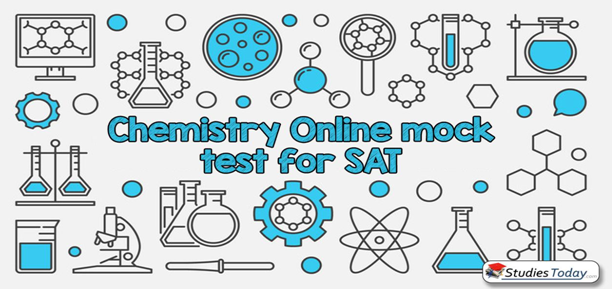 Chemistry subject syllabus for SAT

Acid, Bases, Salt

Periodic Classification of Elements

Metals and Non-Metals

Structure of Atom

Physical and Chemical changes

Carbon and its Compounds

Fibers and Plastics
You must cover these important topics of Chemistry subject for NTSE preparation
Carbons and its compounds
Carbon & its compounds are the first important chemistry topic for NTSE. It carries a high weight in NTSE, and studying it is a very interesting topic. Carbon compounds are compounds with a carbon atom in their molecules. They are chemical substances where another element has been bonded by a carbon atom. To solve a lot of practice papers related to this topic for better preparation.
Periodicity
The second most important topic of Chemistry for NTSE is periodicity refers to the recurring trends that are seen in the element properties. According to the definition of Periodicity, Frequency refers to trends or recurring variations in element properties with the increasing atomic number in the context of chemistry and the periodic table. Regular and predictable variations in the atomic element structure cause periodicity. If you want to improve this topic of chemistry then you should practice the online mock test of the chemistry subject.
Metals & Non-metals
Metals and non-metals are the third important topic in chemistry for NTSE examination The periodic table can be categorized into two forms of components metals and non-metals are commonly referred to.
Structure of Atoms
NTSE examination's fourth important topic in chemistry is the structure of atoms. Atoms are made up of three fundamental particles: protons, electrons, and neutrons. The atom's nucleus (center) comprises the protons (positively charged) and neutrons (without charge). The atom's outermost regions are called shells of electrons which include (negative charged) electrons.
Acids, Bases & Salts
An acid, Bases & Salts is the fifth and last important subject in NTSE examination chemistry. You need to practice the online chemistry mock test to specifically improve acid bases and salts.
Book suggestion of Chemistry subject for NTSE examination
Subjects such as math, physics, and chemistry require a lot of preparation for which every question is given at the back of each chapter must be solved. The number of questions in the books of the state board and NCERT is not sufficient to prepare So once you've answered all the problems of the state board and NCERT. Before beginning NTSE planning is the very first question that arises in the mind of the aspirant. "which is the best book for preparing for NTSE?" Seen students attracted different books to have more study material and knowledge of different topics during any competitive examination preparation. candidates must also know the best NTSE books. Since the NCERT will be conducting the examination a detailed update of the textbooks should be beneficial. However, when reading these texts, one must be careful, as not all topics could be relevant from the NTSE point of view.
Benefits of the online mock test to students
Candidates must wait for days or weeks in the pen and paper test to get the result. Candidate in this time period does not realize what has been correctly answered. This triggers a planning failure. Online mock test results immediately, thereby improving effective learning.
Unlike standard mock tests, candidates will regularly retake the same mock exam. It helps students assess their learning curve and develop it.
As said in the traditional mock test, early results are not guaranteed. This breaks down the level of candidate confidence that distracts them from their goal. Instant results and feedback accelerate students to their goal.
Just after attempting to get the quiz and the score, the student will be curious to know what the answer is. A candidate must open a book and check-in a typical mock test which wastes the candidate's valuable time. In addition to giving instantaneous results, digital mock testing also provides instant feedback. The candidate can, therefore, save time by simply looking at the explanations
When it comes to passing competitive exams, time is the most important factor. It is not an easy task to attempt questions in the given time, considering the number of questions asked in the exam and the total time available. So it helps to solve the mock test The more preparation of the mock test applicant, the more possibility he/she will have to finish the assessment on time.
Every year, competitive exams become tougher. It is expected that the candidates will be prepared for any challenge they face.
The importance of online practice testing is therefore far beyond convenience. Although the idea is clouded by certain myths, online mock testing is an underexploited treasure chest that can take online learning and teaching to new heights of excellence. Do your research and find out how online practice tests will better be done. So what do you expect? Prepare to practice now!