Birla Institute of Technology and Science Admission Test (BITSAT) is an online (computer-based) entrance exam for admission to BITS Pilani's integrated graduate programs. Since 2005, BITSAT is one of India's most prestigious engineering entrance exams.
This examination is a university level examination and offers admission to various Integrated First Degree programs and is conducted once a year in which you can be admitted to B.E, B.Pharm and MSC programs after qualifying for the examination. For all three campuses situated in Pilani, Goa and Hyderabad, the Birla Institute of Technology and Science Admission Examination.
BITSAT is the second biggest engineering entrance exam after JEE Main in terms of the number of students giving BITSAT. It takes a well-thought-out strategy to prepare for it, as competition here is also very difficult.
As BITSAT-2020 will be Computer based online test for admissions to Integrated First Degree Programmes of BITS Pilani Campuses in Pilani, Goa and Hyderabad. Its important that every student does exhaustive practice of type of questions which are expected in examination. Its always advisable to do as many online mock tests for BITSAT as possible. Doing these mock tests is the best option for students to understand the exam format and be properly prepared.
Access Free online mock test series for BITSAT here :
BITSAT Physics Online Mock Tests
BITSAT Chemistry Online Mock Tests
BITSAT Mathematics Online Mock Tests
BITSAT English Proficiency Online Mock Tests
BITSAT Logical Reasoning Online Mock Tests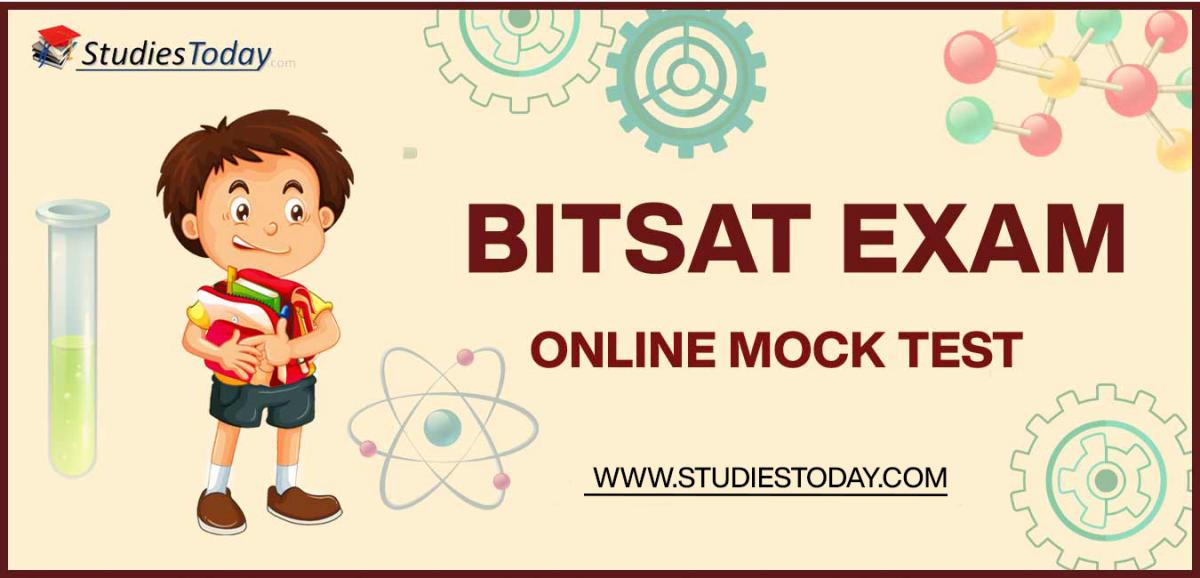 Click on subjects below for more information
BITSAT is an online entrance examination conducted by Pilani's Birla Institute of Technology and Science (BITS) for admissions to undergraduate engineering courses at its three campuses. After qualifying for this admission test, candidates is offered admission to BE, BPharm and MSc organizations.
In the first week of January every year, BITS is expected to release the application form for BITSAT. Registration / application for BITSAT is held completely online, although fees can be charged in both offline and online more.
Before filling out the application form, candidates seeking admission to BITS and its other campuses will review the BITSAT eligibility criteria. BITSAT's result is declared in two forms. First, immediately following the completion of the entrance examination and, secondly, in the form of a waiting list examination list. Go through the complete article for detailed information on BITSAT such as eligibility criteria, application form, syllabus, test pattern and many other important information.
For reaching the desired destination, it is very important to know the path which will take you to it! Thus, for clearing the most talked about examination BITSAT, it is very vital to understand the relevant syllabus.
BITSAT Eligibility criteria
BITSAT Eligibility Criteria for various courses offered are described below. Until qualifying for the exam, applicants must verify whether or not they are eligible;
For First degree program except B.Pharm
Class 12th examination should have been passed by aspirants from a known central or state board or equivalent to the following subjects: physics, chemistry, and biology. Aspirants must have adequate proficiency in English.
Candidates in the subject areas of physics, chemistry and mathematics must have made an average of 75% marks. He/she must have secured 60% marks on each of the subjects.
For admission into B.Pharm
Applicants must have passed their 12th level exams form any recognized board/university or their equivalent exam.
He/she must have passed their 12th level examinations on the main subjects of physics, chemistry, and biology or mathematics. He/she must also have adequate English language skills.
In the subjects of Physics, Chemistry and Biology/Mathematics, applicants must have scored an average of 75% marks He/she must have secured 60% marks in each of the subject.
BITSAT exam pattern
BITSAT examination pattern is such that multiple choice questions are included in the question paper. BITSAT is a computer-based online engineering entrance examination of three hours. The question paper is divided into four sections / parts in the BITSAT examination format. Every part of the BITSAT examination has questions from various subjects such as mathematics, chemistry, English skills and logical reasoning.
Highlights of exam pattern
Mode of BITSAT exam: this is online examination, computer based test.
Medium of exam: English
Number of question: 150
Type of question: multiple choice questions (MCQ)
Exam duration: 3 hours
Marking scheme: for each correct answer marks +3 marks and for every incorrect answers -1 marks
Total marks: 450
Subject combination: Physics, Chemistry, English and logical reasoning, mathematics, Biology.
| | | |
| --- | --- | --- |
| Subjects | No.of question | Maximum marks |
| Physics | 40 | 120 |
| Chemistry | 40 | 120 |
| English + logical reasoning | 15+10 = 25 | 75 |
| Mathematics, Biology | 45 | 135 |
| Total | 150 | 450 |
Syllabus for BITSAT
According to the BITSAT Syllabus, candidates may prefer the NCERT syllabus of the 11th and 12th levels to be prepared for a variety of topics. The Syllabus will include topics from the subject areas of Physics, Chemistry, Mathematics & Biology, English proficiency and logical Reasoning. BITSAT syllabus comprises of Physics, Chemistry, Mathematics, Biology, English Proficiency and Logical Reasoning. BITSAT is a university level entrance examination which is the main and only requisite for getting admission in the Birla Institute of Technology and Science (BITS) Pilani. It is a computer based online test conducted for providing admissions to the Integrated First Degree programmes offered by BITS for its campuses in Pilani, Goa and Hyderabad. Through BITSAT, candidates can get admission in engineering, pharmacy & science courses. The Integrated First Degree Programmes are offered at the first tier with nomenclatures like B.E., B.Pharm. And M.Sc.
BITSAT, is an entrance examination to test the applicant's theoretical knowledge based on the NCERT curriculum. The syllabus is prepared from the CBSE NCERT curriculum of 11th & 12th standard. Students are advised to prepare for the exam strictly as per the BITSAT syllabus as questions are designed only through the topics prescribed. Candidates are advised to dedicatedly follow the NCERT text books for the contents. The competitive entrance examination consists of 4 (Four) main parts, namely: Part I – Physics |Part II – Chemistry |Part III - (a) English Proficiency and (b) Logical Reasoning |Part IV - Mathematics or Biology (For B. Pharm candidates).
For the ease of all the interested students following is the complete subject wise syllabus described in details bifurcated according to the different parts of the BITS Admission Test:
Topics included in the syllabus of BITSAT are given below table in details for different subject.
| | |
| --- | --- |
| Subjects | Important topics |
| Physics | Units & Measurement, Newton's Laws of Motion, Impulse and Momentum, Work and Energy, Kinematics, Gravitation, Waves, Heat and Thermodynamics Rotational Motion, Mechanics of Solids and Fluids, etc. |
| Chemistry | States of Matter, , p- d- and f-block elements, Structure, atomic structure, Physical and Chemical Equilibrium, Hydrogen and s-block elements Chemical Bonding & Molecular Principles of Organic Chemistry and Hydrocarbons etc. |
| Mathematics | Algebra, Trigonometry Three-dimensional Coordinate Geometry, , Two-dimensional Coordinate Geometry, Differential calculus, Probability, Linear Programming Ordinary Differential Equations, etc |
| English proficiency | Grammar, Analogy, Reading Comprehension, Vocabulary, and Composition. |
| Local Reasoning | Verbal reasoning – Classification, Analogy, Logical Deduction – Reading Passage, Chart Logic ETC. Nonverbal reasoning – Pattern Perception, Figure Matrix, Paper Cutting, Rule Detection etc. |
| Biology | Diversity in Living World, Genetics and Evolution, Structure and Function of Plants and Animals, Reproduction, Growth and Movement in Plant and Human, Ecology and Environment, Biotechnology and its Applications, etc |
How to prepare for BITSAT
There are many points to which we would like to draw your attention and which hopefully will help you enhance your BITSAT preparation level and will also work as a guideline for implementing your BITSAT preparation strategy.
The first thing to do is to understand the test pattern. The pattern of BITSAT is very distinct from conventional studies. It is therefore important to prepare according to the criteria of the examination.
Read the books of NCERT, a simple book it seems to be ignored by the majority of candidates the book is going to help you clear single speck of theory based questions.
Time management, the phrase-practice makes a man perfect is quite true in this case. Try and practice as many model test papers as you can.
Make a notebook and note down the important formulas in notebook. Before going to bed, try revising all formulas once a day. Do not forget the smallest of the formulas. There are many questions that tend to be formulas. There are many questions that tend to be formula based. Identify shortcuts to solve difficult issues. This will help save time for you.
BITSAT is distinctive in the English and Logical Reasoning sections. So you should familiarize yourself with the question pattern. This only requires the basics and no special preparation.
BITSAT's level is much easier than JEE. In addition, if you are preparing for JEE sincerely, you will find BITSAT even easier.
Spend an hour to read a good newspaper every day. Of the 150 questions outlined in BITSAT, 25 are reserved for logical reasoning and English skills. None of these two areas can be tackled using conventional sit-study-review approaches that are feasible for PCM. Reading a good national English newspaper on a daily basis is more helpful in making the best use of the 25 questions.
Focus on the clarification of concepts in all topics, but not only the examination this way, besides BITSAT, you would able to crack other exams.
Identify your strengths and weaknesses. Try to improve your ability to solve weaker problems by analyzing them regularly.
Book suggestion for BITSAT exam
The very first question that impacts one's mind during the preparation process is which study material to choose from. Searching for the best books for BITSAT can be a challenge, especially if you have only a little time left. Now selecting books is not going to be a headache, as a list of BITSAT books to help support your preparations for the BITSAT exam.
NCERT Physics Part 1 and Part 2 Textbook for class 12th
This book adds to the list of books to be read because of its description of the most basic concepts in Physics needed by BITSAT. Divided into two sections and a variety of pages, the first section of the book deals with subjects such as current energy, magnetism, electrostatic potential and capacitance, matter and electrical induction.
NCERT Chemistry part I and II class 12th
It is categorized into nine topics addressing subjects from solid state, methods, electrochemistry, chemical kinetics, surface chemistry, general principles and procedures for the isolation of elements p block elements, d and f block elements and coordination compounds. It includes questions and answers at the end of each chapter and a section on important terms to be remembered.
NCERT Math's part I and part II class 12th
It covers topics taught in Grade 12 and is the perfect book to begin with if you're poor in math. With the CBSE curriculum in view, the book covers subjects such as trigonometry, matrix differentiation algebra etc.
Objective mathematics by RD Sharma
This covers concepts including algebra, permutations, combinations, probability and determinants, and is one of the best books for beginners in mathematics. It also helps students practice concepts using the exercise provided at the end of each chapter.
BITSAT English proficiency and logical Reasoning
Various books are available for this, online tests on studiestoday covers all concepts for the section on English skills, such as vocabulary, grammar, reading comprehension and composition. It also includes analogy, classification, logical deduction, chart logic, perception of patterns, forming figures, completing figures, cutting paper, detecting rules, etc. Access lot of mock papers and their solutions based on the style of the exam.
BITSAT Biology
This is the fourth part of the BITS Admission test Syllabus, optional for the students opting for B. Pharm programmes. Biology is the natural science that studies life and living organisms, including their physical structure, chemical processes, molecular interactions, physiological mechanisms, development and evolution. This part of the syllabus comprises of 10 (Ten) main topics pertaining to the subject, details of which are as follows:
Diversity in Living World
Cell: The Unit of Life; Structure and Function
Genetics and Evolution
Structure and Function – Plants
Structure and Function – Animals
Reproduction, Growth and Movement in Plants
Reproduction and Development in Humans
Ecology and Environment
Biology and Human Welfare
Biotechnology and its Applications
This completes the detailed syllabus of BITS Admission Test. More information regarding BITSAT and Admission to BITS Pilani are made available to the interested candidates on a regular basis through our website
www.studiestoday.com
. Stay Tuned!! Best Wishes!!