Download Question papers with solutions for past 10 years for all classes and subjects. Click on the below classes to download subject wise question papers of CBSE Class 10 and Class 12 board examinations and various schools for other classes.
Question Papers for Class 12
Question Papers for Class 11
Question Papers for Class 10
Question Papers for Class 9
Question Papers for Class 8
Question Papers for Class 7
Question Papers for Class 6
Question Papers for Class 5
Question Papers for Class 4
Question Papers for Class 3
Question Papers for Class 2
Question Papers for Class 1
It is very important for students to practice the previous year/ last year question papers of examinations conducted by CBSE or your school. On studiestoday.com we have provided you free to download CBSE Question Papers of the past 10 years with NCERT solutions in pdf format.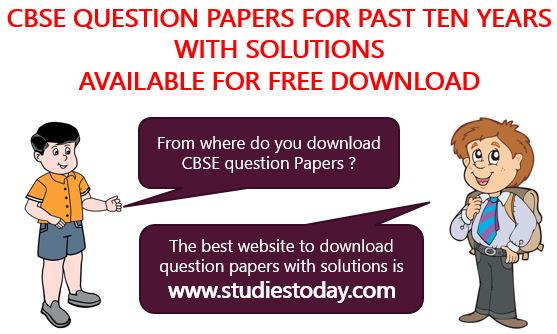 The students should download and do the question papers to get better marks in examinations. We have explained some of the important benefits for students in doing the question papers.
a) Understand question paper pattern – You are able to understand the question paper pattern and style which has come in previous years and accordingly you will be able to do preparation for the examination.
b) Practice question papers: If you do the question papers yourself and get your answers checked from a teacher or compare with the solutions provided, your practice will be perfect and you will be able to manage the exam preparation and question paper which will come in the exam more confidently.
c) Find silly mistakes: even students who feel confident that they have completed their examination preparations, they also sometimes do very small and silly mistakes due to which very useful marks get deducted leading to lower ranks. By doing past ten-year question papers you are able to identify these mistakes and rectify them at home instead of doing them in the exams.
d) Revise entire course: By doing as many CBSE question papers as possible you are able to cover the entire course and all varieties of questions. This also helps to revise the course multiple times and do questions from every part of the chapter thus making you more perfect.
Thus, it's very important for students to do past year CBSE question papers for all subjects to complete their exam preparation and get better marks. We have provided lots of question papers which have come in schools and inboard exams with solutions on studiestoday. All are free to download in pdf for benefit of students
Exams, a challenging factor, and mystery to many students across the world. But still, there are students who decode it easily and look forward excited as a competition. It becomes a painful strain nowadays for every student, when in terms of preparing well before the exams. Some students are smart and always crack short cuts easily. Facing exams, in reality, is different from the one students encounter in movies and the outcome will be 100% only when you have prepared well for your exams.
One easy way to approach the exams is to manage your study schedule planned and accommodate to a well-defined timesheet and allotting the time needed for every subject. Good preparation always starts from going through the past year's question papers and having a measurable discussion with your friends. 
The general observation that has not changed all these years is that the examiners do make minor changes in question papers ever year. The habit of comparing these previous year questions will give a better idea of future exams.
FAQs about the past year question papers:
Now let's move on to the FAQ's of past year CBSE question papers.
What you must do when you glance CBSE past year questions?
Answer: The best-followed practice is taking the past five-year question papers and finding questions of the same topic and preparing them well. This applies to all the subjects which can be achieved by stepping on the topics of one subject and then moving on to the next subject and vice versa.
Does going through the past year question papers give an idea for the students about the exams?
Answer: You accept it or not, the main point of exam preparation is going through past exams. It is vital to revise your entire curriculum syllabus easily and quickly. This provides the base idea for the upcoming exams and you could easily gain from this. 
Will the past year question paper help students to know about the important topics?
Answer: When you go through the past year question papers you will get to know about the important and repeated questions asked. The important topics of a particular subject in the past year question papers provide you the blueprint to a number of questions available as hidden resources. 
Does referring previous year question paper help students in managing time? 
Answer: The time you spend on cracking the question papers can become efficient if you understand the patterns of those previous year question papers in depth. The more you invest time in previous year question papers, the more harvest you gain out of it.
Does referring the past year question paper of CBSE help in self-assessment?
Answer: If a student develops the habit of solving the previous year question paper regularly, then they can easily analyze their strength and weaknesses thus help them perform better in their exams. So this helps students enhance self-assessment.
Concluding in the End:
The power of practice wins. Yes, as students the higher one dreams, the deeper his victory shines. Not only glancing and comparing question papers of the previous year provides you the wisdom to face current and upcoming exams but also gives you the visualization for a better place in the competitive world.
If you have the guts to strive hard, past year question papers are the open treasures for the success. The end does not always mean ending up, but it could be the point of a new beginning. So focus on your beginning and not on ends, as every exam is not an end but a battlefield for you train for the next exam you are about to face. Good luck.
Read the latest news and announcements from NCERT and CBSE below. Important updates relating to your studies which will help you to keep yourself updated with latest happenings in school level education. Keep yourself updated with all latest news and also read articles from teachers which will help you to improve your studies, increase motivation level and promote faster learning