Unseen Passages are an integral part of English and Hindi exams. They are usually the first part of the exam and contain a few paragraphs followed by questions. Some are even having MCQ-based questions. Students have to read the paragraphs and then answer the questions. They are designed to understand the reading abilities of students. In order to score more marks in these types of unseen passages, students should practice them at home under examination conditions so that in the exam they are able to understand the passages and answer the questions properly.
On our website, we have provided a full collection of passages with solved questions. You can read all the passages for free and check if you are able to solve these questions. All Unseen Passages have been prepared by English and Hindi teachers based on the latest sample papers and examination guidelines issued by CBSE and NCERT. Click below for free Unseen Passages for English and Apathit Gadyansh for Class 1 to 12 with solutions, English and Hindi Unseen Passages, Apathit Gadyansh for Class 1 to 12, Get comprehensions with Questions and answers. Students must download in pdf and study the Comprehension to get better marks in exams. All passages have been provided with multiple-choice questions (MCQs) and solutions.
Solved Unseen Passage Apathit Gadyansh, Reading Comprehensions and passages with multiple choice questions, long and short questions with solutions for all classes in Hindi and English as per the latest Hindi syllabus issued by CBSE (NCERT). Students are required to practice as many comprehension passages which normally have multiple paragraphs and MCQs, Short Answer and Long answer questions after the paragraphs. You can access lots of passages that will help to improve your reading ability and help to obtain more marks on class tests and exams.
Unseen Passage for Class 1, 2, 3, 4, 5, 6, 7, 8, 9, 10, 11 and 12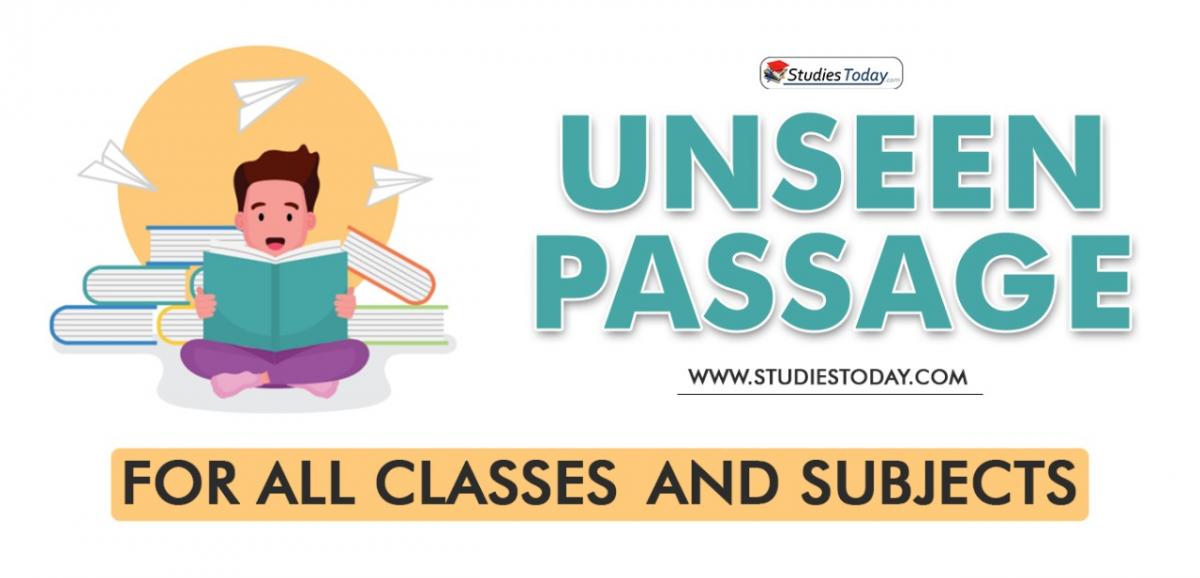 Hindi Apathit Gadyansh Unseen Passage
We have provided below the largest collection of CBSE NCERT Apathit Gadyansh for all classes which can be downloaded by you for free. These cover all important passages with questions and answers and have been designed based on the latest CBSE NCERT blueprint, books, and syllabus. You can click on the links below to download the latest Apathit Gadyansh and Comprehensions. CBSE Apathit Gadyansh and passages will help students to understand the unseen passages and related patterns of questions and prepare properly for the upcoming examinations.
Unseen Passage and Apathit Gadyansh with answers
Unseen Passage for Class 12
We have provided many unseen passages with solved questions for class 12. In the English and Hindi exams, Unseen Passages are really important for students. If you are able to understand how to carefully read the passages and then answer the questions you can score full marks in Class 12 English and Hindi Board examinations. You can click on the links below and access free comprehension for English and Hindi.
Unseen Passage for Class 11
Are you looking for passages with solved questions from both Hindi and English? You have come to the correct place as here we have provided a full collection of solved unseen passages for Class 12 in English and Hindi. All passages provided have been given with questions and answers. You can click on the links below and access the full collection as per CBSE standards for free. As the passage generally carries 10 to 20 marks depending on the exam. If the students are able to practice properly, they can score full marks easily.
Unseen Passage for Class 10
Unseen passages in English and Hindi are an important part of Class 10 Board exams. All students are looking for more and more passages that they can read and solve their questions. This will help them to gain more practice. The more the practice students of Unseen Passages the more likely it is that they will get better marks in these two subjects. That's why our CBSE teachers have given here exclusive passages which you and read and improve your reading capabilities. Solve the questions given at the end of each passage and test your understanding against the answers provided by us.
Unseen Passage for Class 9
Class 9 is an important class as it prepares you for senior classes too. As we have provided below links to passages for class 9 in English and Hindi, this will help you to understand the type of passages that can come in your exams in schools. By reading through the unseen passages that we have provided below you will be able to gain confidence and improve your reading skills. Our team of teachers has carefully designed the passages and comprehensions provided below.
Unseen Passage for Class 8
In standard 8, English and Hindi passages are important. Students take it very seriously as it helps them to get very good marks in exams. The best way to score marks in the reading section is to go through past year papers and also practice as many passages as possible. You can refer to the collection of unseen passages provided below for English and Hindi as per the latest syllabus.
Unseen Passage for Class 7
Unseen Passage for Class 6
Unseen Passage for Class 5
Unseen Passage for Class 4
Unseen Passage for Class 3
Unseen Passage for Class 2