Printable Practice worksheets for Class 1 to Class 12 are available on StudiesToday for free download in pdf format for all students. All practice worksheets, class test practice sheets in PDF have been made as per CBSE NCERT and Kendriya Vidyalaya syllabus by the best and experienced teachers of all subjects having many years of experience of teaching children. The worksheets have been made to ensure that it can be done by all types of students as long, short and very short answer questions are included in the sheets. All teachers, parents and students are encouraged to free download printable practice worksheets for your class and subject and practice them daily to clear topics and concepts and identify your mistakes. We have the largest database free printable practice worksheets and assignments in India for Class 12, 11, 10, 9, 8, 7, 6, 5, 4, 3 and class 1. We advise our students to download these practice test papers and collection of class practice tests, practice them daily and display the answers to their teachers and parents. All practice worksheets which have been prepared by various schools and have been used by school students have been found to be really useful. Please download these free printable practice worksheets now and practice them to get better marks in your school tests and exams
Practice Worksheets for Class 12
Practice Worksheets for Class 11
Practice Worksheets for Class 10
Practice Worksheets for Class 9
Practice Worksheets for Class 8
Practice Worksheets for Class 7
Practice Worksheets for Class 6
Practice Worksheets for Class 5
Practice Worksheets for Class 4
Practice Worksheets for Class 3
Practice Worksheets for Class 2
Practice Worksheets for Class 1
Imagine you buy a cycle for yourself. You had seen all the YouTube videos for the same. But, it will not be helpful in any way if you don't put all the theory into a practical use.
Doing worksheets gives you the practical training to put all your learning into practice. However, a lot of students and even their parents think investing on worksheets is a sheer waste of time.
The use of worksheets in the classroom is one of the most popular strategies used by tons of teachers as a part of their teaching practices. This helps them to fulfil the lost time or the limited amount of time to cover all the major topics.
But, is that the only reason you should download printable worksheets from studiestoday.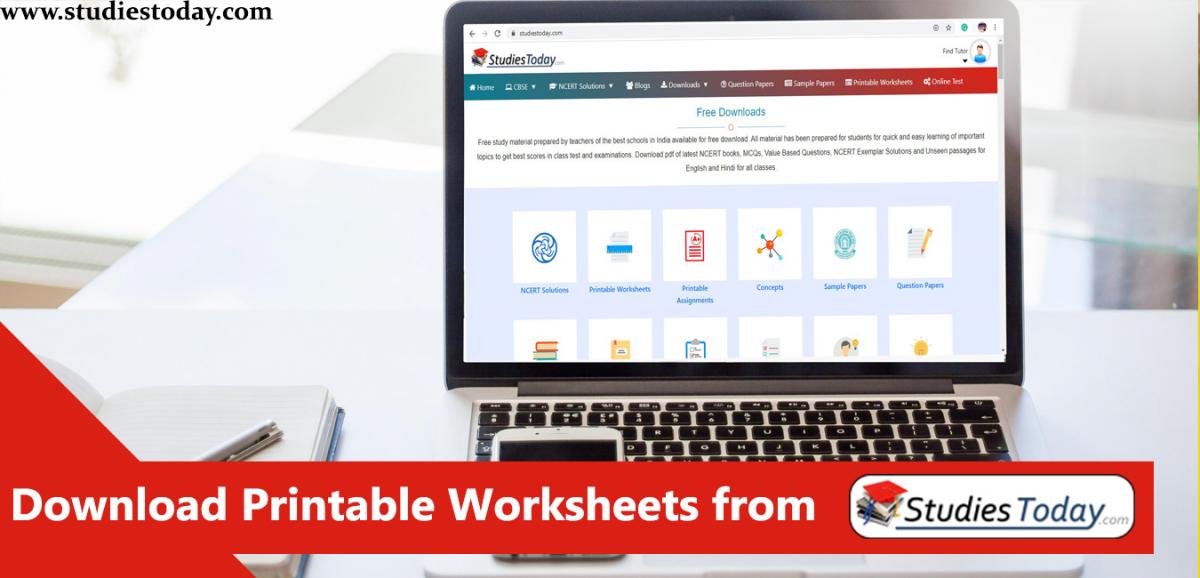 Definitely not at all. There are multiple reasons for switching to practice materials or worksheets for preparing well for your CBSE examinations or finding the best NCERT solutions.
Acts As A Reminder That They Are Doing Well
Worksheets help students understand the concepts that they learn in their classrooms or coaching centers or via home tuitions. It provides them an opportunity to reflect or revise their concepts and understand where they stand.
Aids As A Reviewing and Practicing Material
Worksheets are a good resource and practice material for reviewing what you did so far. As they say practice makes a man perfect. So, do worksheets. They work as perfect tools to enhance students learning capabilities. Plus they act as a revision material to help students have a clear understanding of every single topic for competing well in their CBSE examinations.
Improves Your Problem Solving Skills
When you have a thorough understanding of any particular subject, it will reduce your burden for last-minute revisions. For example, such worksheets are helpful in subjects like Mathematics, science, where you are required to solve questions. Hence you will be able to crack any kind of CBSE examination without much to bother about marks or other stuff.
In the end, worksheets are source materials to understand where and how you are going in your studies. After all every grade is important and one needs to go past them successfully.
So, you can start to download printable worksheets from Studiestoday and ensure to succeed in the upcoming CBSE examinations.