Download MCQs for Class 1 to class 12, Get MCQs for CBSE all subjects for important topics for all chapters in Class 1 to class 12 based on CBSE (NCERT) syllabus and pattern. Practice the multiple choice questions (mcqs) to test understanding of important topics in the chapters. Download latest questions with multiple choice answers for Class 1 to class 12 in pdf free or read online in online reader free. As per the new pattern of examination, CBSE is increasing the MCQs in various question papers for all subjects for. Students should practice the multiple choice questions to gain more marks in exams. This time CBSE question papers will have more multiple choice questions in the Class 1 to class 12 question papers this time. These MCQs cover all important topics given in all subjects for NCERT download in pdf free by clicking on links below.
MCQs for Class 12
MCQs for Class 12 Mathematics
MCQs for Class 11
MCQs for Class 11 Mathematics
MCQs for Class 10
MCQs for Class 10 Mathematics
MCQs for Class 10 History, Economics, Geography, Civics
MCQs for Class 9
MCQs for Class 9 Mathematics
MCQs for Class 9 History, Economics, Geography, Civics
MCQs for Class 8
MCQs for Class 8 Mathematics
MCQs for Class 8 History, Economics, Geography, Civics
MCQs for Class 7
MCQs for Class 7 Mathematics
MCQs for Class 6
MCQs for Class 6 Mathematics
MCQs for Class 5
MCQs for Class 4
MCQs for Class 3
MCQs for Class 2
MCQs for Class 1
Refer to the below links for Multiple Choice Questions for Class 1 to Class 12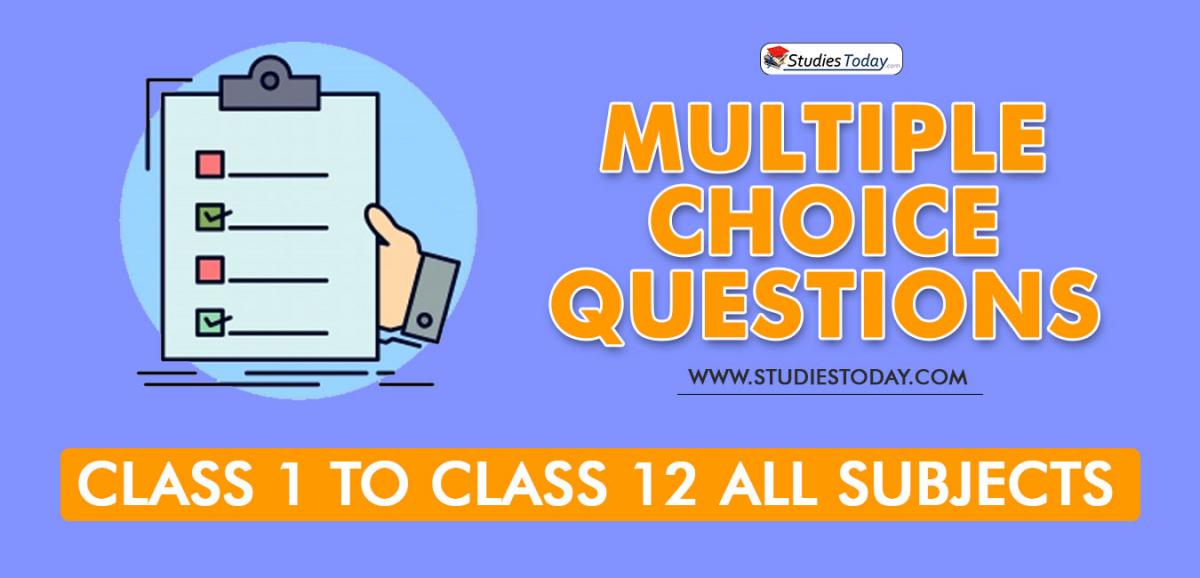 You might have come across the MCQ's in school or college or any kind of entrance exams. So in this article, you will learn about the importance of MCQs and the tips and tricks to attend the MCQs more effectively.
Multiple choice questions (MCQs) are a form of assessment, where the students have to select one or more of the choices from a limited list of answers. Like any other question type, this format alone is useless unless proper usage, subject pairing, and wording are used to make it effective.
Structure of the MCQ's
MCQ's mainly consists of two parts, a stem and a set of options.
The first part of the assessment is the question which is the problem to be solved. The question is an incomplete statement that requires to be completed by providing an answer.
The second part consists of a list of answers which the students have to choose. There is one correct answer present which is called key and the incorrect answers are called distracters.
Advantages of multiple-choice questions
1. Students can easily and quickly score in MCQ's. They also have fast processing time.
2. The students do not have to formulate an answer to the question but they can just focus on the content part.
3. MCQ's can simply cover a lot of content areas in a particular subject. The inclusion of a wide range of content on a single exam can effectively test the student's knowledge.
4. It can test a student's high order thinking skills.
5. MCQ's are conducted in both online and offline exams. Both are simple and easy for students.
6. The MCQ's often need less time to complete so it can test your knowledge simply rather than writing a long paragraph answer.
Tips to attend the multiple-choice questions effectively
1. Answer the question in your mind first:
Once you read the question completely, try to answer it in your mind before you review the set of answer options. This trick will help you to choose the correct answer without any confusion.
2. Eliminate the wrong answers:
Just eliminate the wrong answers in the answer list when you are sure that they are incorrect. This avoids confusion and you can find out the correct answer by comparing and analyzing the rest of the options.
3. Always select the best answer:
Choosing the best answer is more important than choosing the correct answer. This is because the list of answers may have similar or relatable options. So you need to analyze which is the best one rather than choosing the right answer.
4. First, answer the questions which you know:
If you are finding it difficult to answer some questions or struck with a particular question, then leave that particular question and move on to the other questions and answer them. Finally when you have completed answering all the other questions then you can come back to the difficult ones and spend time analyzing it and then answer.
5. Choose the "None of the above" and All of the above" options wisely
This answer is mostly included in all the MCQ's which is quite confusing to answer at times. Don't select the "none of the above" if you are confident that at least one answer is true and the same trick applies to the "All of the above option also". Be very cautious while choosing the answer when the answer list includes this type of answer.
6. Two correct answers
When you find two or more correct answers for a question, then you can confidently opt for the "all of the above"
7. Opt for a positive option
You can sometimes opt for a positive answer. Mostly the positive option is probably the correct or true one among the negative answers given.
Wrapping up:
So this was all about the importance of MCQs for class 1 to class 12. We hope that all the tips and tricks mentioned above will be helpful for you. Choose the answers wisely and double-check whether your answer is correct from the subject point of view.
Click on links below for NCERT Class 1 to class 12 to download latest solved CBSE (NCERT) sample papers, past year (last ten year) question papers with solutions, pdf printable worksheets for Class 1 to class 12, NCERT Books and NCERT solutions for Class 1 to class 12 NCERT based on syllabus and guidelines issued by CBSE and NCERT. The study material for NCERT for Class 1 to class 12 has been made by experienced teachers of leading schools in India is available for free download.
Read the latest news and announcements from NCERT and CBSE below. Important updates relating to your studies which will help you to keep yourself updated with latest happenings in school level education. Keep yourself updated with all latest news and also read articles from teachers which will help you to improve your studies, increase motivation level and promote faster learning