he National Council of Education, Research and Training (NCERT) has designed the Exemplar Questions for class 6th to 12th. Exemplars are set of chapter wise extra questions for subjects like Mathematics, Physics, Chemistry and Biology. The questions are of Multiple Choice Questions, Short answer and long answer type questions. Teachers have been recommending exemplars to students as the questions have been very nicely designed by NCERT. If the student does the exemplar questions thoroughly then there wont be a need to refer to other books. Studiestoday.com team brings you here solutions for all exemplar questions in free to download pdf format. You can click on links below and download chapter wise exemplar solutions in pdf format for free.

NCERT Exemplar Solutions for Class 12
NCERT Exemplar Solutions for Class 11
NCERT Exemplar Solutions for Class 10
NCERT Exemplar Solutions for Class 9
NCERT Exemplar Solutions for Class 8
NCERT Exemplar Solutions for Class 7
NCERT Exemplar Solutions for Class 6
Frequently asked questions about Exemplar Questions: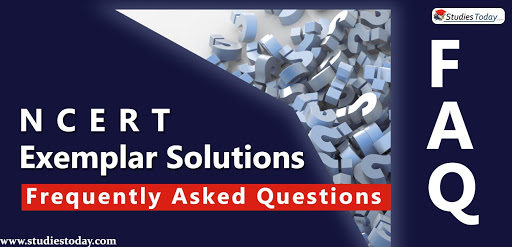 What are Exemplar Questions?
Exemplars are question booklets designed by NCERT for classes 6 to class 12 for subjects like Mathematics, Physics, Chemistry and Biology. These booklets have very carefully designed questions of various types and difficulty levels. These booklets are separate from the standard NCERT books and are available on any bookstore or you can even download the Exemplars from NCERT website.
Who has made these Exemplars?
The questions have been designed by group of teachers of various schools. The teachers who designed the booklets are highly experienced and have made the questions keeping into consideration the syllabus issued by NCERT, questions which can come in the exams and based on various difficulty levels.
Why should student do Exemplars?
This is a question which is being asked and discussed in various forums. We at www.studiestoday.com have got numerous queries from parents on why the students should do exemplars also. The teachers have been suggesting other books like RD Sharma and RS Aggarwal and if the students are asked to do Exemplars also, that will cause more pressure on students. Its strongly recommended that prior to doing questions from any other suggested booklet, students must do practise from Exemplars only. This will ensure that their preparation is as per the defined syllabus. Also, the questions are of various difficulty levels which will ensure that student is able to practise all types of questions.
What will be the benefits of Exemplars Questions?
There are many benefits:
The student will be able to revise the entire course and still be assured that what he is doing is from within the syllabus. There is no need to practise questions which are out of course. There are many very popular books which give questions of next standard and of higher difficulty level in order to show that their books are of higher standard. Infact avoid such books and concentrate on solving Exemplar questions first.
These questions will help you to prepare for competitive exams also. The various types and difficulty levels prepares the students for more difficult questions as if the student is able to solve the questions, this means that his/ her concepts are clear.
The Exemplar booklets have been designed by very senior panel of teachers of reputed schools. Lot of time and hard work of these teachers have gone in preparing these booklets for benefit of students.
Strongly recommended by NCERT and all school teachers.
For which classes and subjects are the exemplars available?
The Exemplar Questions are available for the following classes and subjects:
Should I do extra suggested books or Exemplar Questions?
This is also very frequently asked by parents. Its important to understand that Exemplars have been very carefully designed by NCERT. The questions in the Exemplars are strictly from the NCERT syllabus. Each and every concept given in NCERT chapter is covered in the Exemplars. If you refer to books of other writers, you will find that some topics are explained in too detail and some are completely skipped, but in exemplar all topics are covered. This will help the student to clear all concepts thoroughly.
Will it be helpful in exams?
It has been seen that in board exams some of the questions from exemplars have come as in in the question papers. This shows the importance of the exemplar booklets. In school level exams also teachers have been giving questions from these exemplar booklets.