CBSE Class 12 Physics Thermal Expansion Solved Examples. Please refer to the examination notes which you can use for preparing and revising for exams. These notes will help you to revise the concepts quickly and get good marks.
Ex.1 A clock which keeps correct time at 25ºC has a pendulum made of brass whose coefficient of linear expansion is 0.000019. How many seconds a day will it gain if the temperature fall to 0ºC.
Sol. Let L0 and L25 be the length of pendulum at 0ºC and 25ºC respectively.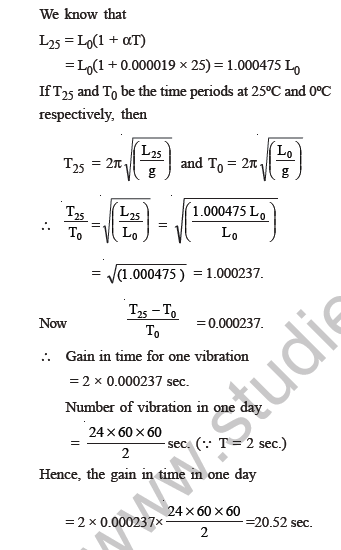 Ex. 2 A steel tape gives correct reading at 20°C. A piece of wood is being measured with the steel tape at 0°C. The reading is 25 cm on the tape.State whether the real length of the wood is more than or less than or equal to 25 cm.

Sol. The steel expands on heating and contracts on cooling. Given that tape gives correct reading at 20°C. At 0°C. the tape contracts. The situations at 0°C and 20°C are shown in figure. Obviously real length of the wood is less than 25 cm.
Ex.3 A metal disc has a hole in it. What happens to size of hole when disc is heated?
Sol. On heating the size of hole increases.
Ex.4 A circular hole in an aluminium plate is 2.54 cm in diameter at 0°C. What is the diameter when the temperature of the plate is raised to 100°C ? 
Given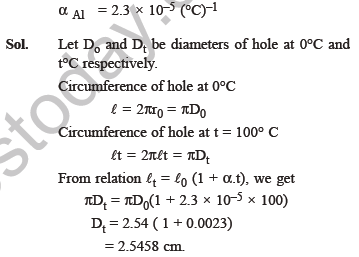 Ex.5 A pendulum clock keeps correct time at 0°C. Mean coefficient of linear expansion is a per °C. If the temperature of the room increases by t°C, then show that the clock loses per day by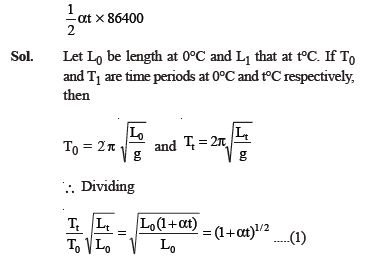 [For section pendulum time period is 2 sec i.e. T0/2 = 1 sec.]
If n0 and nt are number of seconds in one day, then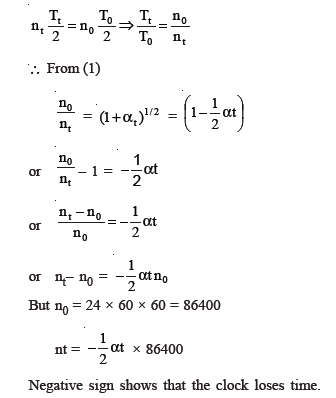 Ex.6 If the volume of a block of a metal changes by 0.12% when it is heated through 20°C, what is the coefficient of linear expansion of metal?
Sol. Coefficient of cubical expansion of metal is given by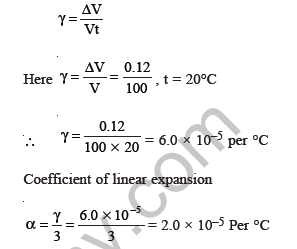 Click for more Physics Study Material
›