CBSE class 12 English NCERT Solutions, latest solved sample papers, past year board exams question papers with solutions and other study material prepared based on latest syllabus and guidelines of CBSE and NCERT, term examination pattern and blueprint
click below for class 12 English NCERT Solutions, worksheets, syllabus, ncert cbse books, easy to learn concepts and study notes of all class 12 English chapters, sample papers and last year solved question papers
cbse class 12 English sample papers, guess papers, last year question papers, hots, syllabus, multiple choice questions (mcqs) easy to learn and understand concepts of all chapters in cbse class 12 English. also includes revision worksheets and easy to learn study notes for cbse class 12 English, based on cbse guidelines. students and parents can download free a collection of all English study material issued by various best schools in india. the English study material has been carefully compiled by the best cbse teachers in india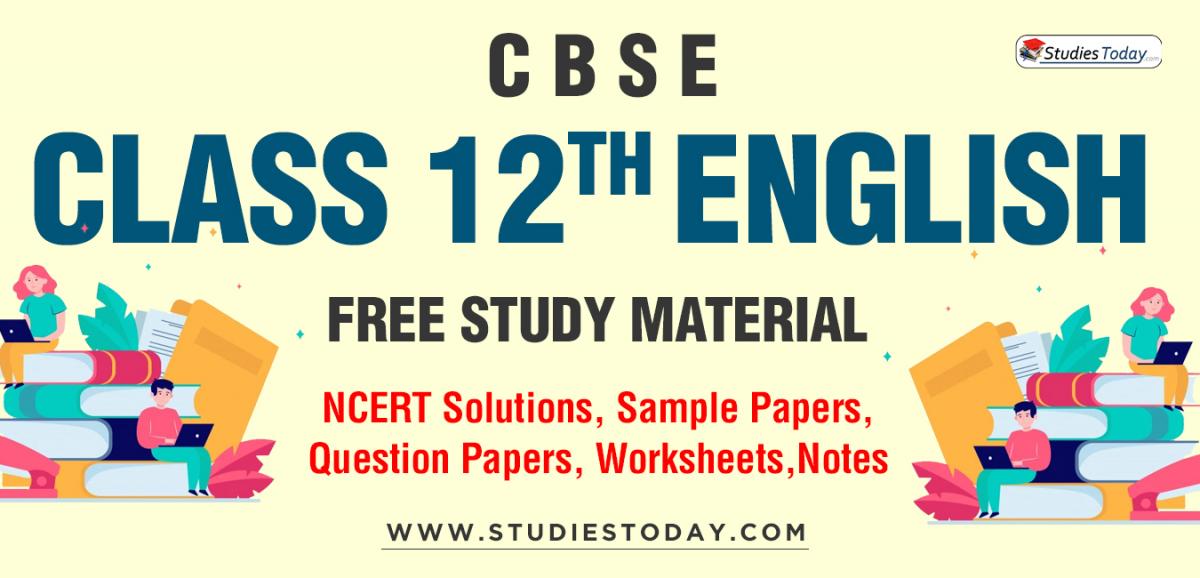 Students must know the syllabus and pattern of questions for their CBSE Class 12 English examination. They should follow step by step to improve their efficiency for scoring good marks in CBSE Board Examination. The steps below will help the student to improve and get ready for examinations.
Syllabus: The very basic step for the students is to know the exact syllabus of English. The syllabus has been developed and provided by NCERT and CBSE for this year's upcoming examinations. Students should go through the syllabus and analyze it very well to understand all the topics, the marks that the questions are bearing. They should also understand the topics of every chapter well.
NCERT Books: After that, the students have understood the syllabus, now it's time for the books. The second step for the students is to get the right book for the preparation. They should get themselves NCERT prescribed Class 12 English Books.
NCERT Solutions: The next step is to solve the questions. Those books have questions at the very end of each chapter. For solving those questions, students should get themselves solutions to the questions which will help them to understand each and every chapter well.
Study Materials: For better performance in the examination, students should have a few more things. Worksheets, revision notes, MCQs, HOTs, and VBQs are always helpful for the students.
Question Papers: Students should also practice from previous years' question papers or sample papers for better understanding and better performance. Solving question papers and sample papers give students the confidence that they need for the exam.
Students must provide themselves with the latest study materials according to the curriculum of CBSE and NCERT. By solving the latest Sample English Papers will help the students to prepare for the Class 12 English examination. Students should score good marks in Class 12 to have a good rank in school. Solving sample papers will make the students understand the topics and chapters well. Students get to know about the questions that come again and again over the years. By solving various papers, students tend to get good marks.
Benefits of Class 12 English Sample Papers
Helps the students to improve their problem-solving skills along with their analytical skills.
Increases the speed and accuracy of the students for solving question papers.
Helps the students to go through the entire syllabus and also to get well aware of important topics.
Students create a strategy to understand and solve questions by solving the sample English papers.
Solving sample papers always helps the students to understand, identify and improve the areas where they are weak. It strengthens each and every concept of all the chapters for the students. This helps them to score well.
Improves strong and basic understanding of their English Book.
By solving the sample English papers, students get well aware of their question pattern.
Following these basic things, students will score good marks in their examination in English.