Read and download free pdf of CBSE Class 10 Social Science Revision Assignment Set B. Get printable school Assignments for Class 10 Social Science. Standard 10 students should practise questions and answers given here for Social Science in Grade 10 which will help them to strengthen their understanding of all important topics. Students should also download free pdf of Printable Worksheets for Class 10 Social Science prepared as per the latest books and syllabus issued by NCERT, CBSE, KVS and do problems daily to score better marks in tests and examinations
Revision Class 10 Social Science Assignment Pdf
Class 10 Social Science students should refer to the following printable assignment in Pdf for Revision in standard 10. This test paper with questions and answers for Grade 10 Social Science will be very useful for exams and help you to score good marks
Class 10 Social Science Assignment for Revision
1.Until 18th century which two countries were considered the richest in the world?
(a) India and China
(b) China and Japan
(c) England and France
(d) England and Italy
Ans :(a)
2.Why were the Europeans attracted to Africa?
(a) By its natural beauty
(b) By the opportunities for investment
(c) For its vast land resources and mineral wealth
(d) For recruitment of labour
Ans :(c)
3.Transport of perishable goods over long distance was possible because of
(a) improved railways
(b) airline services
(c) refrigerated ships
(d) steam ships
Ans :(c)
4.The World Bank was set-up to
(a) finance rehabilitation of refugees.
(b) finance post war construction.
(c) finance industrial development.
(d) help third world countries.
Ans :(b)
5.The Chutney music was popular in ____________ and ______________.
Ans :Trinidad and Guyana
6.Before the war, _____________ was a major supplier of wheat in the world market.
Ans :eastern Europe
7.The method used by Henry Ford for faster and cheaper automobile production was known as_________________.
Ans :assembly line
8.Peru was called the city of gold. (True/False)
Ans :False
9.The silk route helped in cultural and commercial exchange. (True/False)
Ans :True
10.Second World War did not result in economic devastation and social disruption. (True/False)
Ans :False
11.Match the columns.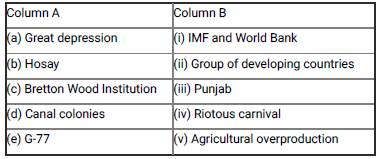 Ans :(a) (v), (b) (iv), (c) (i), (d) (iii), (e) (ii)
12.Most Indian indentured workers came from:
(a) Eastern Uttar Pradesh
(b) North-eastern states
(c) Jammu and Kashmir
(d) None of these
Ans :(a)
13.Who adopted the concept of an assembly line to produce automobiles?
(a) Henry Ford         (b) Karl Benz
(c) V.S. Naipaul        (d) Samuel Morse
Ans :(a)
14.______________ travelled west from China to be called "Spaghetti'.
Ans :Noodles
15.Tax imposed on a country's imports from the rest of the world is called_______________.
Ans : tariff
16.Britain was the world's leading economy during the pre-First World War period. (True/False)
Ans :True
17.The IMF and the World Bank were designed to meet the financial needs of the industrial countries. (True/False)
Ans :True
18.The person who got people from village, ensured them jobs, helped them settle in cities and provided them money in times of need was known as:
(a) Stapler (b) Fuller
(c) Gomastha (d) Jobber
Ans :(d)
19.Why did Manchester export to India decline after the First World War?
(a) People were busy fighting the war.
(b) Factories closed down due to security problem.
(c) Factories and mills were busy producing goods to fulfill the need of army.
(d) Export trade was restricted by the government.
Ans :(c)
20.Why were workers in England hostile to machines and new technology?
(a) They did not know how to use these.
(b) They feared that they would lose their jobs and livelihood.
(c) The workers were too poor to buy new machines.
(d) They were scared of machines.
Ans :(b)
21.Why were there frequent clashes between the gomastha and the weavers?
(a) The weavers hated foreigners.
(b) The gomastha forced the weavers to sell goods at a dictated price.
(c) Gomasthas were outsiders without long term social link with the village.
(d) None of the above.
Ans :(c)
22.From which of the following trade did the early entrepreneurs make a fortune?
(a) Textile trade      (b) China trade
(c) Trade in tea       (d) Industries
Ans :
(b)
23.Which of the following was a European managing agency?
(a) Tata Iron and Steel Company
(b) Andrew Yule
(c) Elgin Mill
(d) Birla industries
Ans :(b)
24.Guilds were associations of ____________.
Ans :traders
25.______________ was a mechanical device used for weaving.
Ans :Fly shuttle
26.Manchester in England was well-known for ____________.
Ans :textile production
27.In Bengal, Dwarakanath Tagore made his fortune in China Trade. (True/False)
Ans :True
28.G.D. Birla was a Parsi entrepreneur who built huge industrial empire in India. (True/False)
Ans :False
29.Advertisements make the products appear desirable and necessary. (True/False)
Ans :True
30.Match the columns.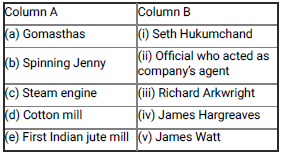 Ans :(a) (ii), (b) (iv), (c) (v), (d) (iii), (e) (i)
31.By late 19th century why did the British manufacturers print calendars for advertisements?
(a) Indian people were fond of using calendars in their houses.
(b) Unlike newspapers and magazines, calendars were used even by people who did not know how to read or write.
(c) It was cheaper to advertise goods through calendars.
(d) It used to add beauty to the room.
Ans :(b)
32.Which of the following innovations helped the weavers in increasing productivity and compete with mill sector?
(a) Spining jenny (b) Fly shuttle
(c) Cotton Gin (d) Roller
Ans :(b)
33.The yarn produced in Indian industries was exported to __________________.
Ans :China
34.The expansion of railways boosted the growth of __________ and __________ industries.
Ans :iron and steel
35.When there is plenty of labour, wages are low. (True/False)
Ans :True
36.In European society, members of the royal family are referred as 'bourgeoisie'. (True/False)
Ans :False
37.Who was Marcopolo?
(a) German scientist
(b) English philosopher
(c) Spanish explorer
(d) Italian traveller/explorer
Ans :(d)
38.Who wrote about the injustices of the caste system in 'Gulamgiri'?
(a) Raja Rammohan Roy
(b) Jyotiba Phule
(c) Balgangadhar Tilak
(d) Bankim Chandra Chattopadhyay
Ans :(b)
39.Which of the following refers to print revolution?
(a) Invention of printing press
(b) Shift from hand printing to mechanical printing
(c) Revolt of people against printed matters
(d) Handwritten manuscripts for printed books
Ans :(b)
40.Aim of Protestant Reformation was to:
(a) reform religion
(b) reform the Catholic church
(c) reform Jewish religion
(d) to protest against all reform
Ans :(b)
41.Why was James Augustus Hickey persecuted by Governor General Warren Hastings?
(a) For poor editing of Bengal Gazette
(b) For publishing a lot of gossip about company's Senior Official
(c) For publishing substandard material
(d) None of these
Ans :(b)
42.By whom was 'Sambad Kaumudi' published in 1821?
(a) Iswer Chandra Vidyasagar
(b) C.R. Das
(c) Raja Rammohun Roy
(d) Swami Vivekanand
Ans :(c)
43.In ancient India which of the following material was used for writing manuscripts?
(a) Parchments (b) Vellum
(c) Palm leaves (d) Paper
Ans :(b)
44.Skilled hand writers were known as _________.
Ans :scribes
45._____________ was the Latin scholar who expressed deep anxiety about printed book.
Ans :Erasmus
46.'Amar Jiban' is the autobiography of_____________.
Ans :Rashsundari Debi
47.Amar Jiban was the autobiography written by Rashsundari Debi. (True/False)
Ans :True
48.Vellum is the parchment made of animal skin. (True/False)
Ans :True
49.Monnocchio said "The printing press is the most powerful engine of progress". (True/False)
Ans :False
50.Match the columns.

Ans :(a) (iii), (b) (v), (c) (iv), (d) (i), (e) (ii)
51.Which one of the following is the oldest Japanese book? [CBSE 2014]
(a) Sutta Pitaka    (b) Diamond Sutra
(c) Mahavamsa     (d) Dipavamsa
Ans :(b)
52.The reformation movement was launched against the corrupt practices of which of the following group?
(a) Feudal Lords               (b) Protestant Church
(c) Catholic Church           (d) Absolute rulers
Ans : (c)
53.Who among the following was not a women novelist?
(a) Jane Austen     (b) Bronte Sisters
(c) George Eliot     (d) Maxim Gorky
Ans :(d)
54.The first printing press was developed by______.
Ans :Johann Gutenberg
55.____________ is an art of beautiful and stylised writing.
Ans :Calligraphy
56.American explorer Marco Polo brought back the knowledge of printing to Italy. (True/False)
Ans :False
57.'Bengal Gazette' the weekly magazine was brought out byGangadhar Bhattacharya. (True/False)
Ans :True
58.Which one of the following soils is ideal for growing cotton?
(a) Regur soil     (b) Laterite soil
(c) Desert soil    (d) Mountainous soil
Ans :(a)
59.Soil is formed by the process of
(a) Denudation     (b) Gradation
(c) Weathering     (d) Erosion
Ans :(c)
60.Land left without cultivation for one or less than one agricultural year is called
(a) Culturable waste land
(b) Current fallow land
(c) Waste land
(d) None of the above
Ans :(b)
61."There is enough for everybody's need but not for anybody's greed". Who said this?
(a) Jawahar Lal Nehru
(b) Atal Bihari Vajpai
(c) M. K. Gandhi
(d) Sunder Lal Bahuguna
Ans :(c)
62.Resources which are surveyed and their quantity and quality have been determined for utilisation are known as
(a) Potential resources
(b) Stock
(c) Developed resources
(d) Reserves
Ans :(c)
63.Which one of the following statements is correct as regard to international resources?
(a) Resources which are regulated by international institutions.
(b) Resources which lie beyond the territorial waters.
(c) Resources which are found along the international frontier.
(d) Resources which are not yet developed.
Ans :(a)
64.The first International Earth Summit was held in
(a) Geneva    (b) New York
(c) Japan      (d) Rio de Janeiro
Ans :(d)
65.The most widespread relief feature of India is
(a) Mountains   (b) Forests
(c) Plains         (d) Plateaus
Ans :(c)
66. Resources which are found in a region, but have not been utilised
(a) Renewable    (b) Developed
(c) National        (d) Potential
Ans :(d)
67.Which one of the following statements is true about the term resources? [CBSE 2011]
(a) Resources are free gifts of nature.
(b) They are the functions of human activities.
(c) All those things which are found in nature.
(d) Things which cannot be used to fulfill our needs.
Ans :(b)
68.____________ and ___________ are the methods of soil conservation in hilly areas.
Ans :Terrace farming and contour ploughing
69.Old alluvial soil is called____________.
Ans :bangar
70.__________ is a method of growing rows of trees in arid regions.
Ans :Shelter belts
71.Landuse pattern of India is lopsided. (True/False)
Ans :True
72.The Alluvial Soil is the most widespread soil of India. (True/False)
Ans :True
73.Red soils are found in Thar Desert. (True/False)
Ans :False
74.Fossil fuels are examples of non-recyclable resources. (True/False)
Ans :True
75.Matching the columns.
Ans :
           Column A                    Column B
(a) Uppermost layer of soil      (i) Black soil
(b) New alluvial                     (ii) Topsoil
(c) Regur soil                         (iii) Over grazing
(d) Land with many
gullies and ravines                 (iv) Khadar
(e) Land degradation             (v) Bad Land
Ans :(a)–(ii), (b)–(iv), (c)–(i), (d)–(v), (e)–(iii)
76. The red soil is red in colour because
(a) it is rich in humus.
(b) it is rich in iron compounds.
(c) it is derived from volcanic origin.
(d) it is rich in potash.
Ans :(b)
77.Soil formed by intense leaching is
(a) Alluvial soil (b) Red soil
(c) Laterite soil (d) Desert
Ans :(c)
78._____________ soil has high water retaining capacity.
Ans :Black
79.Land consisting of many gullies and ravines are called ______________.
Ans :bad lands
80.Protection of soil from erosion is called soil conservation. (True/False)
Ans :True
81.Solar energy is an example of non-recyclable resource. (True/False)
Ans :False
82.Which of the following crops are grown with the onset of monsoons and are harvested in the months of September-October?
(a) Rabi    (b) Kharif
(c) Zadi    (d) None of the above
Ans :(b)
83.'Slash and burn' agriculture is a
(a) Shifting agriculture
(b) Intensive agriculture
(c) Commercial agriculture
(d) None of these
Ans :(a)
84.Grapes are mainly produced in the state of ________.
(a) Meghalaya    (b) Himachal Pradesh
(c) Mizoram       (d) Andhra Pradesh
Ans :(d)
85.Bhoodan – Gramdan movement was initiated by
(a) Mahatma Gandhi     (b) Jawaharlal Nehru
(c) Vinoba Bhave         (d) Bal Gangadhar Tilak
Ans :(c)
86.Grouping of small land holdings into a bigger one is called
(a) ceiling on land holdings.
(b) collectivisation.
(c) cooperative farming.
(d) consolidation of land holdings.
Ans :(d)
87.Oranges are mainly produced in the state of ________.
(a) Madhya Pradesh    (b) Maharashtra
(c) Kerala                   (d) Tamil Nadu
Ans :(b)
88.Intensive subsistence farming is practised in area of _______. [CBSE 2012]
(a) high population     (b) low population
(c) deserts                (d) thick forests
Ans :(a)
89.Which one of the following statements is incorrect as regards to commercial farming?
(a) Use of heavy doses of modern inputs.
(b) Crops are grown for sale.
(c) Family members are involved in growing crops.
(d) Practised on large land holdings.
Ans :(c)
90.Which one of the following is a rabi crop?
(a) Rice      (b) Wheat
(c) Bajra       (d) Jowar
Ans :(b)
91.The largest tea producing state of India is
(a) Karnataka            (b) Assam
(c) Andhra Pradesh    (d) Arunachal Pradesh
Ans :(b)
92.A type of millet rich in iron, calcium, other micro nutrients and roughage is __________ .
(a) Bajra (b) Rajma
(c) Jowar (d) Ragi
Ans :(d)
93.India is the second largest producer of sugarcane only after _____________.
Ans :Brazil
94.___________ is the Golden fibre of India.
Ans :Jute
95.______________ is a programme introduced by the Government that has resulted in increased production of food grains.
Ans :Green Revolution
96.Kerala is the largest producer of ______________ in India.
Ans :rubber
97.The crop grown in black soil is Rice. (True/False)
Ans :False
98.Castor seed is grown both as Rabi and Kharif crop.(True/False)
Ans :True
99.The main characteristic feature of commercial farming is the use of high doses of modern inputs. (True/False)
Ans :True
100.Watermelon is grown during Zaid season. (True/False)
Ans :True
Section : A (History)
1. In what three ways the print culture help in creating conditions for the French revolution of 1789 ? Explain any three ways. 
2. Liberty of speech ---- Liberty of press ---- Freedom of association. The government of India is now seeking to crush the three powerful vehicles of cultivating public opinion. The fight for swaraj means a fight for this threatened freedom. 
(i) Who said the above statement?
(ii) Why was government truing to crush the vehicles? Give two reasons.
3. Highlight any three contributions of Print culture in the growth of nationalism in India? How did the British rulers attempt to check it. 
4. "Politics and social division should not be allowed to mix." Give three arguments in favour of your answer. 
5. Identify and justify the three areas where Indian women are yet discriminated. 
6. What is meant by a secular state? How does the constitution of India make India a secular state? 
Section : B(Geography)
1) What types of soil is found in the river deltas of the Eastern Coast? Give two main features of this type of soil. 
2) Suggest any three measures for controlling land degradation in hilly areas. 
3) Describe how communities have conserved and protected forests and wildlife in India. 
4) What is meant by water scarcity? Discuss the various reasons for water scarcity in our country. 

Please click the below link to access CBSE Class 10 Social Science Revision Assignment Set B
Click for more Social Science Study Material
›