CBSE Class 12 Geography Question Paper Foreign with answers 2017 (2). Students can download the last year question papers using the link below. Free download of examination question papers with solutions.Last 10 year question papers should be practised to get better marks in examinations.
1. What is meant by Age-Sex pyramid ?
2. How does the navigability of inland waterways depend on the width and depth of the channel ?
3. Classify the Indian cotton textile industry into two sectors.
4. How is the crude birth-rate expressed ?
5. What is meant by tourism ?
6. In what type of climatic areas is sugarcane cultivated ?
7. How does migration affect the status of women directly or indirectly ?
8. Possibilities can be created within the limit, which do not damage the environment and there is no free run without accidents. Analyse the statement.
9. Explain any three methods of conservation of mineral resources in India.
10. How have security and scarcity of water played a role in the development of clustered rural settlements in India ? Explain with examples.
11. Study the diagram given below carefully and answer the questions that follow :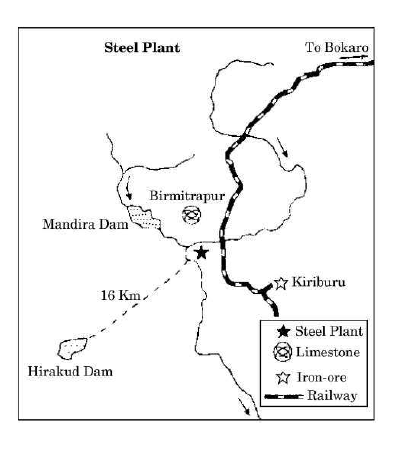 (11.1) Identify and name the iron and steel plant shown in the above diagram. In which State is this plant located ?
(11.2) Which two rivers provide water to this plant ?
(11.3) Which is the main source of electricity for this plant ?
Please click the link below to download pdf file of CBSE Class 12 Geography Question Paper Foreign with answers 2017 (2)

For more study material for Geography please click here -
Geography