CBSE Class 12 Geography Question Paper Delhi with answers 2017 (2). Students can download the last year question papers using the link below. Free download of examination question papers with solutions. Last 10 year question papers should be practised to get better marks in examinations.
1.Which form of rural settlement pattern develops along roads, railway-lines, rivers and canals in the world ?
2. Which stream of migration recorded the highest number of migrants at the level of intra – state migration in India ?
3. Which is the apex body responsible to improve the quality of roads at national level in India ?
4. "The Volga is one of the most developed inland water-ways in Russia". Justify.
5. Classify rainfed farming on the basis of adequacy of soil moisture during cropping season.
6. How is 'node' different from 'link' in transport system ?
7. Why has gathering little chance of becoming important at the global level ? Explain one reason.
8."Nature and humans are inseparable elements". Justify the statement with suitable examples.
9. Study the given diagram carefully and answer the questions that follow :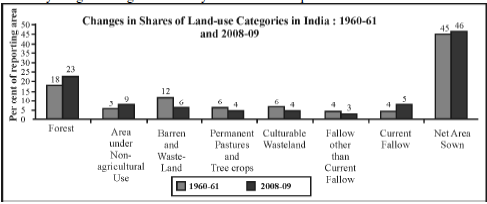 (9.1)Which land use category has shown the highest increasing trend ? What percentage in reporting area has increased in that category, during the given period ? 
(9.2) Explain any two reasons responsible for the increasing trend in that category.
Please click the link below to download pdf file of CBSE Class 12 Geography Question Paper Delhi with answers 2017 (2)

For more study material for Geography please click here -
Geography