CBSE Class 12 Geography Question Paper Foreign with answers 2017 (1). Students can download the last year question papers using the link below. Free download of examination question papers with solutions.Last 10 year question papers should be practised to get better marks in examinations.
1. Define the term 'Age structure'.
2. What is meant by tourism ?
3. In what type of climatic areas is sugarcane cultivated ?
4. Why are the people of a country considered its real wealth ?
5. How does the navigability of inland waterways depend on the width and depth of the channel ?
6. Classify the Indian cotton textile industry into two sectors.
7. How has a downward trend of crude birth-rate become possible in the fourth phase of growth of population in India ?
8. Study the diagrams given below carefully and answer the questions that follow :

(8.1) Identify and name the rural settlement patterns in the above given diagrams shown as (A) and (B).
(8.2) Write one feature of each rural settlement pattern.
9. What are the two main objectives of the Drought Prone Area Programme ?
10. How is Drought Prone Area Programme implemented ? Explain. follow :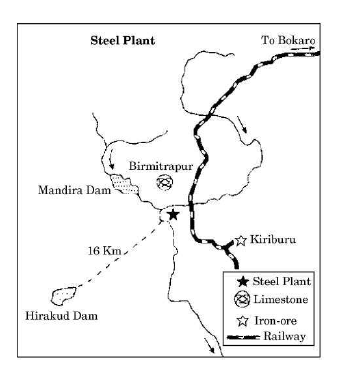 (10.1) Identify and name the iron and steel plant shown in the above diagram. In which State is this plant located ?
(10.2) Which two rivers provide water to this plant ? 
(10.3) Which is the main source of electricity for this plant ?
Please click the link below to download pdf file of CBSE Class 12 Geography Question Paper Foreign with answers 2017 (1)

For more study material for Geography please click here -
Geography