CBSE Class 12 Geography Boards Question Paper Solved 2018 Set 2. Students can download the last year question papers using the link below. Free download of examination question papers with solutions. Last 10 year question papers should be practised to get better marks in examinations. 
GEOGRAPHY
 1. State any two advantages of air transport in the International trade.
2. State the major problem being faced by Kolkata sea-port.
3. Mention any two factors responsible for the establishment of cotton textile mills in Mumbai.
4. Evaluate the importance of 'quaternary activities'.
5. 'Examine the concept of 'regional planning'.
6. Why is India a popular tourist destination in the world ?
7. Differentiate between growth and development.
8. ''Indiscriminate use of water by increasing population and industrial expansion has led to degradation of the quality of water considerably.'' Evaluate the statement.
9. Describe any three major problems of road transport in the world.
10.''Every January after the harvest season 'Jonbeel Mela' takes place in Jagiroad, 35 kilometres away from Guwahati and it is possibly the only fair in India, where 'barter system' is still alive. A big market is organised during this fair and people from various tribes and communities exchange their products.'' In light of the above paragraph, justify the values of 'barter system' in the lives of the tribal communities.
11. Study the diagram given below and answer the questions that follow :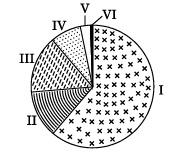 • Which class of towns/cities support the largest urban population ?
• Explain any two reasons for such a high concentration of population in this class of towns/cities.            
Please click the link below to download pdf file of CBSE Class 12 Geography Boards Question Paper Solved 2018 Set 2.
Click for more Geography Study Material
›