CBSE Class 12 Chemistry notes and questions for Solutions Part B. Learning the important concepts is very important for every student to get better marks in examinations. The concepts should be clear which will help in faster learning. The attached concepts made as per NCERT and CBSE pattern will help the student to understand the chapter and score better marks in the examinations.
Solution
KEY CONCEPTS
Solution is the homogeneous mixture of two or more substances in which the components are uniformly distributed into each other. The substances which make the solution are called components. Most of the solutions are binary i.e., consists of two components out of which one is solute and other is solvent.
Ternary solution consists of three components
Solute ‐ The component of solution which is present in smaller quantity.
Solvent – The component of solution present in larger quantity or whose physical state is same as the physical state of resulting solution.
Types of solutions: Based on physical state of components solutions can be divided into 9 types.
Solubility ‐ The amount of solute which can be dissolved in 100grm of solvent at particular temp. to make saturated solution.
Solid solutions are of 2 types ‐
1. Substitutional solid solution e.g. Brass (Components have almost similar size)
2. Interstitial solid solution e.g. steel (smaller component occupies the interstitial voids) Expression of concentration of solution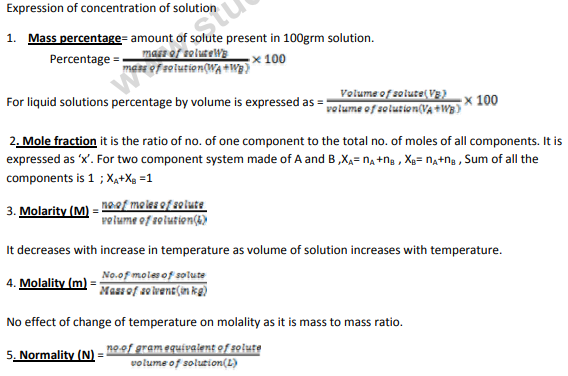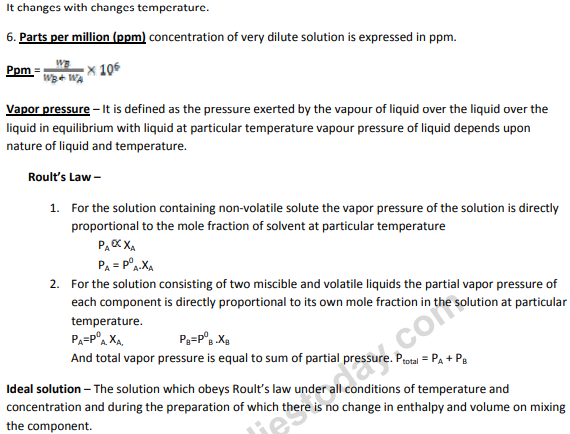 Please click the link below to download pdf file for CBSE Class 12 Chemistry notes and questions for Solutions Part B.
Click for more Chemistry Study Material
›