CBSE Class 12 Chemistry - Chemistry in Everyday Life Chapter Notes. Learning the important concepts is very important for every student to get better marks in examinations. The concepts should be clear which will help in faster learning. The attached concepts made as per NCERT and CBSE pattern will help the student to understand the chapter and score better marks in the examinations.
Chapter : Chemistry in Everyday Life
Top concepts
1. Drugs are low molecular mass ( 100-500 u) substances which interact with targets in the body and produce a biological response 
2. Medicines are chemicals that are useful in diagnosis, prevention and treatment of diseases
3. Desirable or beneficial effect of a drug like treatment of symptoms and cure of a disease on a living body is known as therapeutic effect
4. Proteins which perform the role of biological catalysts in the body are called enzymes
5. Functions of enzymes:

 (i) The first function of an enzyme is to hold the substrate for a chemical reaction. Active sites of enzymes hold the substrate molecule in a suitable position, so that it can be attacked by the reagent effectively
(ii) The second function of an enzyme is to provide functional groups that will attack the substrate and carry out chemical reaction
6. Main role of drugs is to either increase or decrease role of enzyme catalysed reactions. Inhibition of enzymes is a common role of drug action. Enzyme inhibitor is drug which inhibits catalytic activity of enzymes or blocks the binding site of the enzyme and eventually prevents the binding of substrate with enzyme. Drug can inhibit attachment of substrate on active site of enzymes in following ways. 
(a)   Competitive Inhibition: Competitive Inhibitors are the drugs that compete with the natural substrate for their attachment on the active sites of enzymes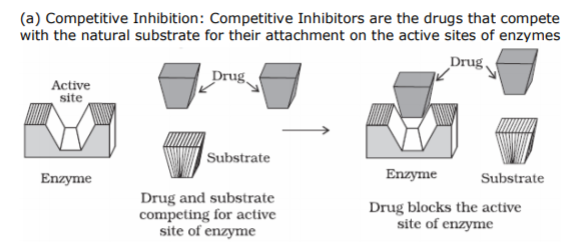 (b) Non-Competitive Inhibition: Some drugs do not bind to the enzyme's active site, instead bind to a different site of enzyme called allosteric site. This binding of inhibitor at allosteric site changes the shape of the active site in such a way that substrate cannot recognise it. If the bond formed between an enzyme and an inhibitor is a strong covalent bond and cannot be broken easily, then the enzyme is blocked permanently. The body then degrades the enzyme-inhibitor complex and synthesizes the new enzyme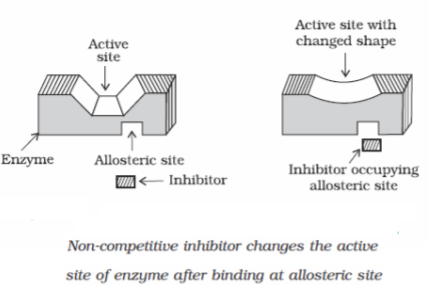 Please click the link below to download pdf file for CBSE Class 12 Chemistry - Chemistry in Everyday Life Chapter Notes.
Click for more Chemistry Study Material
›