CBSE Class 9 Science Natural Resources Notes. There are many more useful educational material which the students can download in pdf format and use them for studies. Study material like concept maps, important and sure shot question banks, quick to learn flash cards, flow charts, mind maps, teacher notes, important formulas, past examinations question bank, important concepts taught by teachers. Students can download these useful educational material free and use them to get better marks in examinations.  Also refer to other worksheets for the same chapter and other subjects too. Use them for better understanding of the subjects.
RESOURCES ON THE EARTH
Biosphere:
The whole combination of animals, plants and non-living beings which by their interaction make the planet earth a live and vibrant place is called biosphere.
Biotic Components:
Living things constitute the biotic component of the biosphere.
Abiotic Components:
The air, the water and the soil form the non-living or a biotic component of the biosphere. The air is called the hygrosphere, the water is hydrosphere and the soil is called lithosphere.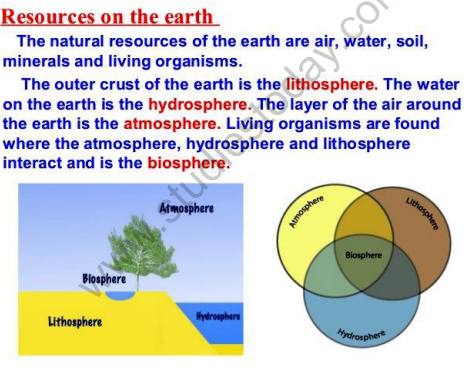 AIR
Air is a mixture of many gases like nitrogen, oxygen, carbon dioxide and water vapour. All living beings need oxygen to break down glucose molecules and get energy for their activities. This results in the production of carbon dioxide. Another process which results in the consumption of oxygen and the concomitant production of carbon dioxide is combustion. This includes not just human activities, which burn fuels to get energy, but also forest fires. Despite this, the percentage of carbon dioxide in our atmosphere is a mere fraction of a percent because of carbon dioxide fixation.
Please click the link below to download CBSE Class 9 Science Natural Resources Notes.
Click for more Science Study Material
›