Download Class 9 English NCERT Solutions, latest sample papers and question papers with solutions, syllabus and notes for chapters for preparing for exams, students can free download all study material in pdf prepared based on latest guidelines, term examination pattern and blueprint issued by CBSE and NCERT
Click below for Class 9 English worksheets with important questions and notes, latest syllabus, ncert cbse books, ncert solutions, hots, multiple choice questions (mcqs), easy to learn concepts of chapters. Click below to download free
CBSE Class 4 English sample papers, guess papers, last year question papers, hots, syllabus, multiple choice questions (mcqs) easy to learn and understand concepts of all chapters, also includes revision worksheets and easy to learn study notes based on cbse guidelines. students and parents can download free a collection of all English study material issued by various best schools in india. the English study material has been carefully compiled by the best NCERT and CBSE teachers in india. the students should practice the questions database to get better marks in class 4 English examination. please refer to other links for free download of high quality study material. Also, Get List of SST Class 9 Important Questions in PDf Form.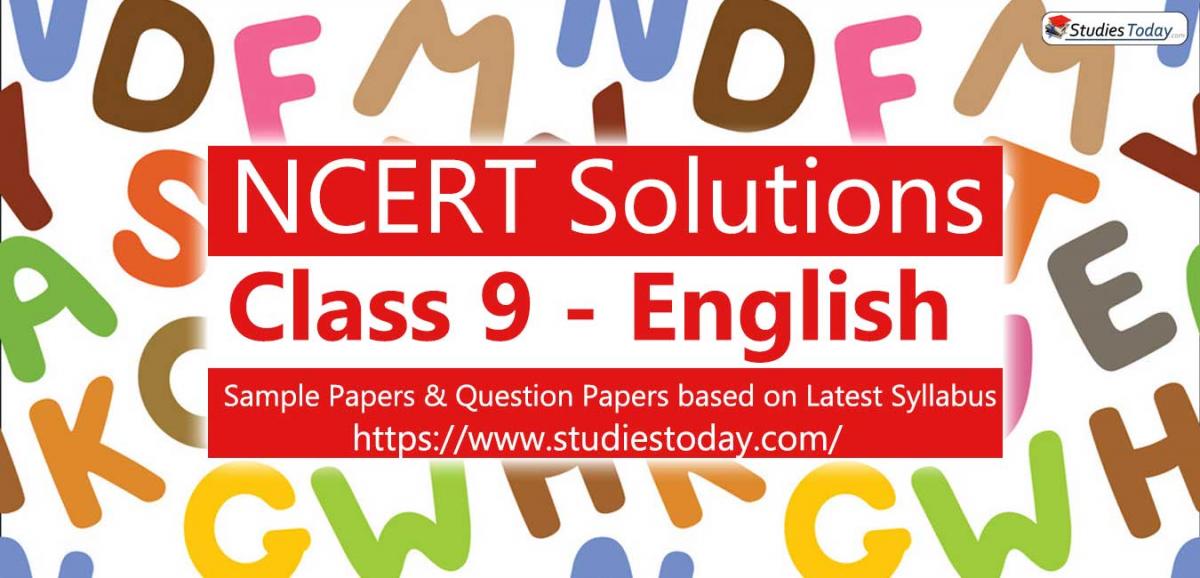 The Class 9 English students find this subject scoring. As this is a very interest8ng subject, post reading the Class 9 NCERT Books the students should be able to easily perform the following activities -
Comprehend audio/video scripts, read aloud texts and answer comprehension/ inferential questions by listening.
Use English news, films, songs, dramas, role-play, talks on internet, etc. as a resource to develop listening comprehension and understanding of the use of tone/intonation/stress, etc. in speech.
Meet people and discuss on variety of issues, or listen to record discussions with people from different professions through face to face/electronic media.
Participate in inter and intra school activities like school exhibitions, annual day celebration, debate competitions, discussions, etc.
Make announcements during school functions, take interviews of people/ personalities by framing questions, introduce a speaker; develop news items and present in class/school assembly.
Organise and participate in discussions, present viewpoints/arguments, express contrasts with logic and reasoning, in the process develop problem solving and reasoning ability; and critical thinking. You can refer to Worksheets for Class 9 English to further practice your understanding relating to this capability.
Recite poems with proper stress and intonation.
Use audio-video / text materials for writing short skits, role plays, street plays and dramatize to communicate messages.
Use/refer to dictionary, magazines and periodicals, thesaurus, encyclopedia, electronic media, visit library and consult various resources for improving English language proficiency.
Ask questions on the texts read in the class and during discussions; be patient and respectful while listening to others and express their views.
Share their experiences such as journeys, visits, hobbies, etc.
Understand different registers/use of appropriate words through a variety of listening and speaking activities on topics such as sports, cookery, music, etc.; use these registers in their day-to-day life and use them where ever necessary.
Read and narrate stories, describe incidents with fluency and in sequence and also solve NCERT Solutions for class 9 English.
Take down dictation by listening attentively, using appropriate punctuation marks.
To improve their listening skills by taking down notes from passages read aloud, News on TV, during discussions in the class; understand the processes on how to make notes after reading a passage/ article, etc. and then summarize.
Use map to understand directions, space and distance; look at graphs, charts and tables to know how data has been given and interpreted.
Connect the issues in the texts they read to the world outside and think on possible solutions.
Design advertisements and invitations for celebrations, prepare weather reports, news items and discussions by using audio-video support.
Jot down ideas, develop an outline, write the first draft, edit, revise and then finalise (for writing short and long passages / paragraphs, notices, reports, using these processes).
Utilise the given visual input and graphs with the clues provided and write passages / paragraphs.
Edit writings of self/peers using appropriate punctuation marks such as capital letters, comma, semicolon, inverted commas; grammar and correct spelling.
Understand and learn to encode and decode texts of different genre through individual, pair and group reading.
Understand the functions of grammar, the usages for accuracy in language (both spoken and written) by the processes of noticing / identifying them in use and arriving at the rules.
Familiarise with a variety of vocabulary associated with various themes using these in different contexts through various inputs: collocations, word webs, thematic vocabulary, etc.
Be acquainted with proverbs, phrases, idioms and their usage.
Use creativity and imagination and connect the discourse with real life contexts while expressing themselves through speech / writing.
Imagine and describe characters and situations using prompts / flash cards / verbal clues / pictures and create stories.
Be exposed to a variety of poems like lyric, ballad, ode, limerick, elegy etc. and notice onomatopoeic sounds, symbols, metaphors, alliteration, etc. for appreciation.
Identify comparisons, allusions, poet's / writer's point of view, literary devices etc.
Undertake group / individual project work of interdisciplinary nature on social, cultural and common themes to work with language: collection, processing, analysing, interpreting of information and then presenting orally and in writing.
Know and promote core values such as tolerance, appreciation of diversity and civic responsibility, patriotism through debate, discussion and reading of biographies, stories of struggles etc. The best way is to do Sample Papers for Class 9 English
Follow the concept of directions on a given map of a locality/town/city/ country, tactile/raised material for children with special needs.
Use/read alternative materials such as Braille texts / poems, cartoons, graphic presentations, audio tapes, video tapes, and audio visuals to speak on issues related to society.
Get familiarised with Sign Language for using with learners with hearing impairment in an inclusive environment in the school.
Use bilingual/ multilingual ways to exchange ideas or disseminating information by taking the help of ICT, PPT, role play, street play, drama, written scripts, etc
ENGLISH COMMUNICATIVE
SECTION A: READING
This section will have two reading passages as per the details below :
Q.1: A Factual passage 300-350 words with eight Questions.
Q.2: Discursive passage of 350-400 words with four Short Answer Type Questions to test inference, evaluation and analysis and four Very Short Answer Type questions to test vocabulary.
SECTION B: WRITING AND GRAMMAR
Q.3: Writing a diary/article in about 100–120 words using visual or verbal cue/s. The questions will be thematically based on MCB.
Q.4: Writing a short story based on a given outline or cue/s in about 200 - 250 words.
The Grammar syllabus will include the following areas in class IX :
Tenses
Modals
Use of passive voice
Subject – verb concord
Reporting
Clauses:
Adverb clauses of condition and time
Determiners
Prepositions
The above items may be tested through test types as given below:
Q.5: Gap filling with one or two words to test Prepositions, Articles, Conjunctions and Tenses
Q. 6: Editing or Omission
Q. 7: Sentences Reordering or Sentence Transformation in context.
Q.8. One out of two extracts from prose/poetry/play for reference to the context. Four Very Short Answer Questions : two questions of one mark each for global comprehension and two questions of one mark each for interpretation.
Q.9. Four Short Answer type Questions from the Literature Reader to test local and global comprehension of theme and ideas
Q.10. One out of two Long Answer type Questions to assess how the values inherent in the text have been brought out. Creativity, imagination and extrapolation beyond the text and across the texts will be assessed.
Q.11. One out of two very Long Answer Questions on theme, plot involving interpretation, inference and character sketch, in about 150-200 words based on the prescribed extended reading text.
Prescribed Books: Published by CBSE, New Delhi Interact in English Series
Main Course Book (Revised Edition)
Workbook (Revised Edition)
Literature Reader (Revised Edition)
Extended Reading Texts (either one)
Gulliver's Travels (unabridged) by Jonathan Swift
Three Men in a Boat (unabridged) by Jerome K. Jerome
NOTE: Teachers are advised to:
encourage classroom interaction among peers, students and teachers through activities such as roleplay, group work etc.,
reduce teacher-talk time and keep it to the minimum,
take up questions for discussion to encourage pupils to participate and to marshal their ideas and express and defend their views.
Reading Section: Reading for comprehension, critical evaluation, inference and analysis is to be assessed.
Writing Section: All types of short and extended writing tasks will be dealt with.
Grammar: Grammar items mentioned in the syllabus will be taught and assessed over a period of time. There will be no division of syllabus for Grammar.
ENGLISH COMMUNICATIVE COURSE
CLASS - IX (2017-18)
Textbooks
Literature Reader
PROSE

1.

How I Taught My Grandmother to Read

3.

The Man Who Knew too Much

2. A Dog Named Duke

4.

Keeping it from Harold

5.

Best Seller

POETRY

1.

The Brook

4.

The Seven Ages

2.

The Road Not Taken

5.

Oh, I Wish I'd Looked After My Teeth

3.

The Solitary Reaper

6.

Song of the Rain

DRAMA

1.

Villa for Sale

2.

The Bishop's Candlesticks

MAIN COURSE BOOK

1.

People

5.

Mystery

2. Adventure

6.

Children

3.

Environment

7.

Sports and Games

4.

The Class IX Radio and Video Show
| | |
| --- | --- |
| Extended Reading Text (either one): | Gulliver's Travels in four parts Un- |
| Gulliver's Travels in four parts, Unabridged | abridged |
| Edition | Edition (2005) by Jonathan Swift - Parts |
| (2005) by Jonathan Swift Parts I & II | III & IV |
| Three Men in a Boat, Unabridged Edition | Three Men in a Boat, Unabridged |
| (1889) by Jerome K. Jerome - Chapters | Edition (1889) by Jerome K. Jerome - |
| 1 – 10 | Chapters 11-19 |
WORK BOOK* - Suggested Break-up of Units for the Purpose of Classroom Teaching only-NOT FOR TESTING (see the note below)
1

Verb Form

1

Connectors

2

Determiners

2 The Passive

3

Future Time Reference

3

Reported Speech

4

Modals

4

Prepositions
*Note on Workbook: The suggested split up of the units of the Workbook reflects a distribution for the purpose of classroom teaching only. Since grammar and usage is not to be tested directly, but in an integrated manner, the split up as shown, does not restrict questions in the grammar section of question papers to the specific units shown in the split up of Workbook units. Grammar is to be tested by recycling grammar items learnt over a period of time in a comprehensive manner. Teachers may adapt this suggested distribution for classroom teaching, making modifications according to their specific needs.
Note:
Schools may adapt the given break-up as per their convenience.
Activities such as Language games, quizzes, projects, role plays, dramatization, script writing etc must be done as 'in class' and 'in school' activities. In case, a field survey or visit is taken up, it must be under the direct supervision of the teacher.