Download NCERT Solutions for Class 9 English, Get free Class 9 English solutions for questions for all chapters in Class 9 English solved by best teachers as per latest NCERT (CBSE) book syllabus and guidelines. The English chapter wise exercise questions with solutions will help you to complete your class work, revise important concepts and get higher marks in Class 9 exams. Get chapter wise solutions. Download Class 9 English NCERT Solutions in pdf free. All questions have been solved in a step by step manner to you give better understanding of key concepts of English in NCERT Class 9. The solutions provided here cover all exercises given at the end of the chapter English. Please click on the links below and free download the pdf for solutions for Class 9 NCERT chapter English. Solve all NCERT questions given in Class 9 English which will help in giving advantage and prepare them better for class tests and CBSE exams. These solved questions also cover It covers all important theorems, formulas and detailed explanations for English which will help to build stronger conceptual understanding in students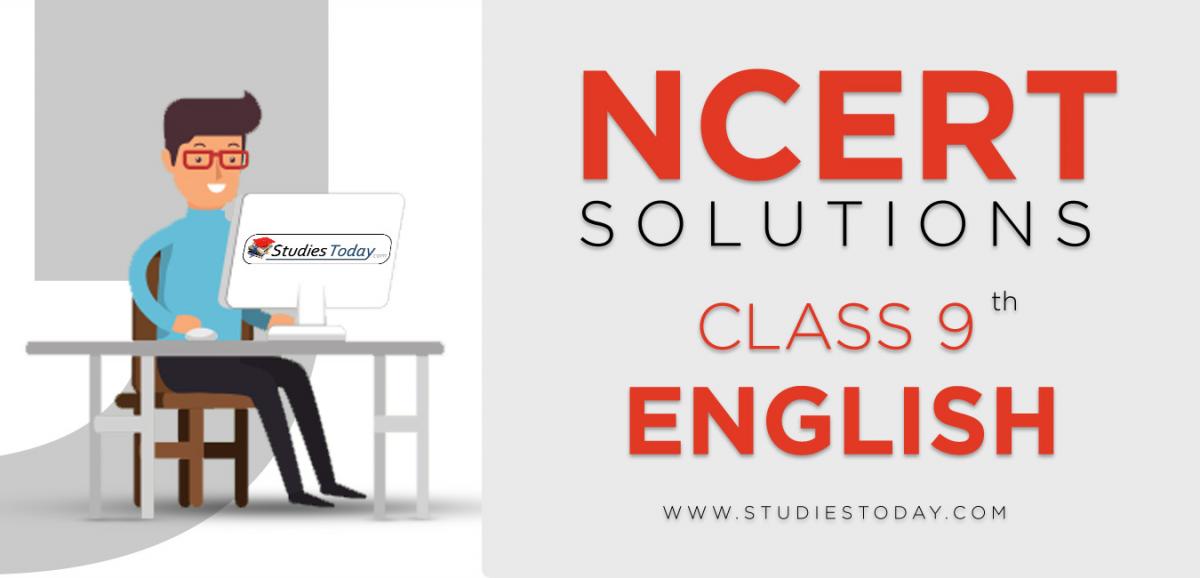 English Reading Skills
This section tests your reading skills, i.e. your ability to read and understand a passage. There will be two passages based on which questions will be asked:
1: A factual passage of 300-350 words with eight Very Short Answer Type Questions.
2: A discursive passage of 350-400 words with four Short Answer Type Questions to test inference, evaluation, and analysis and four Very Short Answer Questions to test vocabulary.
English Writing Skills with Grammar
3: Writing an Informal Letter on a situation/Descriptive Paragraph (person/place/event/diary entry) in about 150-200 words based on visual or verbal cue/s. (10 marks)
4: Writing a story based on a given outline or cue/s in about 150-200 words. (10 marks)
5: Cloze passage / Gap Filling / Editing.
6: Dialogue Writing/ Reporting dialogue on a given cue.
English Literature
7: One out of two concentrates from composition/verse/play for reference to the unique circumstance. Two Short Answer Type Questions of two denotes each dependent on translation.
8: Five Short Answer Type Questions out of seven short answer type inquiries from BEEHIVE and MOMENTS (3 inquiries out of four from BEEHIVE and 2 inquiries out of three from MOMENTS) to test neighbourhood and worldwide understanding of topic and thoughts (to be replied in 30-40 words each).
9: One out of two Long Answer Type inquiries to be replied in 100-150 words, from the book BEEHIVE to evaluate inventiveness, creative mind, and extrapolation past the content and over the writings. This can be a section based inquiry taken from a circumstance/plot from the writings.
10: One out of two Long Answer Type inquiries from the book MOMENTS on subject or plot including translation, extrapolation past the content, and surmising or character sketch in around (100-150 words).
BEEHIVE – Textbook for Class IX
The Fun They Had
The Road Not Taken [Poem]
The Sound of Music
Wind [Poem]
The Little Girl
Rain On The Roof [Poem]
A Truly Beautiful Mind
The Lake Isle Of Innisfree [Poem] (Deleted)
The Snake and The Mirror (Deleted)
A Legend Of The Northland [Poem]
My Childhood
No Men Are Foreign [Poem]
Packing
Reach for the Top
On Killing A Tree [Poem]
The Bond of Love
The Snake Trying [Poem]
Kathmandu (Deleted)
A Slumber Did My Spirit Seal [Poem] (Deleted)
If I Were You
MOMENTS – Supplementary Reader for Class IX
The Lost Child
The Adventure Of Toto
Iswaran The Storyteller (Deleted)
In The Kingdom Of Fools
The Happy Prince
Weathering The Storm In Ersama
The Last Leaf
A House Is Not A Home
The Accidental Tourist (Deleted)
The Beggar
Click on boxes below for Class 9 English to download solved sample papers, past year (last 10 year) question papers with solutions, pdf printable worksheets, NCERT Books and NCERT solutions for English Class 9 based on syllabus and guidelines issued by CBSE and NCERT. The study material for Class 9 for English has been made by experienced teachers of leading schools in India is available for free download
Read the latest news and announcements from NCERT and CBSE below. Important updates relating to your studies which will help you to keep yourself updated with latest happenings in school level education. Keep yourself updated with all latest news and also read articles from teachers which will help you to improve your studies, increase motivation level and promote faster learning