Download NCERT Solutions for Class 9 Mathematics, Get free Class 9 Mathematics solutions for questions for all chapters in Class 9 Mathematics solved by best teachers as per latest NCERT (CBSE) book syllabus and guidelines. The Mathematics chapter wise exercise questions with solutions will help you to complete your class work, revise important concepts and get higher marks in Class 9 exams. Get chapter wise solutions. Download Class 9 Mathematics NCERT Solutions in pdf free. All questions have been solved in a step by step manner to you give better understanding of key concepts of Mathematics in NCERT Class 9. The solutions provided here cover all exercises given at the end of the chapter Mathematics. Please click on the links below and free download the pdf for solutions for Class 9 NCERT chapter Mathematics. Solve all NCERT questions given in Class 9 Mathematics which will help in giving advantage and prepare them better for class tests and CBSE exams. These solved questions also cover It covers all important theorems, formulas and detailed explanations for Mathematics which will help to build stronger conceptual understanding in students
Significance of Class 9 Maths NCERT textbooks and NCERT Solutions
Establishing a strong foundation of concepts during class 9 can be very effective in cracking the biggest exam of a student's life, i.e. class 10th board exam. CBSE affiliated schools strictly adhere to NCERT textbooks as the questions asked in CBSE class 9th annual exam are based on NCERT textbooks only. The contents of NCERT textbooks i.e. concepts, definitions, theorems, etc. are accurate, precise and up to the point. The facts and examples given in NCERT textbooks are universally accepted and this is one of the main reasons why CBSE prescribed NCERT textbooks.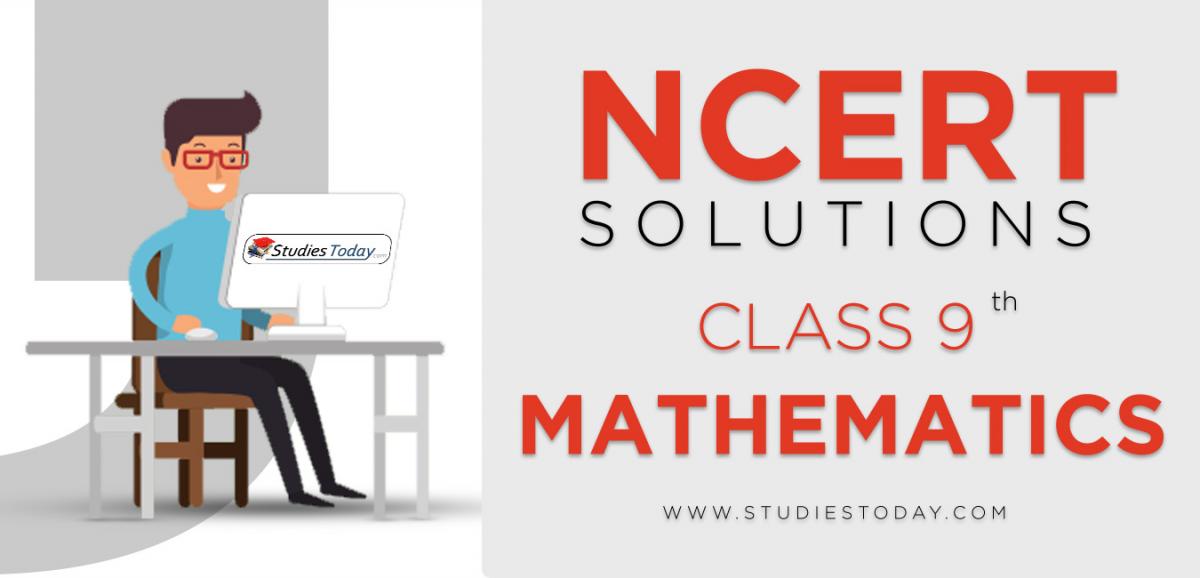 NCERT textbooks play essential to capture every topic. They help to lay a better foundation of difficult & advanced concepts because of its simple & easy language. To get maximum marks in the exam, all the students need to read the NCERT books thoroughly and solve the practice questions given at the end of each chapter.
For more study material for Class 9 Mathematics please click here MCQs for Class 9 Mathematics.
Where I can find the CBSE Class 9 Maths Solutions & How can I prepare for Class 9 Maths?
Besides this, if you're looking out for the best & most effective solutions then you can refer Studies Today. Studiestoday provides NCERT books and NCERT solutions for all the major subjects from class 1 to class 12. Here you will get the latest edition of all the NCERT books followed by the National Council of Educational Research and Training (NCERT) for the latest academic session.
We have provided CBSE Sample Papers for Class 9 Maths. All the papers are provided with complete solutions. These sample papers are designed by professionals to make students familiar with the syllabus covered and pattern which can help them to score well in the exams. Students should check these free NCERT solutions to know the correct answers to all the questions given in NCERT books.
NCERT Solutions for Class 9 Maths are considered as the best option to understand the question paper pattern thoroughly. It is important to stay in touch will all concepts a few days before the final exam, to lighten the exam time pressure. Download all the solutions and study material in PDF form without any cost from Studies Today.
Also, students may download Class 9 Maths syllabus and refer them while preparing for the CBSE class 10 Maths board exam.
Here is the list of some important topics for CBSE Class 9 Maths which will help you to perform outstandingly in the CBSE exams:
Number System: Rational Numbers, Irrational Numbers, Real Numbers & their Decimal Expansions, Representing Real Numbers on the Number Line, Operations on Real Numbers & Laws of Exponents are the important topics of Number System.


Polynomials: Polynomials in One Variable, Zeros of a Polynomial, Remainder Theorem, Factorization of Polynomials & Algebraic Identities all lies in the Polynomial part. To score good marks & understand well, you must know factorization & algebraic identities.


Coordinate Geometry: One should know all facts regarding the x-axis and y-axis and quadrants must be needed for solving the Coordinate Geometry problems. Coordinate Geometry is one of the important chapters of Class 9 Maths because it is very helpful in higher studies.


Linear Equations in Two Variables: This chapter consists of Linear Equations, Solution of a Linear Equation, Graph of a Linear Equation in Two Variables & Equations of Line Parallel to the x-axis and y-axis.
Download worksheets for Class 9 Maths with solutions prepared by our experts and professionals from the latest edition of NCERT books.
Introduction to Euclid's Geometry: Euclid Geometry comprises of Euclid's Definitions, Axioms and Postulates & Equivalent Versions of Euclid's Fifth Postulate. Euclid Geometry isn't that important as compared to others but Euclid Geometry tells the differences between theorems and axioms.


Lines and Angles: In the NCERT Class 9 Mathematics textbook, you will get to know the properties of angles when two lines intersect. In addition, you will come to the properties of angles when a line cuts two or more parallel lines at different points. Line, Line Segment & Ray Intersecting lines and Non-intersecting lines, Pair of Angles, Parallel Lines and a Transversal, Lines Parallel to the Same Line & Angle Sum Property of a Triangle are the important topics of Lines & Angles.
Triangles: Congruence of Triangles, Criteria for Congruence of Triangles, Properties of a Triangle, Congruence of Triangles Rules, Inequalities in a Triangle are the easiest & scoring topics of Triangles.
Quadrilaterals: Angle Sum Property of a Quadrilateral, Types of Quadrilaterals
Properties of a Parallelogram, Condition for a Quadrilateral to be a Parallelogram, The Mid-point Theorem is one of the easiest & scoring part of CBSE Class 9 Maths.
Areas of Parallelograms and Triangles: To score well in this chapter, first of all, you have to learn all the formulas & theorems regarding the Parallelogram & Triangle. Once you complete studying the following concepts you can go through the NCERT Solutions. There are some important questions are based on i.e. If a parallelogram and a triangle share the same base and between the same parallel? The triangle becomes half of the area of the parallelogram.
Also, download NCERT Exemplar solutions for Class 9 Maths to score well in the CBSE Class 9 Mathematics exam.
Circles: The Circle comprises of circles and Its Related Terms, Angle Subtended by a Chord at a Point, Perpendicular from the Centre to a Chord, Circle through Three Points, Equal Chords and Their Distances from the Centre, Angle Subtended by an Arc of a Circle & Cyclic Quadrilaterals.
Constructions: In construction, you have to learn Bisecting an angle, perpendicular bisector of a given line segment & construction of a triangle. To score good marks in Geometry, you have to practice a lot.

Heron's Formula: Well, Herons Formula is used to calculate the perimeter & area of a triangle. With the help of this formula, you can also find the area of the quadrilateral.

Surface Areas and Volumes: Most students are simply mugging up the formulas but without understanding, you will always face the problem in solving the Surface Areas & Volumes Questions. If you want to score then you have to start the practice by deriving the total surface area & volumes for each shape.

Statistics: Statistics is one of the most important topics for CBSE Class 9 & even further studies. Statistics cope with analysis, collection, organization and interpretation of data. Along with the mean, mode and median & Graphical representation of cumulative frequency distribution, finding the missing frequency are the important topics of CBSE Class 9 Maths.

Probability: Probability is the only topic that is not only helpful in studies or even in daily life also. Well, questions of probability are based on outcomes, dice, coin, cards, etc.  
Apart from this, you can also download sample paper of class 9 maths, study material, question papers with solutions prepared by our experts and professionals and refer them while preparing for the CBSE class 9 Exams.
Therefore, for getting good marks in the CBSE Class 9 Maths exam you have to understand the syllabus. If you want to get optimum marks in CBSE class 9 Maths exam, then you have to refer first-class 9th Maths solutions before referring any other reference book of Maths. Just follow all the above tips, syllabus & solutions to get the sure short success.
Are you appearing for the CBSE Class 9 exams?
Are you planning to pursue a career in engineering? Have you started preparing for IIT JEE?
If not then you have to start because it's the right period to start the preparation. CBSE Class 9 Maths is very crucial because Class 9 Maths is the foundation of IIT JEE Maths and we all know how important mathematics is for engineering students.
Generally, students start preparing too late. Because of that they always unable to focus on the concept and rationale behind the problem. If you're dreaming to study in IIT JEE then you don't have to waste your important time. In this article we will discuss CBSE Class 9 mathematics, just you have to look at this article to overcome the mathematical problem.

When working with mathematical problems, it is very necessary to focus on understanding the process and logic behind the problem. This helps you to understand how you should face similar problems in school tests or annual exams.
Well, if you're still not deciding the right book then I suggest you to start preparing from NCERT book and follow NCERT Solutions. NCERT Solutions for Class 9 Maths are designed in such a simple language that so that everyone can easily grasp the concept irrespective of their intelligence quotient. Following NCERT solutions will help to cover the complete CBSE Class 9 Mathematics Syllabus (2019-20) in a precise manner.
 Stay tuned for updates regarding CBSE!!
Click on boxes below for Class 9 Mathematics to download solved sample papers, past year (last 10 year) question papers with solutions, pdf printable worksheets, NCERT Books and NCERT solutions for Mathematics Class 9 based on syllabus and guidelines issued by CBSE and NCERT. The study material for Class 9 for Mathematics has been made by experienced teachers of leading schools in India is available for free download
Read the latest news and announcements from NCERT and CBSE below. Important updates relating to your studies which will help you to keep yourself updated with latest happenings in school level education. Keep yourself updated with all latest news and also read articles from teachers which will help you to improve your studies, increase motivation level and promote faster learning