CBSE Class 9 Science Matter in our sorroundings Notes. There are many more useful educational material which the students can download in pdf format and use them for studies. Study material like concept maps, important and sure shot question banks, quick to learn flash cards, flow charts, mind maps, teacher notes, important formulas, past examinations question bank, important concepts taught by teachers. Students can download these useful educational material free and use them to get better marks in examinations.  Also refer to other worksheets for the same chapter and other subjects too. Use them for better understanding of the subjects.
All matters in the universe exist in three states. There are two ways of classification of matter.
1. According to physical state as solid, liquid or gas.
2. According to its composition as element, compound or mixture.
CHARACTERISTICS OF PARTICLES OF MATTER
PARTICLES OF MATTER HAVE SPACE BETWEEN THEM- when we make tea, coffee or lemonade (nimbu paani ), particles of one type of matter get into the spaces between particles of the other. This shows that there is enough space between particles of matter. Similarly particles of sugar, salt, Dettol, or potassium permanganate get evenly distributed in water.
PARTICLES OF MATTER ARE CONTINUOUSLY MOVING- Particles of matter are continuously moving, that is, they possess what we call the kinetic energy. As the temperaturerises, particles move faster. So, we can say that with increase in temperature the kinetic energ of the particles also increases.
PARTICLES OF MATTER ATTRACT EACH OTHER- Particles of matter have force acting between them. This force keeps the particles together. The strength of this force of attraction varies from one kind of matter to another.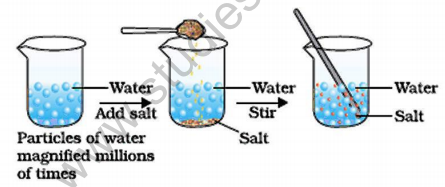 INTEXT QUESTIONS 
Q1. Which of the following are matter? Chair, air, love, smell, hate, almonds, thought, cold, colddrink, smell of perfume.
Answer: Chair, air, smell, almonds, cold-drink and smell of perfume are matter because they have some weight and occupy space.
Q2. Give reasons for the following observation:
The smell of hot sizzling food reaches you several metres away, but to get the smell from cold food you have to go close.
Answer: Hot food evaporates easily. Its vapours diffuse between the air molecules and reach within a short time to a distant place. But the case is different with the cold food because it remains in solid form and does not mix with air molecules, so we have to go close to smell it.
Please click the link below to download CBSE Class 9 Science Matter in our sorroundings Notes.
Click for more Science Study Material
›