CBSE Class 12 Chemistry The p Block Elements Assignment. Students are advised to refer to the attached assignments and practise them regularly. This will help them to identify their weak areas and will help them to score better in examination. Parents should download and give the assignments to their children for practice.
LEVEL-1 QUESTIONS
1. NH3 has higher boiling point than phosphine. Why?
Ans—Ammonia is a polar molecule it form in-termolecular hydrogen bonding.
2. Why BiH3 the strongest reducing agent amongst all the hydrides of group 15 elements
Ans- Less B.E or longer bond length.
3. Why H2S is acidic and H2S is neutral ?
Ans-The S---H bond is weaker than O---H bond because the size of S atomis bigger than that of O atom . Hence H2S can dissociate to give H+ Ions in aqueous solution .
4. Name two poisonous gases which can be prepared from chlorine gas ?
Ans- Phosgene (COCl2) , tear gas (CCl3NO2)
5. Name the halogen which does not exhibit positive oxidation state .
Ans- Flourine being the most electronegative element does not show positive oxidation state .
6. Iodine forms I3- but F2 does not form F3- ions .why?
Ans- Due to the presence of vacant D-orbitals , I2 accepts electrons from I-ions to form I3-ions , but because of d-orbitals F2 does not accept electrons from F-ions to form F3 ions.
7. Draw the structure of peroxosulphuric acid .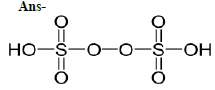 Please click the link below to download CBSE Class 12 Chemistry The p Block Elements Assignment
Click for more Chemistry Study Material
›