CBSE Class 12 Chemistry Electro Chemistry Assignment. Students are advised to refer to the attached assignments and practise them regularly. This will help them to identify their weak areas and will help them to score better in examination. Parents should download and give the assignments to their children for practice.
LEVEL-1
1. What is the unit of molar conductivity?
Ans: Scm2/mol
2. Write the relationship between conductivity and molar conductivity.
Λm = 1000 x k/M
3. What is a fuel cell?
Ans: A device in which the heat produced as result of combustion of of fuels like hydrogen in presence of oxygen is converted into electrical energy.
4. What is role of ZnCl2 in dry cell?
Ans ZnCl2 combine with the NH3 produce to form the complex salt[Zn(NH3)2Cl2] otherwise the pressure developed due to NH3 would crack the seal of the cell.
5. What is meant by electrical protection?
Ans. The iron tank is connected to more reactive metal wire like Mg which acts as anode and iron acts as cathode. Mg wire is buried in the ground and minerals present in soil act as electrolyte.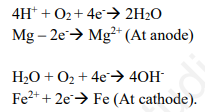 Please click the link below to download CBSE Class 12 Chemistry Electro Chemistry Assignment
Click for more Chemistry Study Material
›