CBSE Class 12 Chemistry Chemistry in Everyday Life Questions. Students are advised to refer to the attached assignments and practise them regularly. This will help them to identify their weak areas and will help them to score better in examination. Parents should download and give the assignments to their children for practice.
VSA QUESTIONS (1 - MARK QUESTIONS)
1. Write the formula and IUPAC name of aspirin.

2. Name two types of the drugs classified on the basis of pharmacological effect.
3. What is the role of Bithional in toilet soaps?
4. Why is sodium benzoate added to packed containers of jams and pickles?
5. Name the type of drugs having following structural formula :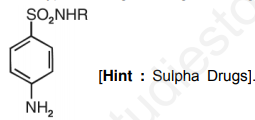 6. Why the receptors embedded in cell membrances show selectivity for one chemical messenger over the other?
[Hint : The active site of receptor has specific shape and specific functional groups which can bind only specific messenger which fits in.]
7. With reference to which classification has the statement 'ranitidine is an antacid' been given?
[Hint : Classification based on pharmacological effect.]
8. Give the name of medicine used for the treatment of syphilis.
[Hint : Salvarsan].
9. Give the composition of tincture of iodine.
10. How does aspirin act as analgesic?
[Hint : Aspirin inhibits the synthesis of prostaglandins which cause pain.]
Please click the link below to download CBSE Class 12 Chemistry Chemistry in Everyday Life Questions
Click for more Chemistry Study Material
›