Read and download free pdf of CBSE Class 12 Chemistry Surface Chemistry Chapter Summary. Students and teachers of Class 12 Chemistry can get free advanced study material, revision notes, sure shot questions and answers for Class 12 Chemistry prepared as per the latest syllabus and examination guidelines in your school. Standard 12 students should download this study material which will give them more knowledge for all chapters in Chemistry and all important topics which are scoring and can get you more marks. Students should also download free pdf of Chapter wise Notes for Class 12 Chemistry prepared by school teachers as per the latest NCERT, CBSE, KVS books and syllabus issued this year and also download free worksheets and question papers available here to get higher scores in school exams and tests, also click here for more Study Material for Class 12 Chemistry
CBSE Class 12 Physics Atoms & Nuclei chapter notes and important questions. There are many more useful educational material which the students can download in pdf format and use them for studies. Study material like concept maps, important and sure shot question banks, quick to learn flash cards, flow charts, mind maps, teacher notes, important formulas, past examinations question bank, important concepts taught by teachers. Students can download these useful educational material free and use them to get better marks in examinations.  Also refer to other worksheets for the same chapter and other subjects too. Use them for better understanding of the subjects.
Introduction:
I. Demonstration: In a solution of an organic dye, say methylene blue, when activated charcoal is added and the solution is well shaken, it is observed that the filtrate turns colourless.
II.Why does the solution become colourless? 
(Students Response- the molecules of the dye, accumulate on the surface of charcoal,Teachers Role-Introduce the term adsorption)
III.In the packets of electronic goods some silica gel is placed? Why? 
(Students response-the water molecules get adsorbed on the surface of the gel.
CONTENT DELIVERY:
Teachers Role- teacher introduces the topic with a sentence like "There are several examples, which reveal that the surface of a solid has the tendency to attract and retain the molecules of the phase with which it comes into contact. These molecules remain only at the surface and do not go deeper into the bulk.
• The accumulation of molecular species at the surface rather than in the bulk of a solid or liquid is termed as adsorption. The molecular species or substance, which concentrates or accumulates at the surface is termed adsorbate and the material on the surface of which the adsorption takes place is called adsorbent.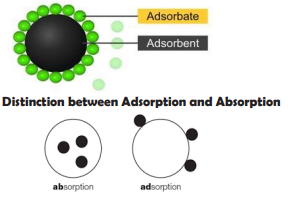 Please click the link below to download CBSE Class 12 Physics Atoms & Nuclei chapter notes and important questions.
Click for more Chemistry Study Material
›