Read and download free pdf of CBSE Class 12 Chemistry Atoms Exams Notes. Students and teachers of Class 12 Chemistry can get free advanced study material, revision notes, sure shot questions and answers for Class 12 Chemistry prepared as per the latest syllabus and examination guidelines in your school. Standard 12 students should download this study material which will give them more knowledge for all chapters in Chemistry and all important topics which are scoring and can get you more marks. Students should also download free pdf of Chapter wise Notes for Class 12 Chemistry prepared by school teachers as per the latest NCERT, CBSE, KVS books and syllabus issued this year and also download free worksheets and question papers available here to get higher scores in school exams and tests, also click here for more Study Material for Class 12 Chemistry
CBSE Class 12 Chemistry Atoms Exams Notes. Please refer to the examination notes which you can use for preparing and revising for exams. These notes will help you to revise the concepts quickly and get good marks.
1.ALPHA PARTICLE SCATTERING EXPERIMENT
Thomson's Atom Model
*J. J. Thomson presented an atomic model in which positive charge is distributed uniformly in a small spherical space of atom and electrons are embedded inside it like the seeds of watermelon embedded in its pulp. The model was called watermelon model or plum pudding model.
*The magnitude of positive charge was taken equal to the total negative charge of electrons to explain the electrical neutrality of atom.
*The model failed to explain the emission of discrete wavelengths from atoms. Also such a model of atom cannot form a stable structure.
Geiger–Masden Experiment
Geiger and Masden used a bismuth source, placed inside a thick block of lead in order to get a-particles. The particles having energy of 5.5 MeV coming out of a slit in the block were scattered when incident on a thin foil of gold of thickness 2.1´10–7 m. Scintillations were observed on a screen of zinc sulphide mounted on a (detector) microscope. The whole arrangement was enclosed in a cylinder having thick walls.The cylinder was mounted on a thickdisc which could be rotated. The source and foil were kept steady on the base but could be rotated around the microscope. Each a-particle striking the screen created a bright spot in it. By counting the bright spots formed, the number of a-particles striking in a given time interval can be decided.The graph shows the number of a-particles scattered at different angles in a given time interval. The number of a-particles scattered is about 105 at 15°and about 80 at 150°. (Dots indicate experimental values and the continuous line was obtained theoretically by Rutherford).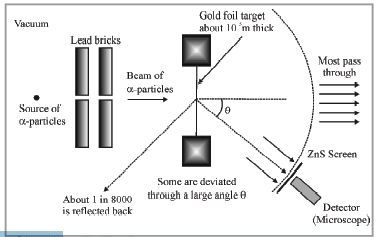 Rutherford's Calculations
*An a-particle can undergo only one scattering while passing through the thin foil.
*An atom of Gold remains almost stationary during the collision as it is about 50 times heavier than the a-particle.
*Most of the a-particles pass through the foil without deviation. Of the scattered particles, most of them do so at small angles. It indicates that the atom contains a lot of empty space.
*A few a-particles are scattered at large angles. Further, a very less number of particles are reflected back. This suggests the total positive charge and total mass of the atom to be concentrated in a very small central region of the atom, which he called the nucleus.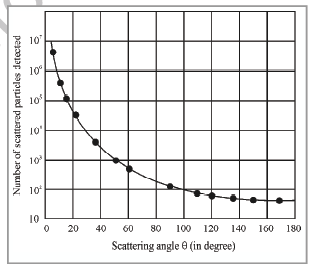 Please click on below link to download pdf file for CBSE Class 12 Chemistry Atoms Exams Notes.
Click for more Chemistry Study Material
›