Read and download free pdf of CBSE Class 12 Chemistry Solution Exam Notes. Students and teachers of Class 12 Chemistry can get free advanced study material, revision notes, sure shot questions and answers for Class 12 Chemistry prepared as per the latest syllabus and examination guidelines in your school. Standard 12 students should download this study material which will give them more knowledge for all chapters in Chemistry and all important topics which are scoring and can get you more marks. Students should also download free pdf of Chapter wise Notes for Class 12 Chemistry prepared by school teachers as per the latest NCERT, CBSE, KVS books and syllabus issued this year and also download free worksheets and question papers available here to get higher scores in school exams and tests, also click here for more Study Material for Class 12 Chemistry
CBSE Class 12 Chemistry Solution Exam Notes. Please refer to the examination notes which you can use for preparing and revising for exams. These notes will help you to revise the concepts quickly and get good marks.
A solution may be defined as a Homogeneous mixtures of a single phase containing one or more of the chemical species dispersed on a molecular scale.
SOLUTE AND SOLVENT
(a) The component whose physical state is same as that of resulting solution is called as Solvent and the other component whose physical state changes is termed as Solute. e.g. In a homogenous mixture of Na(s) and Hg(l) resulting in the formation of NaHg(s), Na(s) is considered as solvent and Hg(l) is termed as Solute which is contrary to the common belief that liquids are solvents.;
(b) When both components are having the same phase as that of that the resulting solution and the relative amount of one substance in a solution is much greater than that of the other, the substance present in greater amount is generally regarded as the solvent.
METHODS OF EXPRESSING CONCENTRATIONS OF SOLUTIONS
The concentration of solutions are generally expressed in the following ways: Solute: designated as 'b' Solvent: designated as 'a'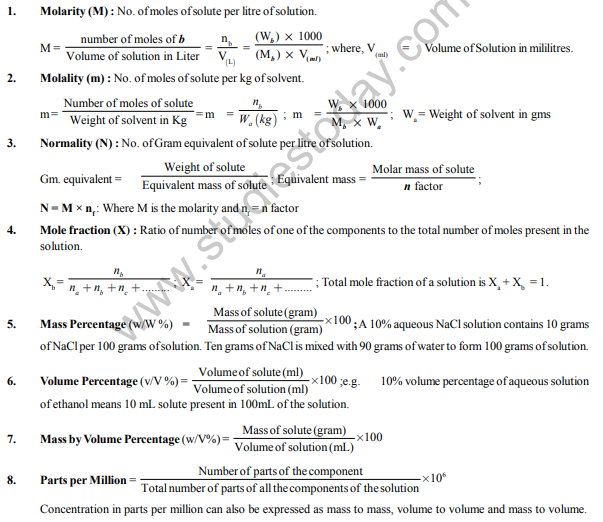 Please click on below link to download pdf file for CBSE Class 12 Chemistry Solution Exam Notes.
Click for more Chemistry Study Material
›