Read and download free pdf of CBSE Class 12 Chemistry Haloalkane Haloarenes Exam Notes. Students and teachers of Class 12 Chemistry can get free advanced study material, revision notes, sure shot questions and answers for Class 12 Chemistry prepared as per the latest syllabus and examination guidelines in your school. Standard 12 students should download this study material which will give them more knowledge for all chapters in Chemistry and all important topics which are scoring and can get you more marks. Students should also download free pdf of Chapter wise Notes for Class 12 Chemistry prepared by school teachers as per the latest NCERT, CBSE, KVS books and syllabus issued this year and also download free worksheets and question papers available here to get higher scores in school exams and tests, also click here for more Study Material for Class 12 Chemistry
CBSE Class 12 Chemistry Haloalkane Haloarenes Exam Notes. Please refer to the examination notes which you can use for preparing and revising for exams. These notes will help you to revise the concepts quickly and get good marks.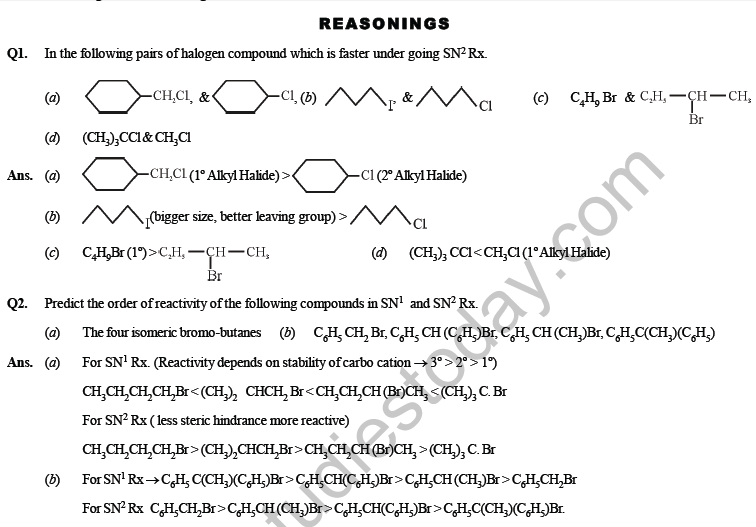 Ans. (a) & (c) With four different alkyl group.
Q4.Although chlorine is an EWG yet it is ortho-para directing in electro plilic aromatic substitution Rx.
Ans.Chlorine shows –– I effect causing the intermediate carbocation will destabilize but +R effect of Cl stabilizes the intermediate carbocation. The reactivity is controlled by the stronger – I effect while orientation is controlled by weaker reasoned effect.
Q5.Haloalkanes react with KCN to form RCN but with AgCN form RNC?
Ans.CN is an ambidient group (can be attached from both the ends). In KCN, it is ionic bond, the reaction occuss through C since C – C bonds are more stronger while in AgCN (covelent bonding), only N electron pair is available for bond formation.
Q6.RCl is hydrolysed to ROH slowly but the reaction is rapid if a catalytic amount of KI is added to the reaction mixture.
Ans.I– is stronger nucleoplile so it replace Cl to form RI then RI is more hydrolysed to yield ROH due to I–ion is a better leaving group than Cl–.
Please click on below link to download pdf file for CBSE Class 12 Chemistry Haloalkane Haloarenes Exam Notes.
Click for more Chemistry Study Material
›