Read and download PDF of CBSE Class 10 Science Practical Skills Sample Paper Set B designed as per the latest curriculum and examination pattern for Class 10 issued by CBSE, NCERT and KVS. The latest Class 10 Science Sample Papers have been provided with solutions so that the students can solve these practice papers and then compare their answers. This will help them to identify mistakes and improvement areas in Science Standard 10 which they need to study more to get better marks in Grade 10 exams. After solving these guess papers also refer to solved Class 10 Science Question Papers available on our website to build strong understanding of the subject
Sample Paper for Class 10 Science Pdf
Students can refer to the below Class 10 Science Sample Paper designed to help students understand the pattern of questions that will be asked in Grade 10 exams. Please download CBSE Class 10 Science Practical Skills Sample Paper Set B
Science Class 10 Sample Paper
SECTION - A
1. A student was asked to mix the white of an egg with water and stir well. The student observed that
(a) a transparent solution is formed.
(b) a translucent mixture is formed.
(c) egg white settles down at the bottom.
(d) egg white floats on the surface of the water.
2. A student by mistake mixed iron fillings and sulphur powder. He wanted to separate them from each other. The methed you would advise him to use is dissolve the mixture in
(a) boiling water.
(b) cold water.
(c) carbon disulfide.
(d) kerosene.
3. The extent of cooling by evaporation was studied for water, alcohol and Ether by arranging the following three set ups :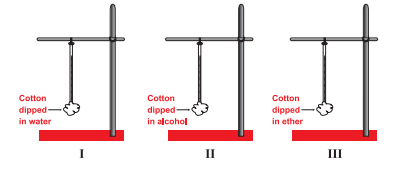 Which on of the following is the correct observation?
(a) All the three set ups showed an equal decrease in temperature
(b) Set ups II and III showed decrease in temperature while no change in temperatuere was observed in set up I
(c) Only set up I showed a decrease in temperature while an increase in temperature was observed in set ups II and III
(d) The cooling (decrease in temperature) was largest in set up III followed by set up II and least cooling was observed in set up I.
4. Which of the following is the correct arrangement for separation a mixture of common salt and ammonium chloride?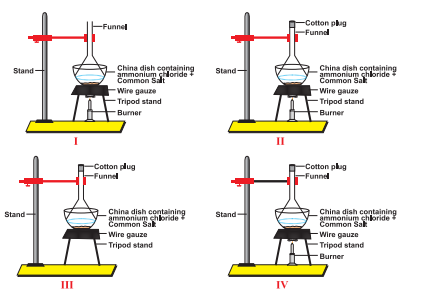 (a) I
(b) II
(c) III
(d) IV
5. The spring balance shown here is used to measure the mass of given solid. The mass of the solid is
(a) 115 g
(b) 118 g
(c) 120 g
(d) 125 g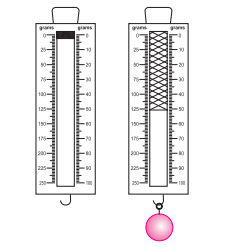 Please click the link below to download CBSE Class 10 Science Practical Skills Sample Paper Set B
Books recommended by teachers