Read and download PDF of CBSE Class 10 Science Boards 2020 Sample Paper Solved designed as per the latest curriculum and examination pattern for Class 10 issued by CBSE, NCERT and KVS. The latest Class 10 Science Sample Papers have been provided with solutions so that the students can solve these practice papers and then compare their answers. This will help them to identify mistakes and improvement areas in Science Standard 10 which they need to study more to get better marks in Grade 10 exams. After solving these guess papers also refer to solved Class 10 Science Question Papers available on our website to build strong understanding of the subject
CBSE Class 10 Science Boards 2020 Sample Paper Solved. CBSE has recently released the sample papers for class 10 for subject Science. These papers are released every year by CBSE so that the students can understand the pattern of question paper which is expected to come in the Class 10 board exams. Students can refer to the attached question paper along with marking scheme to understand what they can expect in the board exams in 2020. Its always better to solve the question paper first and then refer to provided answers.
SECTION A
1 Define catenation. 
2 How does valency of an element vary across a period? 
3 Answer question numbers 3(a) - 3(d) on the basis of your understanding of the following paragraph and the related studied concepts.
Renewable energy sources such as wind energy are vital for the Indian economy, not only from the point of view of supply, but also from the perspective of environmental and social benefits. India is the world's fifth largest wind-power producer and the largest windmill facilities in India are installed in Tamil Nadu. Muppandal is a small village of Tamil Nadu and one of the most important sites of wind-farm in the state. It uses wind from the Arabian Sea to produce renewable energy. The suitability of Muppandal as a site for wind farms stems from its geographical
location as it has access to the seasonal monsoon winds.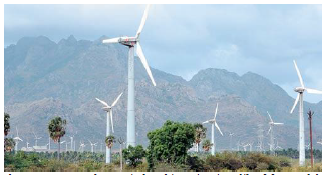 The electrical generators used on wind turbines in sites like Muppandal, produce an output AC of 240 V and a frequency of 50 Hz even when the wind speed is fluctuating. A transformer may be required to increase or decrease the voltage so it is compatible with the end usage, distribution or transmission voltage, depending on the type of interconnection.
Please refer to link below to download CBSE Class 10 Science Boards 2020 Sample Paper Solved
Click for more Science Study Material
›