Download CBSE Class 12 Biology Ecosystem Notes Set B in PDF format. All Revision notes for Class 12 Biology have been designed as per the latest syllabus and updated chapters given in your textbook for Biology in Standard 12. Our teachers have designed these concept notes for the benefit of Grade 12 students. You should use these chapter wise notes for revision on daily basis. These study notes can also be used for learning each chapter and its important and difficult topics or revision just before your exams to help you get better scores in upcoming examinations, You can also use Printable notes for Class 12 Biology for faster revision of difficult topics and get higher rank. After reading these notes also refer to MCQ questions for Class 12 Biology given our website
Ecosystem Class 12 Biology Revision Notes
Class 12 Biology students should refer to the following concepts and notes for Ecosystem in standard 12. These exam notes for Grade 12 Biology will be very useful for upcoming class tests and examinations and help you to score good marks
Ecosystem Notes Class 12 Biology
Sir Tansley coined the term `ecosystem'
DEFINITION
It is an assemblage of different communities with abiotic factors in an environment.
TYPES
Terrestrial and aquatic
Terrestrial include Forests, Grasslands, Deserts
Aquatic- Fresh water (lotic & lentic)
- Marine water bodies
COMPONENTS - BIOTIC-
•CONSUMERS           •PRODUCERS          •DECOMPOSERS
- ABIOTIC 
                 STRUCTURE AND FUNCTION
STRUCTURE FEATURES ARE            1. Species composition
                                                               2. Stratification
FUNCTIONAL FEATUERS ARE        1. Productivity
                                                             2. Decomposition
                                                            3. Energy Flow
                                                             4. Nutrient cycle
PRODUCTIVITY
It includes -Primary Productivity (plants)-producers
Has two aspects 1. GPP             2. NPP=GPP-R
- Secondary Productivity involves assimilation and formation of new organic matter by consumers
Primary productivity is high in terrestrial systems rather than in aquatic systems because of BIOMASS.
DECOMPOSITION
Detritus is the starting matter.
The steps involved :\
1. Fragmentation- Breaking of detritus into smaller particles.
2. Leaching – Water soluble substances are seeped into the soil.
3. Catabolism- The role of enzymes in the conversion process.
4. Humification- Forming of dark coloured matter called HUMUS.
5. Mineralisation- Humus is degraded into simpler inorganic substances. 
ENERGY FLOW
The main source of energy is the light energy obtained from sunlight.
Plants capture 2-10% of the light energy and prepare the food and all other organisms depend on it.
FOOD CHAIN
TYPES
Grazing Food chain (GFC)
Producers trap the sunlight and prepare the food.
Consumers- Herbivores depend on the producers
Carnivores depend on the herbivores

For eg.        Grass---------- Grasshopper--------- Frog------------- Snake--------Hawk

                  Producers        Primary                   Secondary         Tertiary         quaternary

                                        Consumer               .Consumer          consumer     consumer

                 1st Trophic       2nd Trophic              3rd Trophic        4th Trophic    5th Trophic

Detritus Food chain (DFC)

It begins with detritus

A much fraction of energy flows through this food chain as they are connected at any trophic level.

Detritus--------Earthworm-------- Bacteria/fungi-------plants---------animals
                           ↓                                                   ↓                   ↓

                              DECOMPOSITION OCCURS

Both GFC and DFC interconnect to form FOOD WEB.

                             -ECOLOGICAL PYRAMIDS

Three types- NUMBER, BIOMASS AND ENERGY

PYRAMID OF NUMBER

It comprises the population density (N)

Grass land ecosystem- UPRIGHT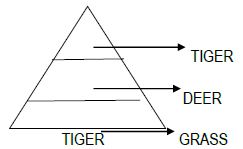 Eg., Pond ecosystem-UPRIGHT

A single Tree- INVERTED
PYRAMID OF BIOMASS

It is composition of amount of matter present in the dry state or amount of C/g

UPRIGHT
Eg., A single tree

INVERTED
EG., Pond ecosystem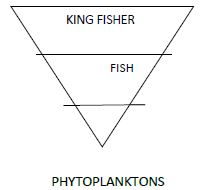 PYRAMID OF ENERGY
It is always upright because there is transfer of energy from one trophic level to another.

You are familiar of 10% law ( RECALL CLASS X SCIENCE- Our Environment)

There is loss of energy in every state as we move upwards by 10 %.

ECOLOGICAL SUCCESSION
There is gradual change in the state of species composition from one form to other with relation to time factor in a particular habitat.
The change of species is called seral communities.

TYPES
A) Primary succession- It is a state of environment where no life exists. It may include dry, bare rock.
In such circumstances, the living state begins very slow because there is no suitable substrata-nutrients, soil. It consumes time duration and depend on factors. (REFER TO CLASS IX-SCIENCE- Environment)
B) Secondary succession-It exists in a place where life exists earlier.
Presence of soil or sediment
SUCESSION OF PLANTS
-HYDRARCH SUCCESSION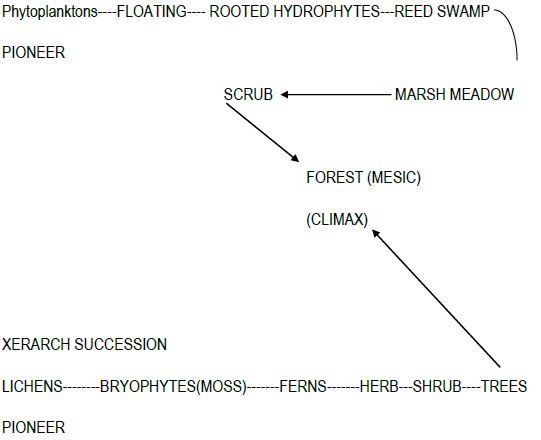 It is found that both the succession lead to mesic community.

NUTRIENT CYCLING
TYPES- GASEOUS- CARBON CYCLE(REFER TO NCERT TEXT BOOK Pg No253. SEDIMENTARY- PHOSPHORUS CYCLE(REFER TO NCERT TEXT BOOK PgNo.255 )
Please click the link below to download pdf file forCBSE Class 12 Biology - Ecosystem notes ECOSYSTEM.