Read and download free pdf of CBSE Class 12 Biology Evolution Worksheet Set B. Students and teachers of Class 12 Biology can get free printable Worksheets for Class 12 Biology in PDF format prepared as per the latest syllabus and examination pattern in your schools. Standard 12 students should practice questions and answers given here for Biology in Grade 12 which will help them to improve your knowledge of all important chapters and its topics. Students should also download free pdf of Class 12 Biology Worksheets prepared by school teachers as per the latest NCERT, CBSE, KVS books and syllabus issued this academic year and solve important problems provided here with solutions on daily basis to get more score in school exams and tests
CBSE Class 12 Biology Evolution (2). CBSE issues sample papers every year for students for class 12 board exams. Students should solve the CBSE issued sample papers to understand the pattern of the question paper which will come in class 12 board exams this year. The sample papers have been provided with marking scheme. It's always recommended to practice as many CBSE sample papers as possible before the board examinations. Sample papers should be always practiced in examination condition at home or school and the student should show the answers to teachers for checking or compare with the answers provided. Students can download the sample papers in pdf format free and score better marks in examinations. Refer to other links too for latest sample papers. 
1 State the theory of spontaneous generation.
2 What is founder effect?
3 Who among the Dryopithecus and Ramapithecus was more man-like?
4 What causes speciation according to Hugo de Vries?
5 Name any two vertebrate body parts that are homologous to human forelimbs?
6 What are the key concepts in the evolution theory of Darwin?
7 Why are the wings of butterfly and of a bat called analogous?
8 How is Darwin's concept of evolution different from de Vries?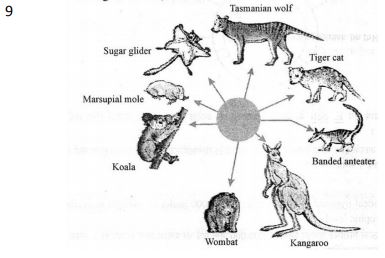 a) Mention the specific geographical region where these organisms are found.
b) Name and explain the phenomenon that has resulted in the evolution of such diverse species in the region.
c) Explain giving reasons the existence of placental wolf and Tasmanian wolf sharing the same habitat.
Please click the link below to download full pdf file for CBSE Class 12 Biology Evolution (2).
Click for more Biology Study Material
›