Read and download free pdf of CBSE Class 12 Biology Reproduction In Organisms Worksheet Set A. Students and teachers of Class 12 Biology can get free printable Worksheets for Class 12 Biology in PDF format prepared as per the latest syllabus and examination pattern in your schools. Standard 12 students should practice questions and answers given here for Biology in Grade 12 which will help them to improve your knowledge of all important chapters and its topics. Students should also download free pdf of Class 12 Biology Worksheets prepared by school teachers as per the latest NCERT, CBSE, KVS books and syllabus issued this academic year and solve important problems provided here with solutions on daily basis to get more score in school exams and tests
Reproduction In Organisms MCQ Questions with Answers Class 12 Biology
Question- The terms homothallic and monoecious are used to denote
(a) bisexual condition
(b) unisexual condition
(c) staminate flowers
(d) pistillate flowers
Answer-(c)
Question- Select the incorrect statemen.
(a) Anisogametes differ either in structure, function or behaviour.
(b) In oomycetes, female gamete is smaller and motile, while male gamete is larger and non-motile.
(c) Chlamydomonas exhibits both isogamy and anisogamy and Fucus shows oogamy.
(d) Isogametes are similar in structure, function and behaviour.
Answer-(b)
Question-Development of an egg without fertilization is called
(a) gametogenesis
(b) metagenesis
(c) oogenesis
(d) parthenogenesis
Answer-(d)
Question- In protists and monerans, asexual reproduction occurs by
(a) budding
(b) binary fission
(c) conidia
(d) multiple fission
Answer-(b)
Question-Sexual reproduction can be grouped into _______ distinct states.
(a) two
(b) three
(c) four
(d) five
Answer-(b)
Question-Viviparity is found in
(a) whale
(b) lizards
(c) frogs
(d) birds
Answer-(a)
Question-In sexual reproduction, offsprings resemble the parents
(a) structurally but not functionally.
(b) functionally but not structurally.
(c) both structurally and functionally.
(d) neither structurally nor functionally.
Answer-(b)
Question-Syngamy means
(a) fusion of similar spores.
(b) fusion of gametes.
(c) fusion of dissimilar spores.
(d) fusion of cytoplasm.
Answer-(b)
Question-Which of the followings is a post-fertilization event in flowering plants ?
(a) Transfer of pollen grains
(b) Embryo development
(c) Formation of flower
(d) Formation of pollen grains
Answer-(b)
Question-In flowering plants both male and female gametes are non-motile. The method to bring them together for fertilization is
(a) water
(b) air
(c) pollination
(d) apomixis
Answer-(a)
Question-A clone is a group of individuals obtained through
(a) self-pollination
(b) hybridization
(c) asexual reproduction
(d) cross-pollination
Answer-(c)
Question-In yeast cell division results in a small cell called
(a) bud
(b) clone
(c) branch
(d) offspring
Answer-(a)
Question- Oestrus cycle is seen in
(a) cows and sheep
(b) rats and deers
(c) dogs and tiger
(d) all of the above
Answer-(d)
More Question
1. Name the type of cell division that takes place in the zygote of an organism exhibiting haplontic life cycle.
2. Mention the unique feature with respect to flowering and fruiting in bamboo species.
3. What is meant by juvenile phase?
4. Identify the picture and mention the vegetative part that helps it to propagate.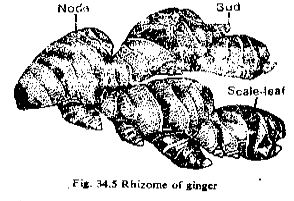 5. Mention the site where syngamy occurs in amphibian and reptiles respectively.
6. Name an organism where cell division is itself a mode of reproduction.
7. In yeast and Amoeba the parent cell divides to give rise to two new individual cells. How does the cell division differ in these two organisms?
8. A moss plant produces a large number of antherozoids but relatively only a few egg cells. Why?
9. Vegetative propagation is considered as a type of asexual reproduction. Give reason.
10. Differentiate between unisexual and bisexual organisms.
11. Name the phenomenon and one bird where the female gamete directly develops into a new organism.
12. Define: a) Parthenocarpy
b) parthenogenesis
13. Differentiate between external and internal fertilization.
14. Explain a) gametogenesis
b) embryogenesis
15. Describe the post fertilization changes occurring in a flower.
16. What are gemmules? Name the organisms which produce gemmules.
Please click the link below to download full pdf file for CBSE Class 12 Biology Reproduction In Organisms Worksheet Set A
Click for more Biology Study Material
›