CBSE Class 12 Biology Organisms and Populations. CBSE issues sample papers every year for students for class 12 board exams. Students should solve the CBSE issued sample papers to understand the pattern of the question paper which will come in class 12 board exams this year. The sample papers have been provided with marking scheme. It's always recommended to practice as many CBSE sample papers as possible before the board examinations. Sample papers should be always practiced in examination condition at home or school and the student should show the answers to teachers for checking or compare with the answers provided. Students can download the sample papers in pdf format free and score better marks in examinations. Refer to other links too for latest sample papers.
1.Identify the curves 'a' and 'b' shown in the graph given below. List the conditions responsible for growth patterns 'a' and 'b'.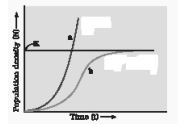 2 Why and when do some animals like frogs hibernate?
3 Mention any two significant roles predation plays in nature?
4 Why is the polar region not a suitable habitat for tiny humming birds?
5 Name the type of interaction seen between whale and the barnacles growing on its back.
TWO MARK QUESTIONS
6 Name the interaction in each of the following:
a. Cuckoo lays her eggs in the crow's nest
b. Orchid grows on a mango tree
c. Ticks live on the skin of dogs.
7 Certain species of wasps are seen to frequently visit flowering fig trees. What type of interaction is seen between them and why?
8 Egrets are often seen along with grazing cattle. How do you refer to this interaction? Give a reason for this association.
9 a) What is "r" in the population equation given below: dN/dt=rN
b) How does the increase and decrease in the value of 'r' affect the population size?
10 How does the Mediterranean orchid Ophrys ensure its pollination by bees?
11 a) How is cuscuta adapted to be a parasitic plant?
b) Why do cattle avoid browsing on Calotropis plants? Explain.
d. Sea anemone is often found on the shell of hermit crab. 
13 Why is predation required in a community of different organisms?
Please click the link below to download full pdf file for CBSE Class 12 Biology Organisms and Populations.
Click for more Biology Study Material
›