CBSE Class 8 English Books and Authors MCQs. Revision worksheets, Sample papers, Question banks and easy to learn study notes for all classes and subjects based on CBSE and NCERT guidelines. Students and parents can download free a collection of all study material issued by various best schools in India. The study material has been carefully compiled by the best teachers in India. The students should practice the questions database to get better marks in examination. Please refer to other links for free download of high quality study material. Based on CBSE and NCERT guidelines. Based on the same pattern as released by CBSE every year. Study material for final/ term/ SA1/ SA2 Examinations conducted by various schools affiliated to Central Board of Secondary Education (CBSE) in India and abroad. CBSE Study material has been compiled to help students preparation which will helps the students to concentrate more in areas which carry more marks.
1 BOOKS AND AUTHORS
Q1. Name the worlds all time best selling book
a. Forbes Magazine b.Limca Book of Records c.Guinness Book of World Records d.Dictionary
Q2. This poet"s poems have English words but an Indian soul
a. Sarojini Naidu b. Tabassum Khan c. Maya Angelou d. Mahadevi Verma
Q3. The book "Arms and the Man" was written by
a. Aldoux Huxley b. Eugene O Neil c. Sydney Sheldon d.George Bernard Shaw
Q4. We learn about Gandhiji from this book.
a. My Experience with truth b.My Experiments with Truth c. Truth d. Always speak the Truth
Q5. The book "Far From Maddening crowd has bee written by:
a. Thomas Hardy b. Thomas Bryne c. Oliver Goldsmith d. P. C. Thomas
Q6. The famous novel Gone with the Wind has been written by
a. Charles Dickens b.Arthur Conan Doyle c. Margaret Mitchell d.Dorothy L Sayers
Q7. The book "Malgudi Days" is written by this author
a. K. K Narayanan b. K. R. Narayanan c. R. K Narayanan d. P. K. Narayanan
Q8. This book on slavery by Harriet Beecher Stowe is a bestseller of all times
a. Uncle Tim"s Cabin b. Uncle John"s Cabin c. Uncle Joe"s Cabin d. Uncle Tom"s Cabin
Q9. "Discovery Of India" was written by this freedom fighter
a. Mahatma Gandhi b. Jawahatrlal Nehru c. R. N Tagore d. Indhira Gandhi
Q10. The book "For Whom The Bell Tolls" is written by
a. Noel Coward b. Ernest Hemmingway c. A E Houseman d. Alfred Tennyson
Q11. This author is famous for her murder mystery novels
a. Sarojini Naidu b. Dorothy L. Sayers. c. Maya Angelou d.Agatha Christie
Q12. Disillusioned by Communalism George Orwell wrote this famous novel
a. Animal Farm b. Of Human Bondage c. Jungle Book d. Animal Kingdom
Q13. The latest Indian to win the "Booker Prize" in the year 2008
a. Sashi Tharoor b. Arbind Adiga c. Arundhati Roy d. Salman Rushde
Q14. "Maneaters of Kumaon" was written by this famous naturalist and conservationist.
a. James Blade b. Jim Frost c. Jim Corbet d. Rudyard Kipling
Q15. The first book written by and Indian in English titled Travels Of Dean Mohamet" was by
a. Sake Dean Mohamet b. P. Lal c. Rabindranath Tagore d. Nirad C Choudry
Q16. This story won young Ruskin Bond the prestigious John Llewellyn Rhys prize
a. Treasure in the garden b. Cricket for crocodile c. Room on the Roof d. Frogs in the fountain
Q17. The Novel "Of Human Bondage" is written by
a. Robert Frost b. William Shakespere c. O Henry d. W. Somerset Mougham
Q18. Paradise Lost was written by
a. James Ellroy b. John Keats c. Sydney Sheldon d. John Milton
Q19. The short love poems written by William Shakespeare are known as
a. Sonnets b. ballads c. Rhymes d. diaries
Q20. This Indian writer was awarded the Nobel Prize for Literature in 2001.
a. R. K. Narayanan b. Salman Rushde c. Ruskin Bond d. V S Naipaul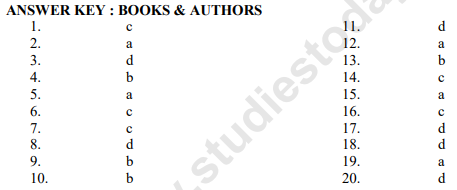 Click for more English Study Material
›