CBSE Class VIII Social Science
Download Class 8 Social Science NCERT Solutions, solved latest sample papers and question papers, chapter notes and guides prepared as per latest guidelines, term examination pattern and blueprint issued by CBSE and NCERT. Students can download all study material free in pdf format
Click below for Class 8 Social Science worksheets with important questions, latest syllabus, NCERT CBSE books, NCERT solutions, hots, multiple choice questions (mcqs), easy to learn concepts and study notes of all Class 8 Social Science chapters, online tests, value based questions (vbqs), sample papers and last year solved question papers
CBSE Class 8 Social Science sample papers, guess papers, last year question papers, hots, syllabus, multiple choice questions (mcqs) easy to learn and understand concepts of all chapters. Also includes revision worksheets and easy to learn study notes based on CBSE and NCERT guidelines. students and parents can download free collection of study material issued by various best schools in india. The study material has been carefully compiled by the best CBSE teachers in india. Also Download CBSE English Solution for Class 8 in PDF Form.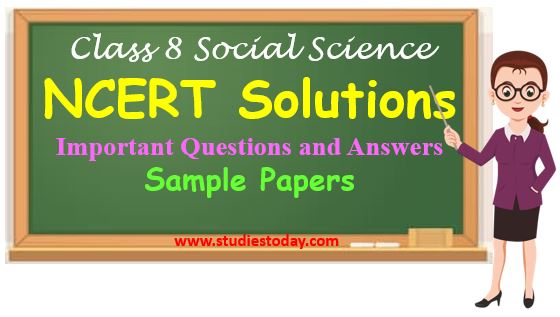 The Class 8 Social Science students should be able to perform the following:
Collect information about distribution of various natural resources like land, soil, water, natural vegetation, wildlife, minerals, power resources, types of industries in their environs and relate it with India and the world.
Explore various farming practices carried out in the neighbourhood/ district/ state.
Use pictures/news clippings/ videos to be familiar with the availability of natural resources and their protection, various agricultural practices in other states/countries.
Develop projects on conservation of natural and human made resources.
Discuss with peers about forest fire, landslide, industrial disasters, natural and human reasons for their occurrence and control measures.
Use atlas /maps for locating major agricultural areas of the world, industrial countries/regions, understanding spatial distribution of population.
Read stories of lived experiences of individuals and communities of the period. Also do Worksheets for Class 8 Social Science
Discuss events and processes in groups and as a whole in the classroom situation.
Raise questions on different issues and events like 'Why the English East India Company felt it necessary to involve itself in feuds amongst Indian rulers?'.
Visit places of historical importance particularly those associated with centres of colonial administration and Indian national movement.
Undertake 'projects' and 'activities' like (a) writing an essay on "Gandhiji's Idea of Non-violence and its Impact on India's National Movement', (b) drawing up a timeline on 'Significant Events of India's National Movement', (c) enacting a role play on 'The Chauri Chaura Incident,' and (d) locating on an outline map of India the 'Regions Most Effected by Commercial Crop Cultivation during the Colonial Period'.
Familiarise with the sources like vernacular and British accounts, autobiographies, biographies, novels, paintings, photographs, contemporary writings, documents, newspaper reports, films, documentaries and also recent writings to understand and reconstruct histories of various movements.
Expose to pedagogically innovative and criterion-referenced questions for self-assessment like 'What were the reasons for the Battle of Plassey?'
Participate in a discussion on the concepts of Constitution, Parliament, judiciary and marginalisation. Also try doing Question papers for Class 8 Social Science
Prepare posters with drawings and pictures and make oral and written presentations on the significance of the Constitution of India, Preamble, Parliamentary government, separation of powers, federalism.
Debate how the principles of liberty, equality and fraternity are being practised in classroom/ school/ home/ society.
Do projects (solo, pair or group) about the Fundamental Rights and Fundamental Duties.
Screen and discuss the Rajya Sabha TV series, Samvidhan and movies such as Gandhi, Sardar, Dr. Babasaheb Ambedkar.
Observe parliamentary constituency map of State/UT.
Organise a mock election with model code of conduct and Youth parliament (Bal Sansad).
Prepare a list of registered voters in one's own neighbourhood.
Carry out an awareness campaign in one's own locality about significance of voting.
Find out some public works undertaken by the MP of one's own constituency.Also solve Sample papers for Class 8 Social Science.
Examine contents of a First Information Report (FIR) form.
Express views, through descriptive and critical writing, about the role of judges in the delivery of justice to the litigants.
Conduct focus group discussions on violation, protection and promotion of human rights, especially of women, SCs, STs, religious/ linguistic minorities, persons with disabilities, children with special needs, sanitation workers, and other disadvantaged sections.
Screen and discuss the movie, I am Kalam (Hindi, 2011).
Perform a role play about child labour, child rights, and the criminal justice system in India.
visit any office under the Union Government (e.g. post office) in one's own locality to observe its functioning and prepare a brief report.
Share experiences with peers on public facilities and reasons for the disparity in availability of water, sanitation, electricity.
Organise a debate why Government be responsible for providing public facilities.
Case studies or newspaper clippings can be provided to learners as an example of the negligence in enforcement of the laws and compensation.
Group discussion on role of Government in regulating economic activities, e.g. analysing the reason of Bhopal gas tragedy.