Read and download CBSE Class 12 Procedure for doing enteries in payroll software chapter in NCERT book for Class 12 Other Subjects. You can download latest NCERT eBooks chapter wise in PDF format free from Studiestoday.com. This Other Subjects textbook for Class 12 is designed by NCERT and is very useful for students. Please also refer to the NCERT solutions for Class 12 Other Subjects to understand the answers of the exercise questions given at the end of this chapter
NCERT Book for Class 12 Other Subjects Procedure For Doing Entries In Payroll Software
Class 12 Other Subjects students should refer to the following NCERT Book chapter Procedure For Doing Entries In Payroll Software in standard 12. This NCERT Book for Grade 12 Other Subjects will be very useful for exams and help you to score good marks
Procedure For Doing Entries In Payroll Software NCERT Book Class 12
ACCOUNTING FOR BUSINESS II
CHAPTER 2
Procedure for doing enteries in payroll software
When prompted by the operating system, and enter key is pressed, a menu will display on the screen with the following four options:
a. Technical Staff
b. Non-Technical staff
c. Exit from system
d. Return to Operating system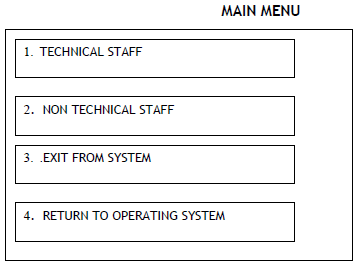 As the name itself shows option 1 deals with Technical staff, option 2 with non-technical staff. Option 3 is given to exit from system and option 4 for return to the Operating System.
On entering option 2 non-technical staff program is executed which displays further options such as:
1. Enter a record
2. Edit menu
3. Delete a record
4. Add D. A.
5. Edit D. A.
6. Monthly Report
7. Return to Main Menu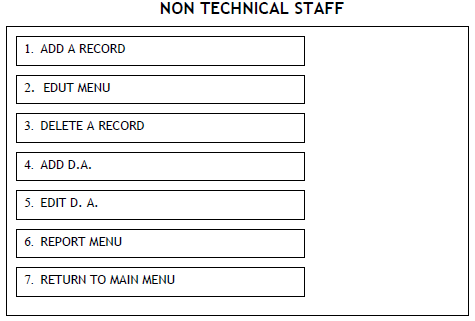 Let us get familiarized with these options one by one.


1. ENTER A RECORD:-
First of all we have to enter the code of employee and check for existence. Then we have to enter valid date, after that we have to enter other informations such as name, designation, pays, allowances etc.


2. EDIT MENU
This option gives a further menu with 3 options such as
(i) Edit permanent fields
(ii) Edit temporary fields
(iii) Return to non-technical staff menu
Please refer to the link below for - CBSE Class 12 Procedure for doing enteries in payroll software
Books recommended by teachers