Read and download CBSE Class 12 Engineering Shaft Couplings chapter in NCERT book for Class 12 Engineering. You can download latest NCERT eBooks for 2021 chapter wise in PDF format free from Studiestoday.com. This Engineering textbook for Class 12 is designed by NCERT and is very useful for students. Please also refer to the NCERT solutions for Class 12 Engineering to understand the answers of the exercise questions given at the end of this chapter
Shaft Couplings Class 12 Engineering NCERT
Class 12 Engineering students should refer to the following NCERT Book chapter Shaft Couplings in standard 12. This NCERT Book for Grade 12 Engineering will be very useful for exams and help you to score good marks
Shaft Couplings NCERT Class 12
SHAFT COUPLINGS
Shafts as we have learnt in the previous chapters, mechanical/machine parts that are commonly used to transmit power from one end of the machine/unit to another. But what, if these ends are distance apart. Moreover the shafts are made of limited lengths for ease of transport arts, so in such a case, we would connect the shafts to form a long transmission shaft, as we have done in case of joints in the earler chapter. Similarly Even in case of power transmission between different machine to unit, as seen, between a motor and a generator or pump, the shafts need to be joined together a to transmit rotary motion between shafts of same unit, as well as of different machines / unit. And to do so, we have devices known as "couplings" which are used to "join two shafts".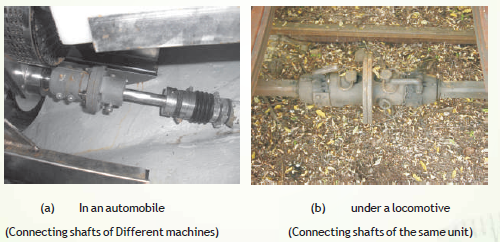 WHAT WE HAVE LEARNT
1. Coupling are devices used to join two shafts end to end. This may be done to increase the length of the shaft or to connect shafts of different machines.
2. Flange Coupling is a type of shaft coupling which is widely used.
3. 'Flange Coupling' uses two 'Flanges' (one for each shaft), fixed with keys (sunk taper) and joined with bolts and nuts (square or hexagonal).
4. There are two type of Flange Coupling
   a. Protected
   b. Unprotected.
5. 'Protected Flange Coupling' is Provided with an extended protruding ring in the flange to cover the heads of bolts & nuts, to avoid any injury from them while rotating.
6. A step of 2-3 mm on one flange and groove in the other (Spigot and socket arrangement) is also provided for good alignment.
Please refer to the link below for - CBSE Class 12 Engineering Shaft Couplings
Click for more Other Subjects Study Material
›