Read and download free pdf of CBSE Class 10 Science Chemistry Determination of pH Assignment. Get printable school Assignments for Class 10 Chemistry. Standard 10 students should practise questions and answers given here for Chemistry in Grade 10 which will help them to strengthen their understanding of all important topics. Students should also download free pdf of Printable Worksheets for Class 10 Chemistry prepared as per the latest books and syllabus issued by NCERT, CBSE, KVS and do problems daily to score better marks in tests and examinations
Determination Of Ph Class 10 Chemistry Assignment Pdf
Class 10 Chemistry students should refer to the following printable assignment in Pdf for Determination Of Ph in standard 10. This test paper with questions and answers for Grade 10 Chemistry will be very useful for exams and help you to score good marks
Class 10 Chemistry Assignment for Determination Of Ph
CBSE Class 10 Science Chemistry Determination of pH Assignment. Students are advised to refer to the attached assignments and practice them regularly. This will help them to identify their weak areas and will help them to score better in examination. Parents should download and give the assignments to their children for practice.
Objective: To find the pH of Dil HCl, Dil. NaOH, Dil. Acetic Acid, Lemon Juice, Water and Dil. NaHCO3 solution, using pH paper (or Universal Indicator).
Requirements: strips of pH paper, test tubes, standard pH reference chart, and various samples
Procedure: Take 1 ml of the given sample in a test tube. Dip a piece of pH paper into it. Note the colour change and compare the same with the colour chart given to find the pH of the solution. Record your observations in the table given below.
Repeat the experiment with other samples also and record your observations.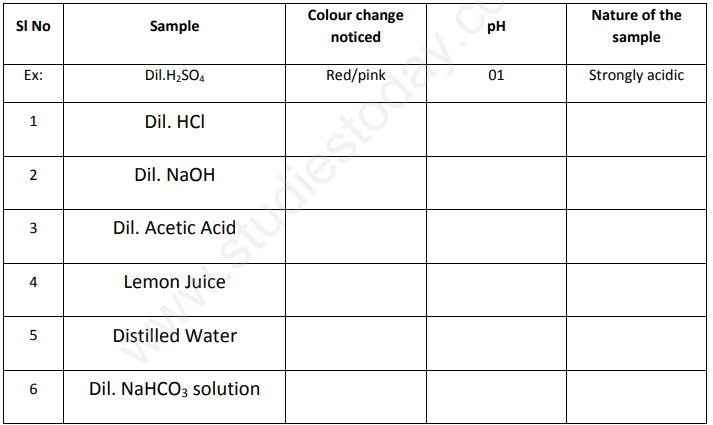 Please click the link below to download CBSE Class 10 Science Chemistry Determination of pH Assignment