Read and download free pdf of CBSE Class 10 Science Chemistry Saponification Preparation of Soap Assignment. Get printable school Assignments for Class 10 Chemistry. Standard 10 students should practise questions and answers given here for Chemistry in Grade 10 which will help them to strengthen their understanding of all important topics. Students should also download free pdf of Printable Worksheets for Class 10 Chemistry prepared as per the latest books and syllabus issued by NCERT, CBSE, KVS and do problems daily to score better marks in tests and examinations
CBSE Class 10 Science Chemistry Saponification Preparation of Soap Assignment. Students are advised to refer to the attached assignments and practice them regularly. This will help them to identify their weak areas and will help them to score better in examination. Parents should download and give the assignments to their children for practice.
Objective: To study Saponification reaction for the preparation of Soap.
Requirements: Sodium hydroxide, vegetable oil, ethanol, common salt, distilled water, beakers, measuring cylinder etc.
Theory :
Soaps are sodium or potassium salts of carboxylic acids with long hydrocarbon chains. Soap can be made from the base hydrolysis of fat or oil. The process in which oil or fat reacts with NaOH to form soap(sodium salt of fatty acid) and glycerol is called saponification reaction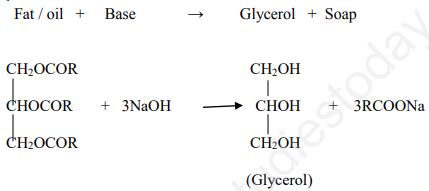 Procedure :
• Take about 20 ml of vegetable oil in a beaker.
• Add 15 ml of ethanol &25 ml of 20 %NaOH to vegetable oil with stirring.
• Heat the mixture for 20 minutes until the solution no longer has 2 separate layers.(do not over heat the mixture to dryness).
• Remove the beaker from the burner,& add 20 ml of saturated NaCl solution.This process is called 'salting out' .
• Cool the mixture till it becomes solid
• Remove &cut it into desired shape &size.
Result
Soap solution is basic in nature .
Please click the link below to download CBSE Class 10 Science Chemistry Saponification Preparation of Soap Assignment
Click for more Chemistry Study Material
›