CBSE Class 10 Social Science Sample Paper SA1 2013 (2). CBSE issues sample papers every year for students for class 10 board exams. Students should solve the CBSE issued sample papers to understand the pattern of the question paper which will come in class 10 board exams this year. The sample papers have been provided with marking scheme. It's always recommended to practice as many CBSE sample papers as possible before the board examinations. Sample papers should be always practiced in examination condition at home or school and the student should show the answers to teachers for checking or compare with the answers provided. Students can download the sample papers in pdf format free and score better marks in examinations. Refer to other links too for latest sample papers.
1a Until 18th century which two countries were considered as the richest in the world ?
(a) India and China (b) Sri Lanka and Malaysia
(c) China and Indonesia (d) England and Italy
OR/
1b The Spinning Jenny was devised by______.
(a) T.E. Nicholson (b) Games Hargreaves
(c) Willaim Bell Scot (d) Will Thorne
OR/
1c  After reclamation how many islands were joined together to develop the city of Bombay ?
(a) Seven (b) Five
(c) Three (d) Ten
2a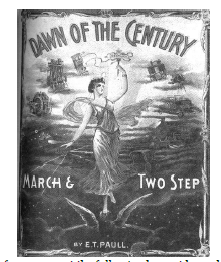 Which sign from amongst the following has not been shown as a sign of progress in the given picture ?
(a) Printing press (b) Factory
 (c) Camera (d) Flag of the new century
Please click the link below to download full pdf file for CBSE Class 10 Social Science Sample Paper SA1 2013 (2).
Click for more Social Science Study Material
›