Download CBSE Class 12 Biology Sexual Reproduction In flowering Plants Notes Set B in PDF format. All Revision notes for Class 12 Biology have been designed as per the latest syllabus and updated chapters given in your textbook for Biology in Standard 12. Our teachers have designed these concept notes for the benefit of Grade 12 students. You should use these chapter wise notes for revision on daily basis. These study notes can also be used for learning each chapter and its important and difficult topics or revision just before your exams to help you get better scores in upcoming examinations, You can also use Printable notes for Class 12 Biology for faster revision of difficult topics and get higher rank. After reading these notes also refer to MCQ questions for Class 12 Biology given our website
Sexual Reproduction In flowering Plants Class 12 Biology Revision Notes
Class 12 Biology students should refer to the following concepts and notes for Sexual Reproduction In flowering Plants in standard 12. These exam notes for Grade 12 Biology will be very useful for upcoming class tests and examinations and help you to score good marks
Sexual Reproduction In flowering Plants Notes Class 12 Biology
SEXUAL REPRODUCTION IN FLOWERING PLANTS
Topics:
Flowers
Pre- fertilization- structure and events
Pollination
Fertilization
Double fertilization
Post fertilization- events
Development of seed and fruits
Apomixes
Polyembryony
Types of fruits
Introduction
Sexual reproduction in flowering plants involves transformation of diploid sporophytic cell into haploid gametophytic cells by meiosis.Fusion of haploid gametes of opposite sex to form diploid zygote.The zygote then develops into an embryo which ultimately forms a diploid plant body. In flowering plants all these steps of sexual reproduction occur within specialized reproductive organs called the flowers.
Pre- fertilization: Structures and Events
The parts of a stamen are filament and anther.It is bilobed and dithecous. The anther is a four- lobed structure consisting of four micro sporangia located at the corner, two in each lobe. Developed micro sporangia are called pollen sacs.
Structure of the pollen grains or male gametophyte
1. Wall layers: the outer hard layer-exine is made up of the most resistant organic material Sporopollenin which is resistant to high temperature, pH, and enzymatic action.
2. Exine has apertures called germ pores
3. Inner wall- intine is made up of cellulose and pectin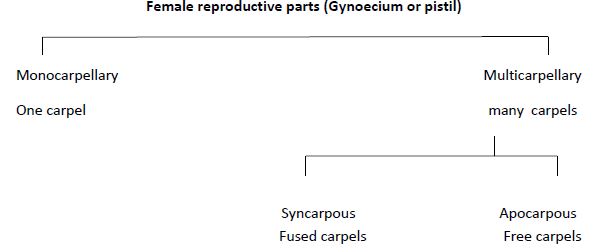 Structure of an ovule or megasporangium
The ovule has a stalk-funicle- Hilum is the junction between ovule and funicle- two integuments envelop the ovule except at micropyle. Opposite end is called chalazal end. It encloses mass of cells called nucellus, with an embryo sac.

Megasporogenesis:
                             Nucellus
                                   ↓
                       Megaspore mother cell
                                   ↓
                             (One cell enlarges)
                                   ↓
                                 meiosis
                                   ↓
                             4-Megaspores
           3- degenerate and one functional megaspore remains.
                                   ↓ Nucleus divides mitotically
                                   ↓
           2 - Nucleate (move to opposite poles)
                                   ↓
                          II Mitosis
                      4 -Nucleate
                                   ↓
                                  III Mitosis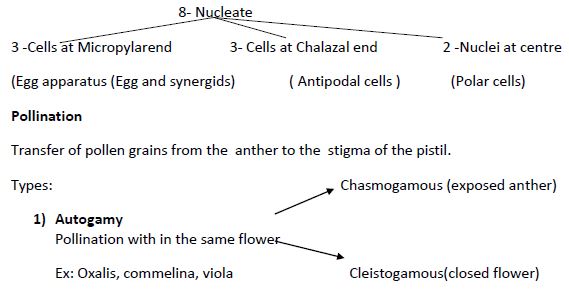 2) Geitonogamy
Transfer of pollen grain from the anther to the stigma of another flower in the same plant.

3) Xenogamy
Transfer of pollen grain from the anther to the stigma of a different plants.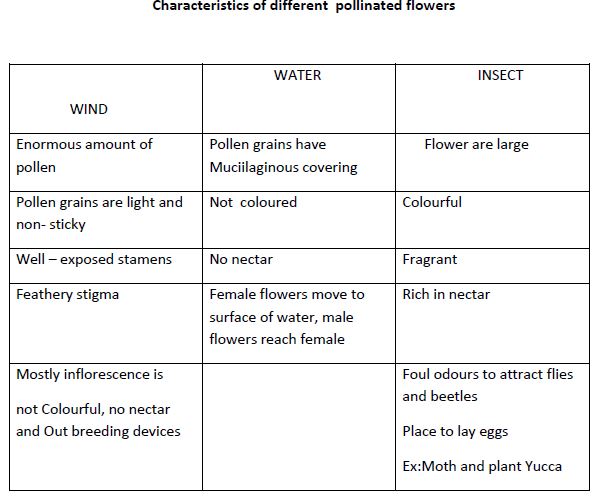 Outbreeding devices
• Dichogamy – pollen release and stigma receptivity are not synchronized.
• Heterostyly – anther and stigma are placed at different positions.
• Self- incompatibility
• Production of unisexual flowers.

Pollen- pistil interaction
1) The pollen grains germinate in pollen tubes and the pollen tube passes through style, reaches ovary.
2) Enters ovule through micropyle with the help of synergids
3) Two male gametes are released.
(Artificial hybridization is achieved by emasculation and bagging techniques (removal of anther and dusting stigma with anther of desired type to prevent contaminations of its stigma with unwanted pollen)
Double fertilization
.One male gametes (n) + egg → (n) Syngamy (2n) → Zygote
Another male gamete (n) + polar nuclei (2n) → PEN(3X)
Primary endosperm nucleus develops into endosperm.

Post- fertilization events
A) Development of endosperm and embryo B) maturation of ovule into seed C) ovary into fruit.

Endosperm development
PEN undergoes repeated nuclear divisions to form into free- nuclear endosperm and if the cell wall formation occurs, forms to cellular- endosperm

Embryo development (Embryogeny)
Zygote → pro- embryo → globular embryo
                                             ↓
                                     Heart shaped embryo
                                             ↓
                                     Matured embryo

Dicot embryo consist of an embryonal axis and two cotyledons.
Please click the link below to download pdf file for CBSE Class 12 Biology - Sexual Reproduction Inflowering Plants notes.
Click for more Biology Study Material
›