Download CBSE Class 12 Biology Reproduction In Organisms Minds Map in PDF format. All Revision notes for Class 12 Biology have been designed as per the latest syllabus and updated chapters given in your textbook for Biology in Standard 12. Our teachers have designed these concept notes for the benefit of Grade 12 students. You should use these chapter wise notes for revision on daily basis. These study notes can also be used for learning each chapter and its important and difficult topics or revision just before your exams to help you get better scores in upcoming examinations, You can also use Printable notes for Class 12 Biology for faster revision of difficult topics and get higher rank. After reading these notes also refer to MCQ questions for Class 12 Biology given our website
Reproduction In Organisms Mind Map Class 12 Biology Revision Notes
Class 12 Biology students should refer to the following concepts and notes for Reproduction In Organisms Mind Map in standard 12. These exam notes for Grade 12 Biology will be very useful for upcoming class tests and examinations and help you to score good marks
Reproduction In Organisms Mind Map Notes Class 12 Biology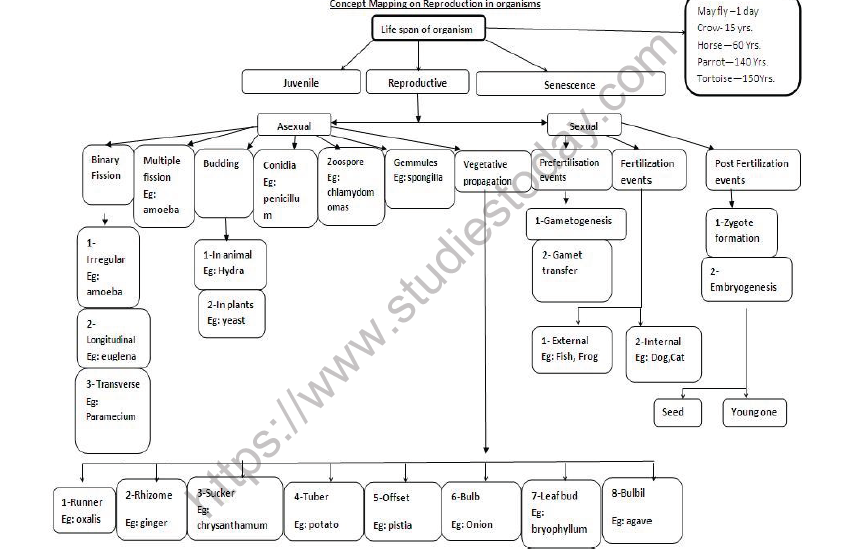 Very Short Answer Questions
Question. In yeast and Amoeba the parent cell divides to give rise to two new individual cells. How does the cell division differ in these two organisms? 
Answer. In Amoeba, binary fission takes place whereas in yeast cell division occurs by budding.
Question. Explain why meiosis and gametogenesis are always interlinked.
Answer. Gametogenesis (formation of male and female gametes) is associated with reduction in  chromosome number thus, the gamete formed contains half the chromosome set of the parental cell. So, gametogenesis is interlinked with meiosis because meiosis reduces the chromosome number to half, i.e., from 2n to 'n'.
Question. Name the phenomenon and one bird where the female gamete directly develops into a new organism.
Answer. The phenomenon is called parthenogenesis. Turkey is the name of the bird.
Question. Meiosis is an essential event in the sexual life cycle of any organism. Give two reasons.
Answer. (i) Meiosis helps in the formation of gametes by reductional division and maintains constant number of chromosomes.
(ii) Meiosis brings variation in offsprings by recombination of genes.
Question. What is a bisexual flower? Collect five bisexual flowers from your neighbourhood and with the help of your teacher find out their common and scientific names.
Answer. A flower which possess both the male and female reproductive structures, i.e., both stamen and carpel is called a bisexual flower.
Question. At what state does the meiosis occur in an organism exhibiting haploidic life cycle and mention the fate of the products thus produced. 
Answer. Organisms exhibiting haploidic life cycle undergo meiosis during zygote formation. The products thus formed are haploid gametophyte.
Short Answer Questions
Question. Out of many papaya plants growing in your garden, only a few bear fruits. Give reason.
Answer. Papaya plant is dioecious, i.e., male and female flowers are borne on separate plants. Only plants bearing female flowers will bear fruits.
Question. Identify each part in a flowering plant and write whether it is haploid (n) or diploid (2n).
(i) Ovary (ii) Anther (iii) Egg
(iv) Pollen (v) Male gamete (vi) Zygote.
Answer. (i) Diploid (2n) (ii) Diploid (2n) (iii) Haploid (n)
(iv) Haploid (n) (v) Haploid (n) (vi) Diploid (2n)
Question. It is said apomixis is a type of asexual reproduction. Justify. 
Answer. Apomixis is a type of asexual reproduction because :
(i) Apomixis is the formation of seeds or embryo without fusion of gametes or fertilisation.
(ii) Diploid egg cell is formed without reductional division and develops into the embryo without fertilisation.
(iii) Some cells of the nucellus start dividing and develop into embryo.
Question. Which of the following are monoecious and dioecious organisms:
(a) Earthworm (b) Chawra
(c) Marchantia (d) Cockroach. 
Answer. (a) Monoecious (b) Monoecious
(c) Dioecious (d) Dioecious.
Question. Explain the importance of syngamy and meiosis in a sexual life cycle of an organism.
Answer. In the sexual life cycle of an organism, meiosis results in formation of haploid gametes which fuse together by syngamy and the diploid nature of the organism is restored in the zygote.
Question. What is vegetative propagation? Give two suitable examples.
Answer. In plants, the vegetative propagules (runner, rhizome, sucker, etc.) are capable of producing new offsprings by the process called vegetative propagation. As the formation of these vegetative propagules does not involve both the parents, the process involved is asexual.
Examples: (i) Adventitious buds in the notches along the leaf margins of Bryophyllum grow to form new plants.
(ii) Potato tuber having buds when grown, develops into a new plant.
Question. A moss plant produces a large number of antherozoids but relatively only a few egg cells. Why?
OR 
Why do moss plants produce very large number of male gametes? Provide one reason. What are these gametes called? 
Answer. Antherozoids are motile male gametes which have to swim on the water surface to fertilise the immotile female gametes, i.e., egg. Since, during its transfer many antherozoids get destroyed, a large number of them are produced.
Question. Name any two organisms and the phenomenon involved where the female gamete undergoes development to form new organisms without fertilisation. 
Answer. The phenomenon of development of female gamete directly into an individual without fertilisation is called parthenogenesis, e.g., rotifers, honeybees, lizards and birds.
Long Answer Questions
Question. Pollen banks are playing a very important role in promoting plant breeding programme the world over. How are pollens preserved in the pollen banks? Explain. How are such banks benefitting our farmer? Write any two ways. 
Answer. Cryopreservation/preserved in liquid nitrogen (–196°C).
(i) Availability of pollen of different genetic strains (for wider use).
(ii) Cryopreservation increases viability of pollens (which can be used in crop breeding programmes).
(iii) Can be preserved/stored for longer duration.
(iv) Conserve large number of species.
(v) To prevent complete extinction of any species.
(vi) Maintain biodiversity.
Question. What are vegetative propagules? Name any four of them along with an example for each.
Answer. The units of asexual vegetative structures of plants which are capable of giving rise to new individuals/plants are called vegetative propagules.
Example:
(i) Rhizome of ginger,
(ii) bulbil of Agave,
(iii) leaf buds of Bryophyllum,
(iv) bulbs of onion.
Question. Offspring formed due to sexual reproduction have better chances of survival. Why? Is this statement always true?
Answer. Offspring formed due to sexual reproduction have better chances of survival because:
(i) the offspring retains its hybrid vigour which may adapt better with the changing environment.
(ii) genetic variation is introduced among the offspring, which increases the range of tolerance or biological tolerance.
(iii) sexual reproduction occurs in adverse conditions in lower plant kingdom, so sexual spores survive in adverse conditions.
Sexual reproduction may not always show better chances of survival because the offspring may be inferior to the parents.
Click for more Biology Study Material
›