Read and download free pdf of CBSE Class 10 Biology How Do Organisms Reproduce Worksheet Set C. Students and teachers of Class 10 Biology can get free printable Worksheets for Class 10 Biology in PDF format prepared as per the latest syllabus and examination pattern in your schools. Standard 10 students should practice questions and answers given here for Biology in Grade 10 which will help them to improve your knowledge of all important chapters and its topics. Students should also download free pdf of Class 10 Biology Worksheets prepared by school teachers as per the latest NCERT, CBSE, KVS books and syllabus issued this academic year and solve important problems provided here with solutions on daily basis to get more score in school exams and tests
How Do Organisms Reproduce Class 10 Biology Worksheet Pdf
Class 10 Biology students should refer to the following printable worksheet in Pdf for How Do Organisms Reproduce in standard 10. This test paper with questions and answers for Grade 10 Biology will be very useful for exams and help you to score good marks
Class 10 Biology Worksheet for How Do Organisms Reproduce
What are the different patterns of fission that take place in unicellular organisms?
1) How do we know that two individuals belong to the same species?
2) What are the modes by which various organisms reproduce depend on?
3) What is advantage of growing plants asexually by the technique of tissue culture?
4) The sexual mode of reproduction incorporates the process of combining DNA from two different individuals. How is the problem of doubling of chromosomes overcome?
5) What is the importance of pollination?
6) How do ovaries function both, as the reproductive organs as well as the endocrine glands?
7) Which method is for removal of unwanted pregnancies?
8) After the cell division, why are surviving cells similar to, but subtly different from each other?
9) Why do multicellular organisms need to use more complex ways of reproduction?
More Important Questions For How Do Organisms Reproduce

Question. Explain Binary Fission in Amoeba and Multiple fission in Plasmodium.
Ans. In the process of fission, a unicellular organism splits to form two or more new organisms. It is of two types.
(a)Binary fission: -In binary fission, the parent organism splits to form two new organisms.
Examples-Amoeba, Paramecium, Leishmania etc
(b)Multiple Fission: -In multiple fission the parent organism splits to form many new organisms at same time.
Example-Plasmodium
Question. In a flower, the parts that produce male and female gametes are——–
(a)stamen and anther
(b)Filament and stigma
(c) Anther and ovary
(d) stamen and style
Ans. (c) Anther and ovary
Question. Hydra reproduces————-by—————
(a)sexually, budding
(b)sexually, regeneration
(c) asexually, budding
(d)asexually, regeneration
Answer : (c) asexually, budding
Question. Reproduction is one of the most important characteristics of living beings. Give three reasons in support of the statement.
Ans. (i) For continuation of species
(ii)It promotes diversity in characters
(iii)Enhance the survival chances
Question. Which of these is not a part of male reproductive system?
(a)Scrotum
(b) Oviduct
(c) Vas-deferens
(d) Prostrate gland
Answer : B
Question. (a) Draw a neat diagram of female reproductive system of human being and label the following
(i) Parts where eggs are formed
(ii) Site of fertilization
(iii) Place of implantation
(iv) Place for entry of sperm
(b) What is contraception? List three advantages of adopting contraceptive measures.
Ans (a)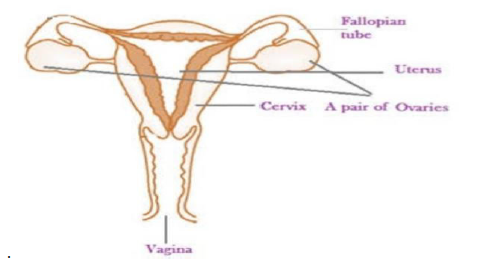 (b)Contraception is the methods or ways to prevent fertilization and pregnancy in fertile females.
Three major advantages of adopting contraceptive measures are as follows:
(i)Help in family planning and population control.
(ii)Prevention of sexually transmitted diseases like gonorrhea, HIV-AIDS etc.
(iii)Prevention of unwanted pregnancies.
Class 10 Science How Do Organisms Reproduce Notes and Questions
Objective type Questions
Question: At the time of entering into ovule, pollen tube has
a) three male nuclei
b) two mole nuclei
c) one gamete nucleus
d) four male gametes 
Question: Which of the following is an IUCD?
a) copper – T
b) diaphragm
c) oral pills
d) tubectomy 
Question: Which of the following is not a part of female reproductive system in human beings?
(a) Ovary
(b) Uterus
(c) Vas deferens
(d) Fallopian tube 
Short Answer Question 
Question: Name the structure through which pollen tubes enters the ovule.
Answer: Stigma
Question: What is the product of fertilization? 
Question: Name the unicellular organism which caused the disease known as kala-azar. 
Question: Which process taking place in the nucleus of a cell leads to variation in the offspring during reproduction? 
Question: The simple animals such as planaria can be cut into number of pieces and each piece grows into a complex organism. What is this process known as? 
Question: How may male gametes are produced by pollen grains? 
Question: Define parthenogenesis.
Answer: Development of organism from an unfertilized egg. 
Question: Which type of layering is done in Jasmine?
Answer: Air Layering (Gootee) 
Question: What is syngamy?
Answer: Fusion of male gamete with the egg cell is called syngamy. 
Question: Name the causative organism, of AIDS?
Answer: HIV – Human Immunodeficiency virus. 
Question: Where does fertilization takes place in human female?
Answer: Oviduct (fallopian tube)


Question: What is parturition?
Answer: Parturition – The birth of fully developed foetus in completion of gestation.
Question: How many follicles mature every month during the reproductive phase of human female?
Answer: One egg is produced every month by one of the ovaries
Click for more Biology Study Material
›