Read and download free pdf of CBSE Class 10 Biology Heredity And Evolution Worksheet Set C. Students and teachers of Class 10 Biology can get free printable Worksheets for Class 10 Biology in PDF format prepared as per the latest syllabus and examination pattern in your schools. Standard 10 students should practice questions and answers given here for Biology in Grade 10 which will help them to improve your knowledge of all important chapters and its topics. Students should also download free pdf of Class 10 Biology Worksheets prepared by school teachers as per the latest NCERT, CBSE, KVS books and syllabus issued this academic year and solve important problems provided here with solutions on daily basis to get more score in school exams and tests
Heredity And Evolution Class 10 Biology Worksheet Pdf
Class 10 Biology students should refer to the following printable worksheet in Pdf for Heredity And Evolution in standard 10. This test paper with questions and answers for Grade 10 Biology will be very useful for exams and help you to score good marks
Class 10 Biology Worksheet for Heredity And Evolution
Question : Who is called the father of genetics? 
a. Stanley and miller
b. Gregor Mendel
c. Lamarck
d. Darwin
Answer : B
Explanation: Gregor Mendel is called the father of genetics because he was the first person in the world to observe the fact that characteristics were passed on from the parents to the children.
Question : Which is the genetic material in retrovirus? 
a. DNA
b. Neither RNA nor DNA
c. Both RNA and DNA
d. RNA
Explanation: A retrovirus is any virus belonging to the viral family Retroviridae. All The genetic material in retroviruses is in the form of RNA molecules, while the genetic material of their hosts is in the form of DNA. When a retrovirus infects a host cell, it will introduce its RNA together with some enzymes into the cell.
Question : Match the following with correct response.
(1) Plica semilunaris    (A) Giant reptiles
(2) Dinosaurs              (B) Philosophies Zoologique
(3) Kohlrabi                (C) Artificial selection
(4) Lamarck                (D) Vestigial
a. 1-A, 2-C, 3-B, 4-D
b. 1-B, 2-D, 3-A, 4-C
c. 1-D, 2-A, 3-C, 4-B
d. 1-C, 2-B, 3-D, 4-A
Explanation:
Plica semilunaris is a crescent-shaped fold of conjunctiva located at the inner canthus lateral to the caruncle. It is a vestigial structure that represents the third eyelid or nictitating membrane of lower vertebrates.
Dinosaurs are a diverse group of reptiles of the clade Dinosauria that first appeared during the Triassic period.
Artificial selection is a process in which man selects a particular desired traits for breeding, in order to generate new plants/ animals with improved characters. For e.g. Early farmers cultivated wild cabbage or Brassica oleracea. This wild cabbage developed into many varieties such
as cabbage, broccoli, kohlrabi, cauliflower, kale, and brussels. These varieties were artificially selected because of their characteristic traits.
Philosophie Zoologique is an 1809 book by the French naturalist Jean- Baptiste Lamarck, in which he outlines his pre-Darwinian theory of evolution now known as Lamarckism.
Question : Father of Human genetics is 
a. H.G Khurana
b. Sir Archibald Garrod
c. Gregor Mendel
d. Charles Darwin
Explanation: Gregor John Mendel is considered as father of genetics as he laid down the principles or laws of inheritance for the first time. Though his works were based on plants but the laws governing inheritance patterns are also applicable to humans and hence we call them as " Mendel's Laws of Inheritance". 
Question : Match the following with correct response. 

a. 1-D, 2-A, 3-C, 4-B
b. 1-B, 2-D, 3-A, 4-C
c. 1-C, 2-B, 3-D, 4-A
d. 1-A, 2-C, 3-B, 4-D
Answer : A
Explanation:
a. Cells functioning together form tissue and tissue in turn form organs.
b. organs with same origin but different function- homologous organs. e.g. limbs of bat and human.
c. organs with different origin but same function- analogous organs.e. g.Wings of butterfly and birds.
d. appendix is non functional part in human body.  
Very Short Answer
Question : Mention the compliment of a sperm and the egg which will determine the birth of female child. 
Answer :
For girl child, sperm has X chromosome and egg also has X chromosome.
Question : In a beetle population, the number of green beetles is more than blue and red beetles. Give a reason behind this situation. 
Answer :  
It is because of natural selection. As green beetles can't easily be picked as they blend better with the environment around them.
Question : What is natural history? 
Answer : It is the name used for the study of plants and animals during Darwin's period.
Question :  Why crows could not eat coloured beetles? 
Answer :
Crows could not see green coloured beetles as they matched with green leaves and bushes. So, crows could not eat coloured beetles.
Question : Why acquired characters are not inherited? 
Answer :  Acquired traits are those characters which are acquired in the organisms during lifetimee time. They are not inherited to next generations. These traits are because of non-reproductive tissues and they cause no change in the DNA of the organisms.
Question : Give one word for carrier of genetic material termed genes. 
Answer :  Chromosome.




Short Answer
Question : A study found that children with light-coloured eyes are likely to have parents with lightcoloured eyes. On this basis, can we say anything about whether the light eye colour trait is dominant or recessive? Why or why not?
Answer :  Let us assume that children with light-coloured eyes can either have LL or Ll or ll genotype. If the children have LL genotype, then their parents will also be of LL
genotype.
                   LL × LL
                       ↓
                      LL
If the children with light-coloured eyes have ll genotype, then their parents will also have ll genotype.
                   ll × ll
                      ↓
                      ll
Therefore, it cannot be concluded whether light eye colour is dominant or recessive.
Question : In evolutionary terms, can we say which among bacteria, spiders, fish and chimpanzees have a 'better' body design? Why or why not?
Answer : Evolution cannot always be equated with progress or better body designs. Evolution simply creates more complex body designs. However, this does not mean that the simple body designs are inefficient. In fact, bacteria having a simple body design are still the most cosmopolitan organisms found on earth. They can survive hot springs, deep sea, and even freezing environment.Therefore, bacteria, spiders, fish, and chimpanzees are all different branches of evolution.
For example, in a family, a brother and sister are closely related and they have a recent common ancestor i.e., their parents. A brother and his cousin are also related but less than the sister and her brother. This is because the brother and his cousin have a common ancestor i.e., their grandparents in the second generation whereas the parents were from the first generation. With subsequent generations, the variations make organisms more different than their ancestors.
This discussion clearly proves that we classify organisms according to their resemblance which is similar to creating an evolutionary tree.
Question : Will geographical isolation be a major factor in the speciation of a self-pollinating plant species? Why or why not?
Answer :  Geographical isolation can prevent the transfer of pollens among different plants. However, since the plants are self-pollinating, which means that the pollens are transferred from the anther of one flower to the stigma of the same flower or of another flower of the same plant, geographical isolation cannot prevent speciation in this case.
Question : Explain how sexual reproduction gives rise to more viable variations than asexual reproduction. How does this affect the evolution of those organisms that reproduce sexually?
Answer :  In sexual reproduction, two individuals having different variations combine their DNA to give rise to a new individual. Therefore, sexual reproduction allows more variations, whereas in asexual reproduction, chance variations can only occur when the copying of DNA is not accurate.Additionally, asexual reproduction allows very less variations because if there are more variations, then the resultant DNA will not be able to survive inside the inherited cellular apparatus.
However, in sexual reproduction, more variations are allowed and the resultant DNA is also able to survive, thus making the variations viable.
Variation and Evolution: Variants help the species to survive in all the conditions.Environmental conditions such as heat, light, pests, and food availability can change suddenly at only one place. At that time, only those variants resistant to these conditions would be able to survive. This will slowly lead to the evolution of a better adapted species. Thus, variation helps in the evolution of sexually reproducing organisms.
Question : How does the creation of variations in a species promote survival?
Answer :  Sometimes for a species, the environmental conditions change so drastically that their survival becomes difficult. For example, if the temperature of water increases suddenly, most of the bacteria living in that water would die. Only few variants resistant to heat would be able to survive. If these variants were not there, then the entire species of bacteria would have been destroyed. Thus, these variants help in the survival of the species.
However, not all variations are useful. Therefore, these are not necessarily beneficial for the individual organisms.
Question : A Mendelian experiment consisted of breeding tall pea plants bearing violet flowers with short pea plants bearing white flowers. The progeny all bore violet flowers, but almost half of them were short. This suggests that the genetic make-up of the tall parent can be depicted as
(a) TTWW
(b) TTww
(c) TtWW
(d) TtWw
Answer :
(c) The genetic make-up of the tall parent can be depicted as TtWW Since all the progeny bore violet flowers, it means that the tall plant having violet flowers has WW genotype for violet flower colour. Since the progeny is both tall and short, the parent plant was not a pure tall plant. Its genotype must be Tt.
Therefore, the cross involved in the given question is
       TtWw × ttww
                ↓
       TtWw − ttww
Therefore, half the progeny is tall, but all of them have violet flowers.
Question : How can the pea plant be prevented from self pollination? How is cross pollination carried out? 
Answer : 
Pea plants can be prevented from self pollination by the process of emasculation.
Emasculation is the technique in which the male parts of the flower (stamens and anthers) are carefully removed before the flower matures.
Cross pollination occurs when pollen flower of one plant pollinates the flower of another plant. Cross pollination may occur naturally or manually by rubbing the pollens from a plant onto the stigma of the flower of another plant.
Question : How does the creation of variations in a species promote survival? 
Answer :
The useful variation in individuals of a species will enable them to adapt according to the changes and new needs. Thus they will enable the survival of species.
Question : What are the different ways in which individuals with a particular trait may increase in a population?
Answer :  Individuals with a particular trait may increase in a population as a result of the following:
(i) Natural selection: When that trait offers some survival advantage.
(ii) Genetic drift: When some genes governing that trait become common in a population.
(iii) When that trait gets acquired during the individual's lifetime.
Long Answer
Question : State Mendel's Laws of inheritance. 
Answer :
i. Law of unit character: According to this law, all the characters of body are represented in the gametes by certain units called factors or determiners which always occur in pair. These genes are present on different chromosomes of homologous pairs at the same locus.
ii. Law of Dominance: Only one member of the contrasting pair of characters is capable of expressing itself while other remains hidden, is called principle of dominance.
iii. Law of Segregation: According to this law, in a hybrid, the two unlike factors of a character do not affect each other but keep their identity. During gamete formation, they are free to segregate or separate from one another and to be redistributed in the next generation. This law is also called the purity of gametes.
iv. Law of independent assortment: When two pairs of independent alleles are brought together, they show independent dominant effects. During the formation of gametes, the genes of different characters are independent of one another. 
 Question :  Outline a project which aims to find a dominant coat colour in dogs.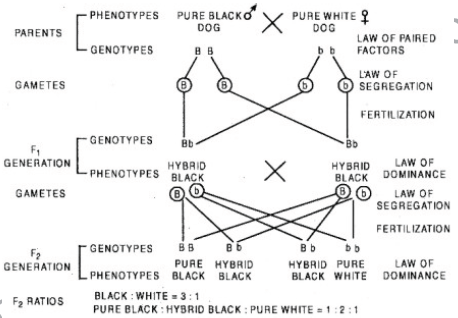 A chart showing the monohybridd cross.
More Question
1) Give examples of animals where sex determination is not genetically determined?
2) If a trait A exists in 10% of a population of an asexually reproducing species and a trait B exists in 60% of the same population, which trait is likely to have arisen earlier?
3) Give example of characteristics being used to determine how close two species are in  evolutionary terms.
4) What do fossils tell us about the process of evolution?
5) Why did Mendel choose garden pea for his experiments
6) Why do human beings who look so different from each other in terms of size, color, and looks are said to belong to the same species?
7) What is speciation?
8) How can we say that a child has two versions of a trait?
9) How do Mendel's experiments show that traits may be dominant or recessive?
10) The genotype of purple flowered pea plants is denoted as WW and that of white flowered pea plant as ww. When these two are crossed
  i) What color of flowers do you expect in their F1 progeny?
  ii) What will be the percentage of white flowered plants produced if F1 plants are self pollinated?
Students must free download and practice these worksheets to gain more marks in exams. CBSE Class 10 Biology Heredity And Evolution Worksheet Set C
Click for more Biology Study Material
›