Read and download free pdf of CBSE Class 10 Biology Management Of Natural Resources Worksheet Set B. Students and teachers of Class 10 Biology can get free printable Worksheets for Class 10 Biology in PDF format prepared as per the latest syllabus and examination pattern in your schools. Standard 10 students should practice questions and answers given here for Biology in Grade 10 which will help them to improve your knowledge of all important chapters and its topics. Students should also download free pdf of Class 10 Biology Worksheets prepared by school teachers as per the latest NCERT, CBSE, KVS books and syllabus issued this academic year and solve important problems provided here with solutions on daily basis to get more score in school exams and tests
Management Of Natural Resources Class 10 Biology Worksheet Pdf
Class 10 Biology students should refer to the following printable worksheet in Pdf for Management Of Natural Resources in standard 10. This test paper with questions and answers for Grade 10 Biology will be very useful for exams and help you to score good marks
Class 10 Biology Worksheet for Management Of Natural Resources
Question. Name a bacteria found in human intestine?
Ans. coliform bacteria is found in human intestine.
Question. Which is the easiest method to detect water pollution?
Ans. pH detection using the universal indicator.
Question. What can you as an individual do to reduce your consumption of the various natural resources?
Ans. By following 3 R's
(a) Reduce: Reduce or minimise the use of resources, by saving electricity by switching off unnecessary lights. and fans etc. and by walking, whenever possible.
(b) Recycle: Collect and recycle the products like plastic, paper, glass and metal.
(c) Reuse: It is better than recycle. Instead of throwing used envelopes. We can reverse it
Question,. A person lives near a forest.Enlist 4 items which he can get from forests to meet his daily needs.
Ans. food, fodder,fuel and medicinal plants.
Question. Why are forest called "biodiversity hot spot"?
Ans. forest are rich in most of the species of flora and fauna.All species of plants like bryophyte,pteridophyta,ferns,gymnosperms,angiosperms and animal species from amoeba to man are found.
Question. Which one of the following is a renewable resource?
(a) Natural gas
(b) petroleum
(c) ground water
(d) coal
Ans. (a) ground water.
Question. Name 4 substances that can be recycled.
Ans. glass,plastics,metals and paper.
Question. What do you mean by the trm sustainable development?
Ans. Sustainable development means to meet the needs of present generation ,without foreclosing the options of future generation,to keep balance between development and environment.
Question. The most rapidly dwindling natural resource in the world is-
(a) water
(b) forests
(c) wind
(d) sunlight
Ans. (b) forests
Question. How does mining lead to pollution?
Ans. mining causes pollution because the large amount of slag is discarded for every tonne of metal extracted in the earth.
Question. "Coal and petroleum are converted forms of solar energy".is this statement correct?
Ans. this is statement is correct because millions of years ago the raw material from which coal and petroleum are derived were daed and decayed plants , which when were living photosynthesized by solar energy.
Question. What changes can you make in your habits to become more environment friendly?
Ans. (i) Do not throw garbage on the road side.
(ii) Switch off lights, fans, TV when not required.
(iii) Use less water for bathing, washing jobs.
(iv) Use jute bags instead of polyethene.
(v) Walk or cycle to cover short distances.
Question. Hydroelectric power is also an indirect form of solar energy.how?
Ans. hydroelectric power is indirect form of energy, because the water which is stored in dams is rain water and rainfall occurs due to evaporation of water from water bodies due to heat of the sun.
Question. Write atleast two ways by which people of ancient India managed water resources? 
Case Study Based Questions
TOPIC- ACID RAIN
Below is a photo of statues called Caryatids that were built on the Acropolis in Athens more than 2500 years ago. The statues are made of a type of rock called marble. Marble is composed of calcium carbonate.
In 1980, the original statues were transferred inside the museum of the Acropolis and were replaced by replicas. The original statues were being eaten away by acid rain.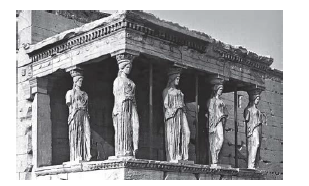 Question.Normal rain is slightly acidic because it has absorbed some carbon dioxide from the air.
Acid rain is more acidic than normal rain because it has absorbed gases like sulphur oxides and nitrogen oxides as well.
Where do these sulphur oxides and nitrogen oxides in the air come from?
Ans. Responses that mention any one of: car exhausts, factory emissions, burning fossil fuels such as oil and coal, gases from volcanoes or other similar things.
Burning coal and gas. Oxides in the air come from pollution from factories and industries.
Volcanoes. Fumes from power plants.
They come from the burning of materials that contain sulfur and nitrogen.
– Responses that include an incorrect as well as a correct source of the pollution.
Fossil fuel and nuclear power plants. [Nuclear power plants are not a source of acid rain.]
The oxides come from the ozone, atmosphere and meteors coming toward Earth.
Also, the burning of fossil fuels.
– Responses that refer to "pollution" but do not give a source of pollution that is a significant cause of acid rain.
Pollution.
The environment in general, the atmosphere we live in – e.g., pollution.
Gasification, pollution, fires, cigarettes.
Pollution such as from nuclear power plants.
Question. The effect of acid rain on marble can be modelled by placing chips of marble in vinegar overnight. Vinegar and acid rain have about the same acidity level. When a marble chip is placed in vinegar, bubbles of gas form. The mass of the dry marble chip can be found before and after the experiment.
A marble chip has a mass of 2.0 grams before being immersed in vinegar overnight. The chip is removed and dried the next day. What will the mass of the dried marble chip be?
A. Less than 2.0 grams
B. Exactly 2.0 grams
C. Between 2.0 and 2.4 grams
D. More than 2.4 grams
Ans. Full credit: A. Less than 2.0 grams
TOPIC – LPG IS BETTER FUEL THAN WOOD (COAL & PETROLEUM)
Ishita a student of class 8 went to meet her classmate Divya. They discussed on subject related matter. Ishita met her mother also in kitchen before leaving. She observed that her Mother is boiling water in an open container. She also observed that the colour of flame is yellow. Ishita suggested her Friend's mother to put lid over container while boiling water/milk for saving of fuel. She also suggested getting periodic servicing of LPG gas stove from authentic technician to increase the efficiency
QUESTIONS-
1. What does yellow flame indicate?
(a) High caloric value of fuel
(b) Low caloric value of fuel
(c) Low temperature
(d) None of these
Ans. (b) Low caloric value of fuel
2. What is the full form of LPG.
(a) Liquid petroleum gas
(b) Liquified petroleum gas
(c) Low petroleum gas
(d) None of these
Ans. (a) Liquid petroleum gas
3. What does calorific value of a fuel mean?
Ans. It is the quantity of heat produced by the burning of fuel.
4. Why is the saving of fuel necessary?
Ans. To conserve fuel and save environment from pollution.
5. Name the constituents of petroleum.
Ans. 1 Petrol
2. Kerosene
3. Diesel
4. Paraffin wax,
5. lubricating oil
6. Bitumen
6. What is the composition of LPG?
Ans. Propane, butane and various mixture of other gases
Please click the below link to access CBSE Class 10 Biology - Management Of Natural Resources (2)
Click for more Biology Study Material
›