Download CBSE Class 10 Social Science Water Resources Notes Set A in PDF format. All Revision notes for Class 10 Social Science have been designed as per the latest syllabus and updated chapters given in your textbook for Social Science in Standard 10. Our teachers have designed these concept notes for the benefit of Grade 10 students. You should use these chapter wise notes for revision on daily basis. These study notes can also be used for learning each chapter and its important and difficult topics or revision just before your exams to help you get better scores in upcoming examinations, You can also use Printable notes for Class 10 Social Science for faster revision of difficult topics and get higher rank. After reading these notes also refer to MCQ questions for Class 10 Social Science given our website
Water Resources Class 10 Social Science Revision Notes
Class 10 Social Science students should refer to the following concepts and notes for Water Resources in standard 10. These exam notes for Grade 10 Social Science will be very useful for upcoming class tests and examinations and help you to score good marks
Water Resources Notes Class 10 Social Science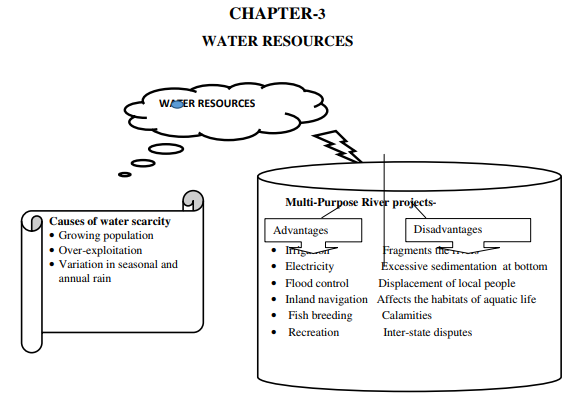 • Dam-Embankments or structures built across the river to store rain water for various uses. 
• Inundation Canal -Canal meant for diverting flood water mainly during the rainy season. 
• Rain water Harvesting- It is a technique of increasing the recharge of ground water by capturing and storing rainwater by construction of dug well,  ercolation pit etc. 
• Guls/Kuls-Diversion channel for agriculture in the hill and mountain regions. 
• Khadins-Johads-Rain fed storage structures in agricultural fields that allow water to stand and moisten the soil. 
• Bamboo Drip Irrigation-A type of irrigation where water gets dropped in the form of drops near the roots of the plant mainly to conserve the moisture.
Question and Answer (3 Marks)
1.Why are multi-purpose River Valley Projects called the 'temples of modern India?
• Economic prosperity-agriculture, urbanization, Promotion of tourism
• Integrate the development of agriculture and the village economy with rapid industrialization
2. Why is it necessary to conserve water resources in India? Give three reasons?
• To ensure food security.
• To control over exploitation and mismanagement
• To safeguard ourselves from health hazard as quality
3.. How are dams classified?
• Dams are classified according to structure and height like timber dams, embankments, masonry, large medium height or low dams.
4.Why was the Narmada Bachao Andolan started?
• Andolan focused on environmental issue, rehabilitation of displaced people against the building of Sardar Sarovar Dam.
5. Write a note on the traditional method of rain water harvesting in western Himalayas, Bengal and Rajasthan?
• In hill and mountainous regions, people built diversion channels like the 'guls' or 'kuls' of the Western Himalayas for agriculture.In the flood plains of Bengal, people developed inundation channels to irrigate their fields.
• In Rajasthan - The tankas were part of the well-developed rooftop rainwater harvesting system and were built inside the main house of the courtyard. They were connected to the sloping roofs of the houses through a pipe.
Question and Answer (5Marks)
1. Explain any five main causes of water pollution.
• Industrial effluents dumped without treatment, Thermal pollution-Polluted hot water is pumped into the river, Domestic waste, Use of washy, oily spills from the ships.
• Use of excessive fertilizers- Drip into the soil- Underground water get polluted.
2 .In recent years, multi-purpose projects and large dams have come under great scrutiny and opposition – Why?
• a) Excessive sedimentation,
• b)Difficult for aquatic fauna to migrate,
• c )Large scale displacement of local communities,
• d) Unsuccessful in control of floods at the time of excessive rain fall,
• e) Induced earth quakes, Caused water borne diseases and pests pollution.
• f) Eg. Release of water from dams during heavy rains.
Please click the link below to download pdf file for CBSE Class 10 Social Science Water Resources Notes
Click for more Social Science Study Material
›